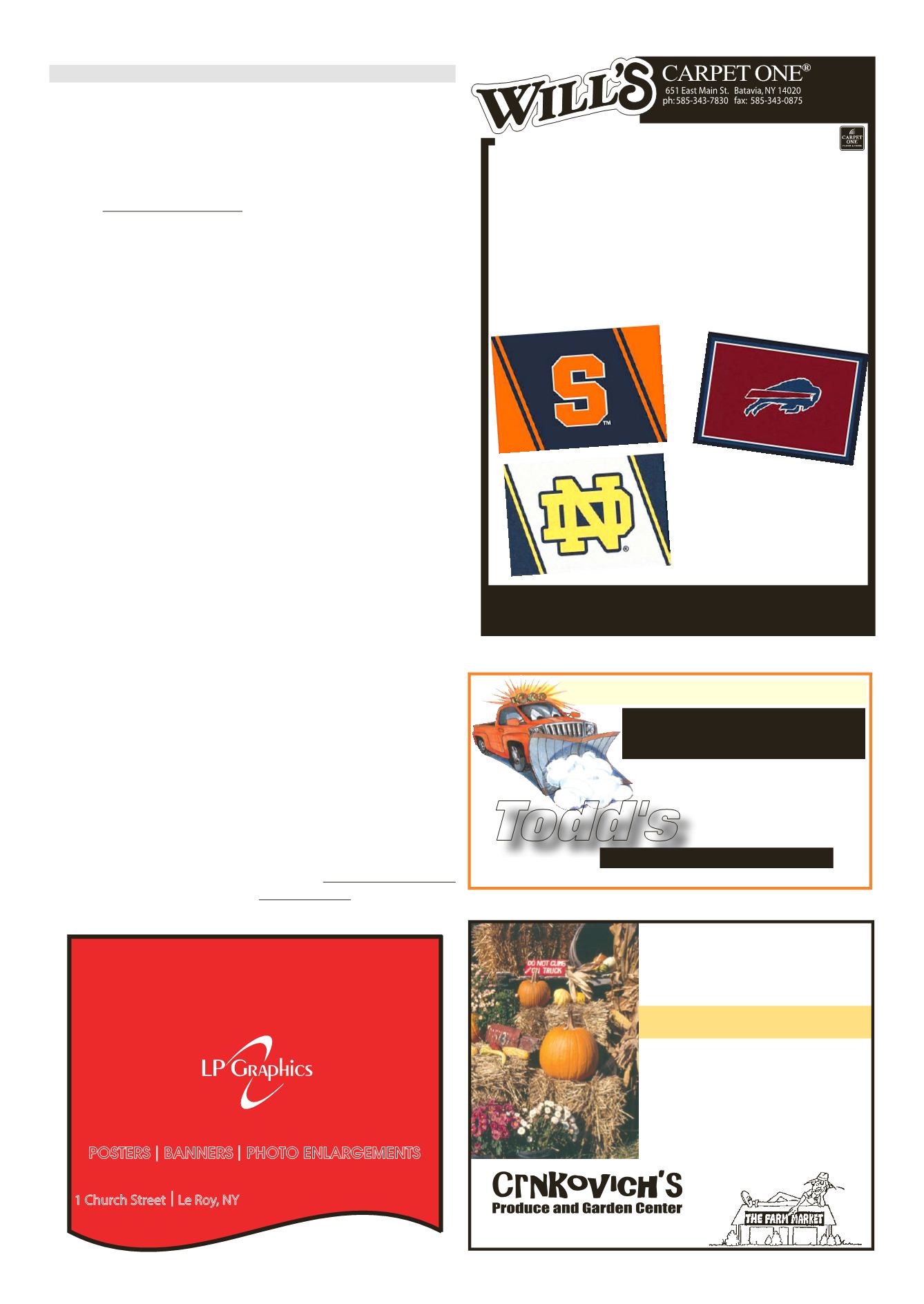 LEROYPENNYSAVER&NEWS - SEPTEMBER 25, 2016
POSTERS BANNERS PHOTO ENLARGEMENTS
lpgraphics.net
TheONE store for your perfect floor.
FLOOR
&HOME
Hrs:Mon-Wed8:30-5:30Thurs-Fri 8:30-7:30Sat 8:30-3pm
COLLEGETEAMS
Basketball • Football
PROFESSIONALTEAMS
NFLFootball • NHLHockey
$
69
95
8041E.MainRd. (Rt. 5) 1MileEastofLeRoy
OpenDaily • 768-7259 • 768-7813
Pumpkins •Gourds
•StrawBales
•DecorativeCornStalks
• IndianCorn
•Apples •PiePumpkins
•FreshProduce
THINK CRNKOVICH'S
HARDY MUMS
byKimCox,
Superintendent of Schools
Now that Hartwood Park is
open, work at the Jr./Sr. High
School is close to completion,
and work is going full steam
Wolcott Street School
we turnour sights toanothernew
community space, the Wolcott
Street School Fitness Center.
As you recall, two years ago the
district was the recipient of the
CarolM.White Physical Educa-
tion ProgramGrant. This grant,
under themanagementofphysical
education teacher,MichelleSher-
man, allowedus topurchasenew
equipment forourphysicaleduca-
tionclasses,developnewcurricu-
lum directed towards enhancing
healthy lifestyles and, of course,
build the new Fitness Center in
theWolcott Street School.
We are now able to open the
FitnessCenter to thecommunity.
This stateof theart fitness center
features many great cardio and
strength building opportunities.
Bikes, treadmills, and strength
equipment are featured in this
wonderful space. There are also
freeweights,bosuballsandbands
for those that are interested in
toning and power building.
There a few steps to take in
order tobecomeamember of the
Wolcott Street School Fitness
Center.First, is trainingonuseof
the equipment. Training sessions
are scheduled to begin the week
of October 3rd. Each training
session will last for about a half
an hour. At that time, you will
alsoneed to sign registrationand
medical release forms and pay a
small annual fee of $25.00.
The Fitness Center will be
Monday andWednesday
mornings from6:00am to8:00
am
TuesdayandThursday
evenings from 5:00 pm to
8:00 pm.
staffmembersmaywork out for
free. The Fitness Center is not
designed for children in grade
three or under. In addition, chil-
age 15andundermust be
accompanied by a registered
and trained adult
at theFitnessCenter.There is
no
child care available
interest of safety, unsupervised
children are not allowed tobe in
To access the Fitness Center,
we are asking that you enter
the side door in the back by the
Trigon Gym. This is the same
door that the Walking Program
and athletic events enter. There
will be a sign in sheet at that en-
trance.Pleasesign inat thissheet
indicating that you are going to
be in the Fitness Center.
This is
extremely important for safety
reasons. There needs to be a
recordofwho is in thebuilding
atall times.
need to sign out when you leave
both the Fitness Center and the
building. Failure todo this could
result in your discontinued use
of theFitnessCenter. Thankyou
For more information, or to
join a training session, please
contact us by calling, 768-7115,
We are excited to welcome
you to theWolcott Street School
NewHomes •Additions •Garages •PoleBarns
ToddCarli • Phone 703-0964
Decks •Windows •Doors
Kitchens •Baths •CeramicTile
Basement Finishing
CustomShelves/Built-Ins
Siding •Remodeling •Roofing
FULLY INSURED
Todd's
Residential • Commercial
Salting • Shoveling