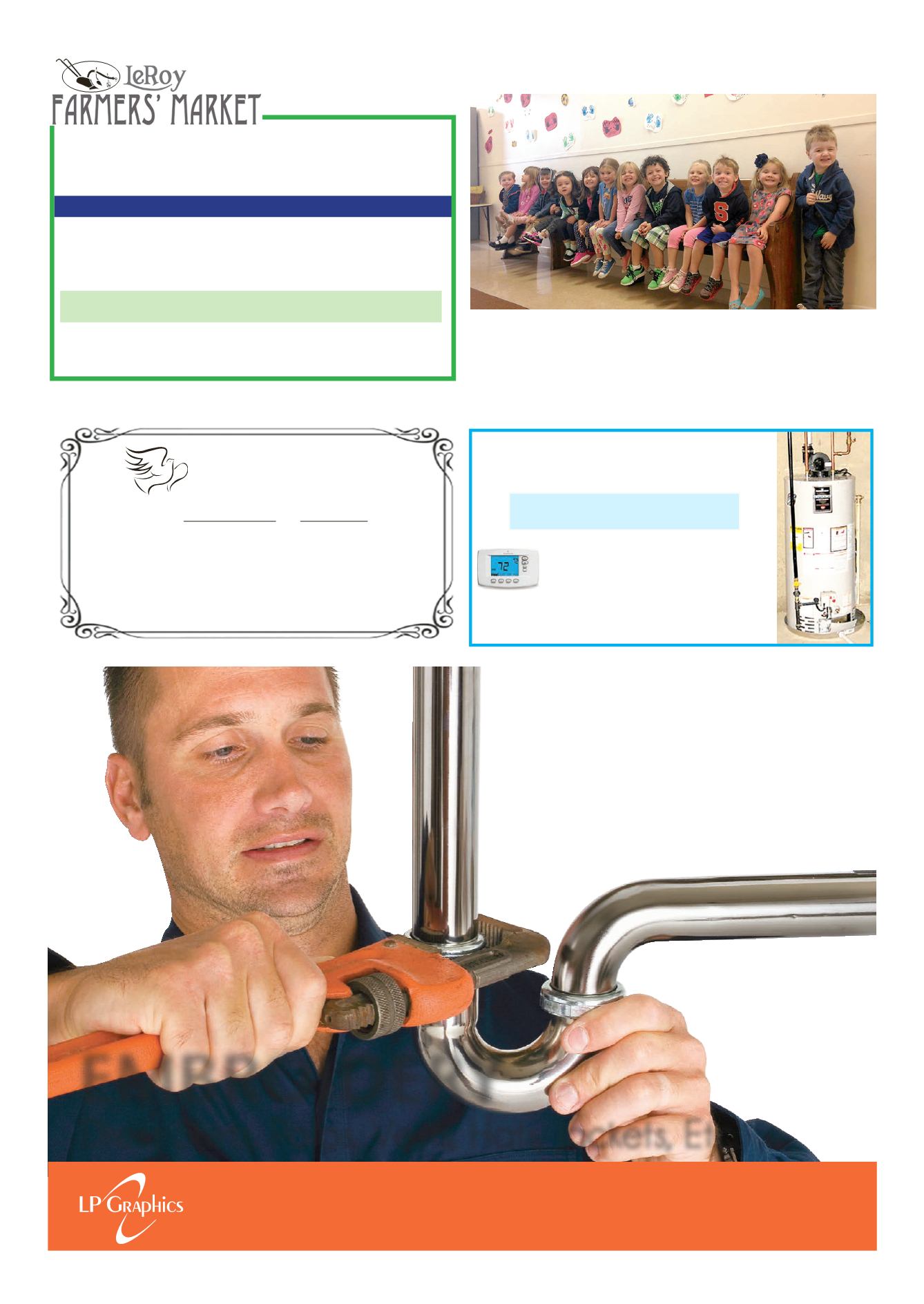 LEROYPENNYSAVER&NEWS - SEPTEMBER 25, 2016
eRoyFarmer'sMarket onFacebook
Saturdays ThroughOctober 1st
LOCAL • FRESH•DELICIOUS •NUTRITIOUS
Seasonal Fruits&Vegetables
Will BeArrivingWeekly!
ALWAYSLOOKINGFORNEWVENDORS&VOLUNTEERS
ContactMaryMargaret Ripley - 297-2441
Entertainment - BevHess - September 24
September
24th
Director /Owner
FuneralDirector
F
ALCONE
F
AMILY
Funeral&Cremation Service, Inc.
Director/Owner
"ALOCALFAMILY
CARINGFORLOCALFAMILIES"
The Nursery friends at Love Bugs Preschool had a great first
fewweeks of school! They learned all about their new friends
andwent on a little tour of their new school. Picturedhere are
someof themorningNursery friends takingaquickbreak from
their tour.
MeetingNewFriends
1ChurchSt., LeRoy, NY14482
585.768.2201
raphics.net
Dress Shirts, Polos, Vests, Hats, Jackets, Etc.
585-297-0724
30Years Experience
Heating •AC • Plumbing • Electrical
GAS, FUELOIL, FORCEDAIR&
HOTWATERHEATING SYSTEMS
24Hour Service • FreeEstimates • Fully Insured
Residential, Commercial
MobileHomes
AllMajorCreditCardsAccepted