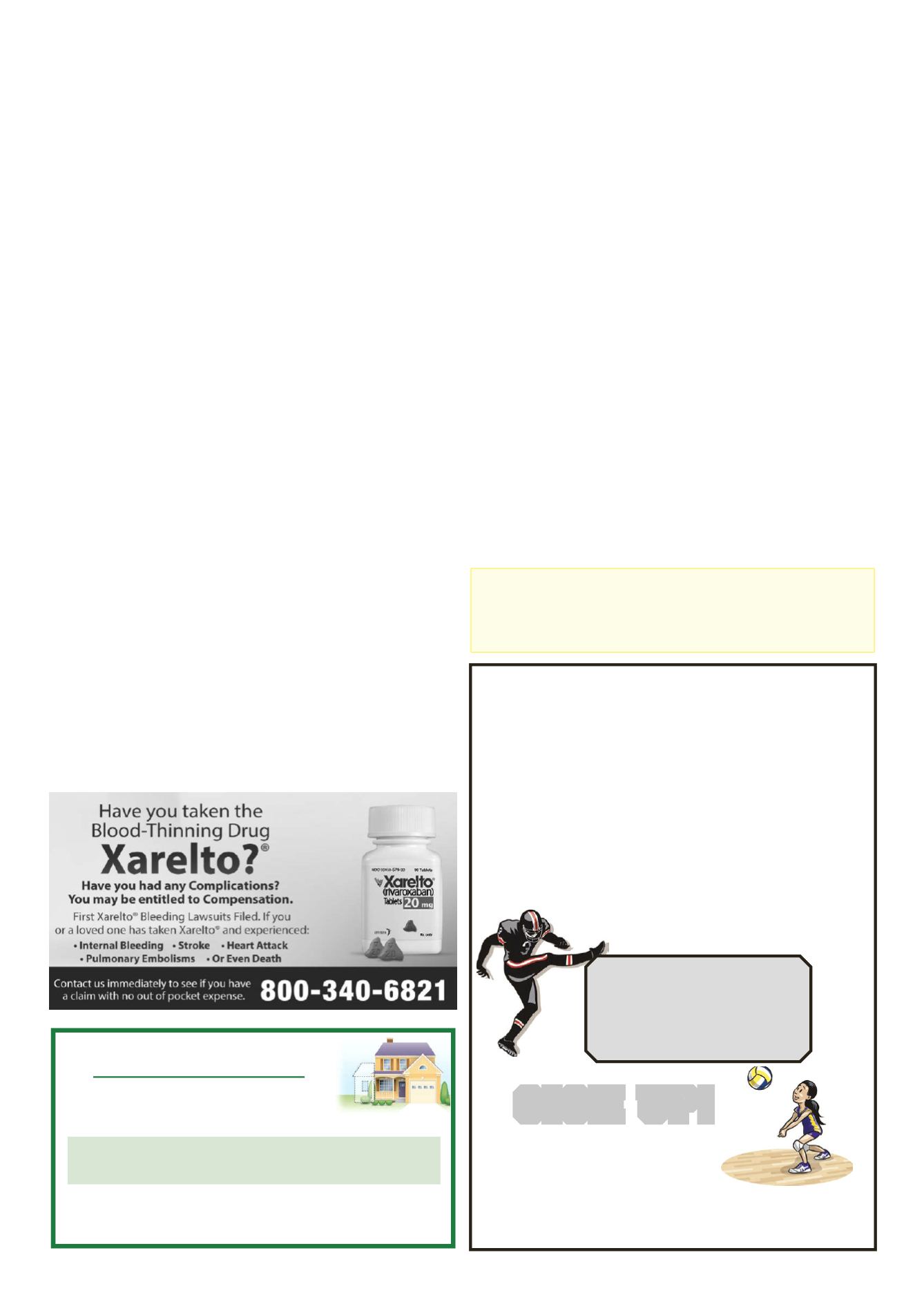 LEROYPENNYSAVER&NEWS - SEPTEMBER 25, 2016
"CompleteCarpentry Service"
M
ILLER
B
ROTHERS
B
UILDERS
CustomHomes •Remodeling•Additions
Roofing• Siding
DANIEL
TheOpening of the newHartwood
facilities is this weekend!
Come enjoy the games/meets and cheer
on our athletes! Also, Check out the new
MICHAEL
overcame multiple turnovers to
defeat theAvonBraves 30-6 on
Sunday afternoon inAvon. The
victory ran theSeniors record to
3-0 leading up to a huge show-
down this coming Sunday 9/25
at Hartwood Park vs. arch rival
Avon took the ball on the
openingdriveandmoved theball
down thefield. Eventually, tack-
les for lossbyTristian Jonesand
TonyPiazza, anda sackbyCon-
norHegeman led toa turnoveron
downs. LeRoy's offense stalled
immediately, necessitating a
punt. TheKnightsdefensestood
strong, forcing a quick turnover
on downs by Avon, ending the
LeRoy did not take long to
get going in the second quarter
however. Drew Strollo broke
through the lineandoutraced the
Avon defenders down the field,
scoring a 65 yard TD. Tommy
CondidoriohitTonyPiazzawith
apass for the2-pointconversion,
LeRoy's defense would stay
settled in, forcing a quick turn-
over on downs. However Avon
would take theball back3plays
later on a fumble. LeRoy's de-
fensewould stand strong again,
behind tackles by Drew Strollo
andBryceLathan,andabigsack
This time LeRoy's offense
would strike fast and loud, as
on first down QB Tommy Con-
didorio hit a streaking Jackson
Fix fora38yardTDpass. Drew
Strollowould punch in the con-
version attempt, extending the
LeRoy lead to 16-0. The teams
would alternate unsuccessful
drives for the rest of thequarter,
going into halftime with the
onside kick attempt to start off
the 3rd quarter. Ryan Higgins
highlighted the next defensive
standwith a big tackle for loss,
forcing anAvon punt. However
LeRoywouldhand theball right
backwith another fumble. The
defenseagain forceda3andout,
giving the ball back toLeRoy.
Drew Strollo would quickly
put theKnights back in scoring
position with a 43 yard run.
However an Avon interception
would halt the drive inside the
10yard line. AgainLeRoy'sde-
fensewouldhold, forcingaquick
punt. LeRoy capitalizedon this
possession however, as Strollo
would break loose again, this
time fora33yardTD, extending
Avon'soffense tookoverafter
the ensuing kickoff and began
to move the ball. Eventually
LeRoySeniorFootball -LeRoy 30 Avon 6
Avon scored a TD to make the
score 22-8. Not to be undone,
LeRoy recovered theonsidekick
attempt andbegan another scor-
ing drive. Drew Strollo began
thedrivewitha34yard run, and
fullbackTony Piazza finished it
with a2yardplunge for theTD.
TommyCondidorio eluded pass
rushers and hit Strollo with a
pass for the conversion, ending
the scoring with LeRoy on top,
30-6. LeRoy's defense would
hold strong onAvon's final pos-
session,withagoal line stand to
by linebackers Tony Piazza (10
tackles includingasackand2 for
loss),XavienWalker (7 tackles),
and Drew Strollo (8 tackles in-
cluding2 for loss). BryceLathan
added 4 stops (2 for loss) as did
ConnorHegeman (2 for lossand
asack). JacksonFix (6)andAn-
tonioMartinez(4)mademultiple
stopsaswell. RyanHigginshad
two tackles for loss, and other
defenders with multiple tackles
includedAdrianStephens,Aiden
Davis,andRileyWilliams. Oth-
erKnightswith tackles included
Tristian Jones, Connor McGee,
LandenSaeva,AydenRiggi, and
Offensively, Drew Strollo
ran for 207 yards, including 2
TDs and a 2 point conversion.
Strollo also had two receptions
for 6 yards and another 2 point
conversion. TommyCondidorio
threw for 47 yards, including a
TDand two2-pointconversions.
Jackson Fix caught a 38 yard
TD and ran for 15 yards. Tony
Piazza ran for24yardsandaTD,
alsocatchingapass for a2point
conversion. LandenSaevaadded
20 yards, while Ryan Higgins
and RileyWilliams also added
VOLUNTEER OPPORTUNITIES
for "LeRoy Sports Boosters Concessions" are now open!
• Volunteers are needed towork concession
stands for cross country, girls soccer and
boys soccer games.
• NewOn Line sign ups! You can pickwhich
event works in your schedule, a couple
clicks and you are set.
• Please take a look at the schedule and
sign up for one event.
• Wemay not be able to have concessions if
we do not get people to sign up to help.
Please click on the followingweb link— to go to the signup sheet:
SUPPORTYOUR LOCALADVERTISERS!
They help sponsor the local news section of the Le Roy Pennysaver.
THANKS FORYOUR SUPPORT!