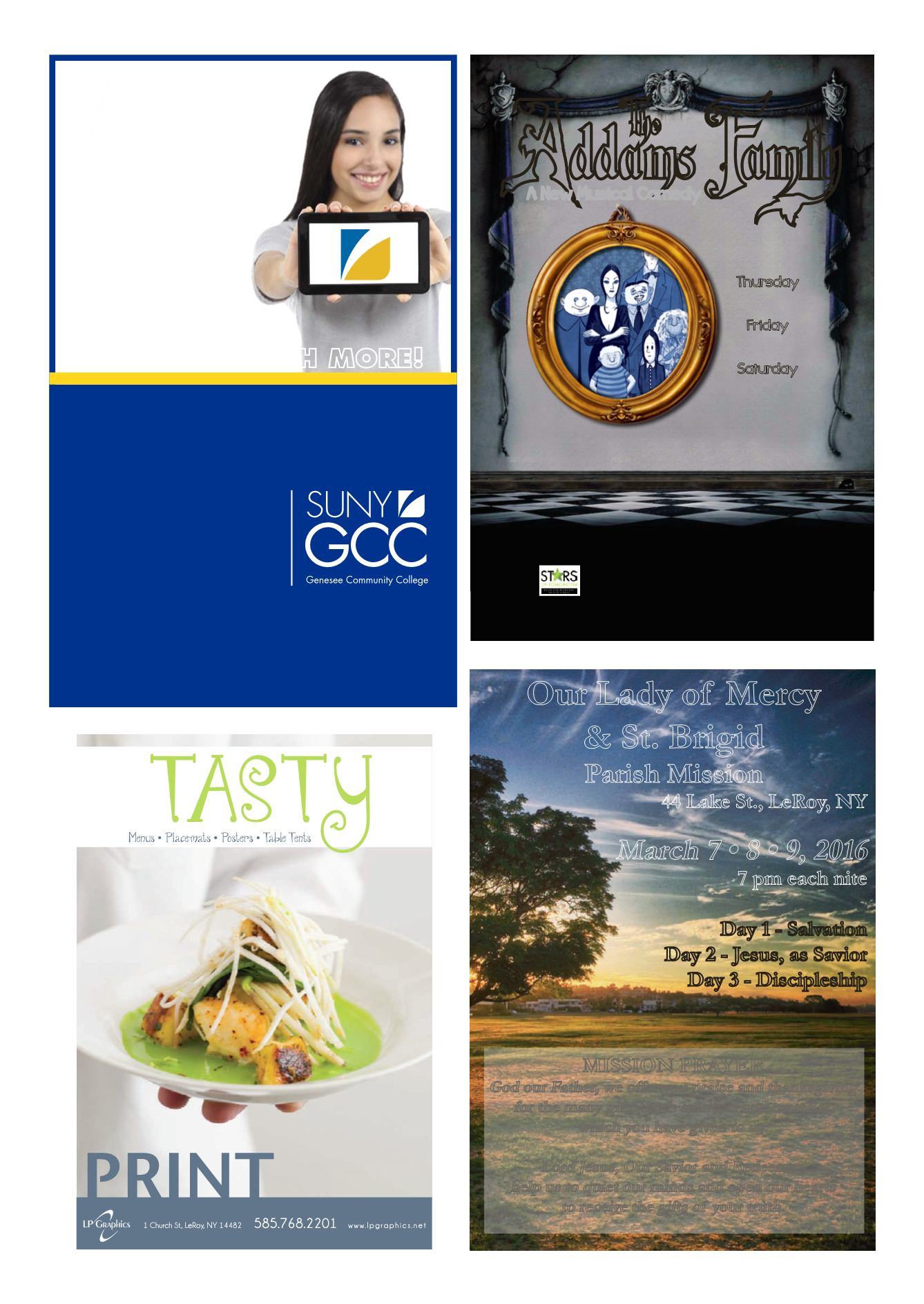 LEROYPENNYSAVER&NEWS - FEBRUARY 28, 2016
Le Roy Jr/SR High School Auditorium
9300 South Street Road • Le Roy, NY 14482
Le Roy Jr/sr High School is proud toparticipate
in the RBTL's Stars of Tomorrowprogram.
Book byMarshall Brickmanand Rick Elice. Music and Lyrics byAndrew Lippa.
BasedonCharactersCreatedbyCharlesAddams.
Le Roy High School MainOffice
Genesee Community College is an equal opportunity/affirmative action institution.
Wed., March 9, 5-7 pm
Sat., April 23, 9 am
Friday Visits@ 9 am
3/4, 3/11, 4/8, 4/29
Register online at:
genesee.edu/openhouse
OPEN HOUSES
Batavia Campus Only!
l 1-866-CALL-GCC
GCC IS SOMUCHMORE!
SEE YOUR
Or stop in any GCC location:
Albion l Arcade l Batavia l Dansville
Lima l Medina l Warsaw
or
Online
•More than 60 degrees or certificates
• Transferable SUNY Credits
• Affordable Tuition /
Financial Aid/ Scholarships
• FREE application
• FREE Career Counseling
• FREE GCC Student Services /
Tutoring
OurLadyof Mercy
&St. Brigid
ParishMission
4LakeSt., LeRoy,NY
March 7 • 8 • 9, 2016
7pm eachnite
Day 1 - Salvation
Day 2 - Jesus, as Savior
Day 3 -Discipleship
MISSIONPRAYER
Godour Father,weoffer youpraise and thanksgiving
for themanygifts, both spiritual andmaterial,
which youhavegiven tous.
Lord Jesus,Our Savior andRedeemer,
helpus toquiet ourminds andopenour hearts
to receive thegifts of your truth.