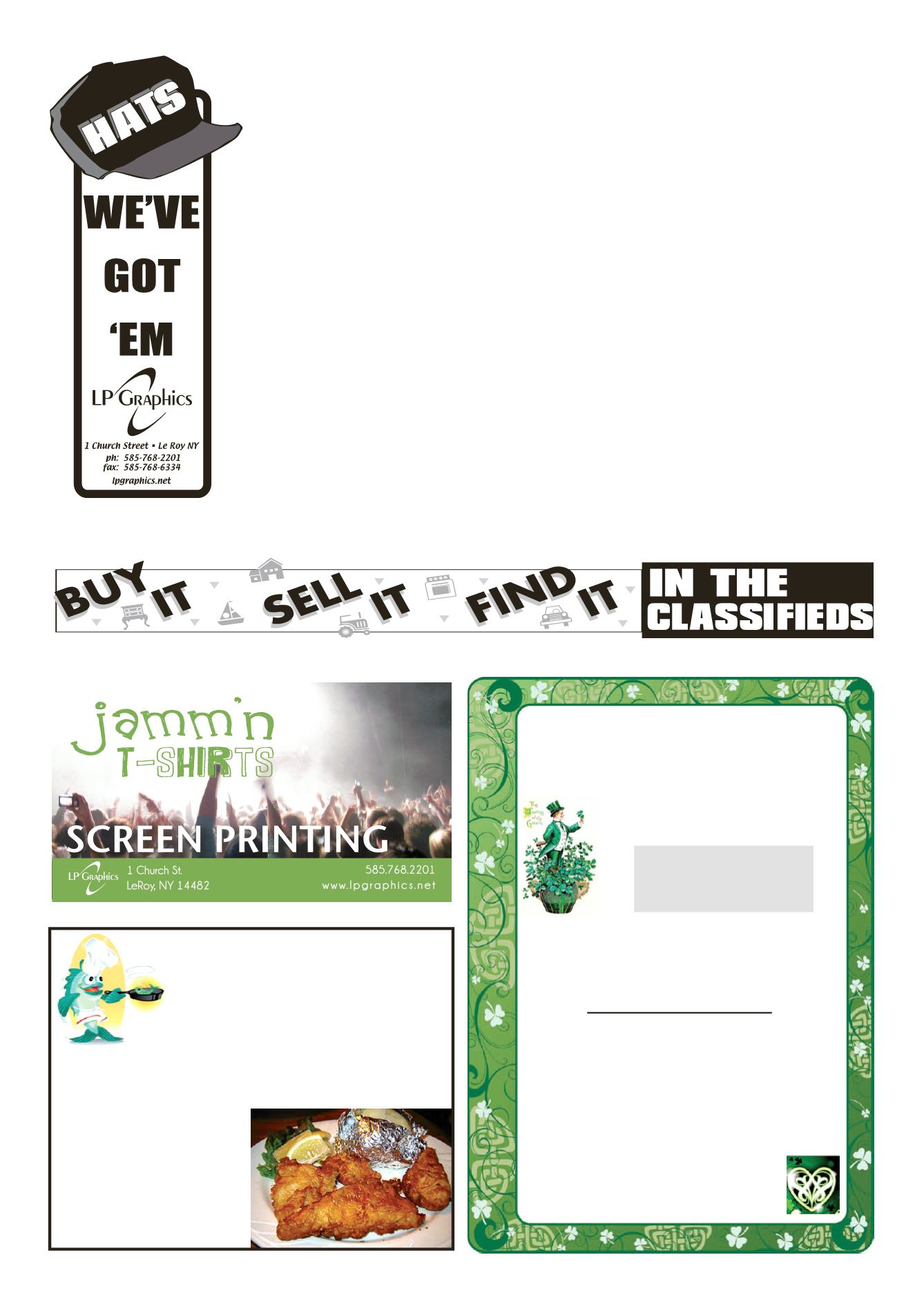 LEROYPENNYSAVER&NEWS - FEBRUARY 28, 2016
The following local residents
made the Dean's List at Roch-
ester Institute of Technology
for fall semester 2015-2016.
Degree-seeking undergraduate
students are eligible for Dean's
List if their termGPA is greater
thanorequal to3.400; theydonot
haveanygradesof"Incomplete",
"D" or "F"; and theyhave regis-
tered for, and completed, at least
Erica Hickey
isstudying in theadvertisingand
public relations program.
Michael Wilmoth
who isstudying in thecomputing
Michael Barnard
who is studying in the criminal
MaggieCallan
isstudying in thediagnosticmed-
RachelKobel
is studying in the environmental
sustainability, health and safety
Michael Slack
who is studying in the film and
ElizaHarvey
is studying in the fine arts studio
Benjamin Bliss
who isstudying in the illustration
Traci Turner
is studying in the journalism
Ryan Hochreiter
who isstudying in themechanical
Erica Parker
isstudying in thenetworkingand
systems administrationprogram.
Eric Hunt
studying in the new media in-
FREE "CelticConcert" followingdinner in theSanctuary
(7:00 to8:30pm)witha reception to follow.
DINNER tickets are$10 for adults, $9 for seniors;
$6 for children10&under. Takeoutswill be available.
Comeand enjoy somegreat food, fellowshipand "IrishMusic"
byCelticTrio:CuisleMoChroi
PatriciaCarey,MaryLester&CathyMcGrath
Dancingby students ofMGOSAcademyof IrishDance -Rochester,NY
This project ismade possiblewith funds from theDecentralization
Program, aRe-Grant Program of theNYSCouncilOn theArts&
Administered byGeneseeOrleansCountyCouncil of theArts.
Contact JaniceCooper at585-356-6656
Ides ofMarch
CornedBeef&Cabbage
Dinner andSilentAuction
Saturday,
March12th
Dinner from3:30 to7:00pm
Concert from7:00 to8:30pm
LeRoyUnitedMethodistChurch
teractive development program.
Devin Sherman
who is studying in thepackaging
Aidan Sullivan
who is studying in the physician
RyanMangefrida
who is studying in the political
Rebecca Schwan
who is studying in theuniversity
Rochester InstituteofTechnol-
ogy is home to leading creators,
entrepreneurs, innovators and
researchers. Founded in 1829,
RIT enrolls 18,600 students in
more than 200 career-oriented
andprofessional programs,mak-
ing it among the largest private
FISH FRY
(585-502-5155)