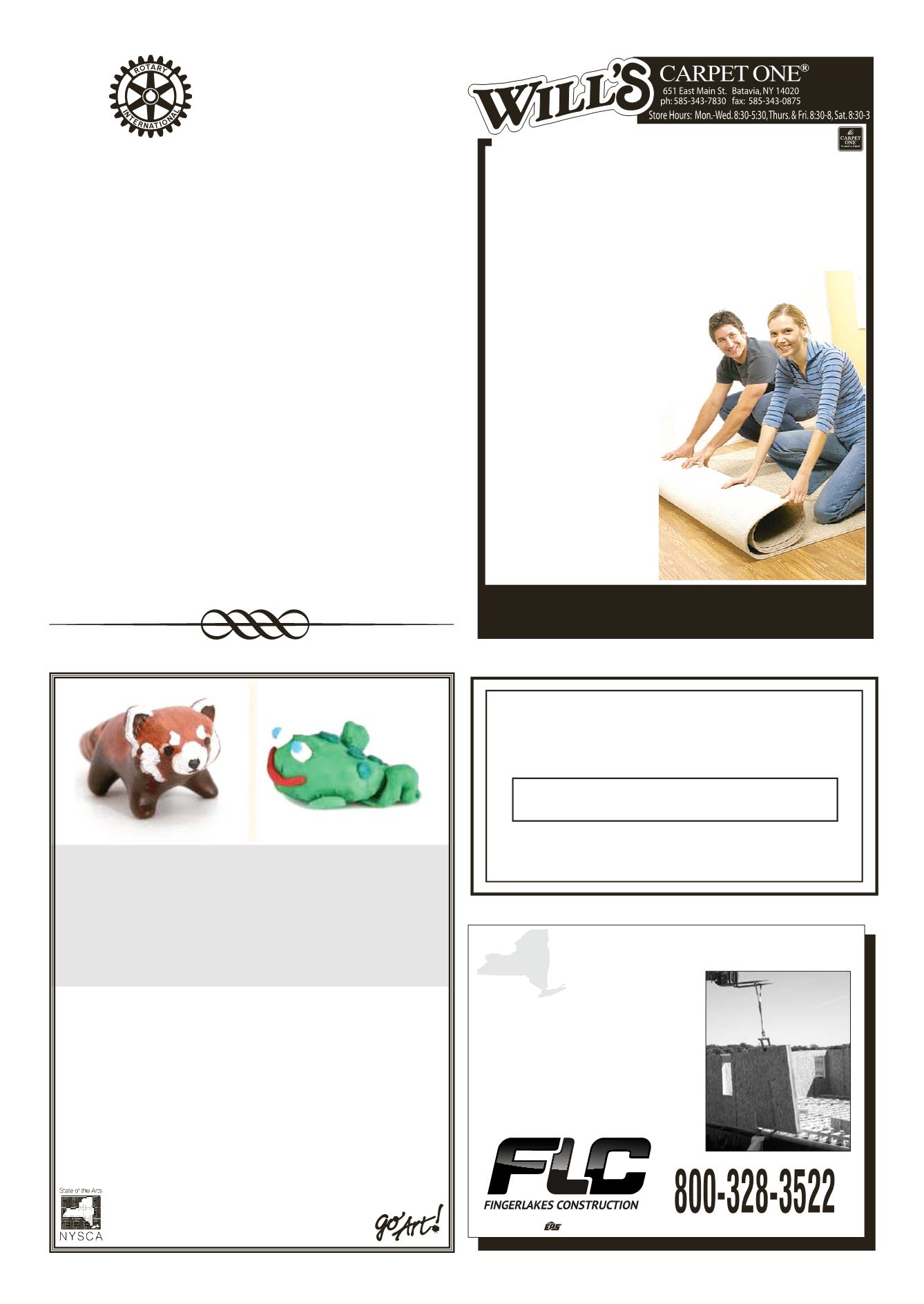 LEROYPENNYSAVER&NEWS - FEBRUARY 28, 2016
LeRotary
Notes
TheONE store for your perfect floor.
FLOOR
&HOME
Plumbing • Heating
Installation&Repair Service
For All Residential &Commercial Work
Part of the family of companies
fingerlakesconstruction.com
NewYorkState'sPost FrameLeader . . .
Now also manufactures and
Structural InsulatedPanels provide
high energy-efficiency and a
Ask us for completedetails!
Woodward
Memorial Library
Saturday,March 5
1:00 - 2:00pm
CLAY SPIRITANIMALS
Listen toNativeAmerican folktales about
spirit animals thenmake your own
spirit animal out of clay!
RegistrationRequired.
Call 768-8300.
LedbyAngelinaViveralli
TheDecentralizationRegrant Program ismadepossible
by theNewYork StateCouncil on theArts
with support fromGovernor AndrewCuomo
and theNewYork State Legislature
The February 17thmeeting of
theRotaryClub of LeRoy start-
ed in the usual manner with the
PledgeofAllegiance,Prayer
FourWayTest
upcoming events included:
LeRoyHistoricalSocietyDinner
Rotary Leadership Institute –
TheGraze toRaise –May 20th
RelayFor Life –August 6th
Cited for missed meetings
were: Mary Margaret Ripley,
Anil Sawhney andPhilWeise.
Paying fines were:MaryMar-
garet for a photo in a recent
Rotary District Newsletter, Anil
fora recent tripandPhil for some
items from his alma mater St.
Anil Sawhney introduced our
speaker for today, Ram Shri-
vastava. Ram is president of
Larsen Engineers with 46 years
of experience in Environmental
Engineering. He is an active
member of the Brighton Rotary
Clubandhasservedon theRotary
District 7120 Water, Sanitation,
andHygiene Committee. Ram's
topic for todaywas "Community
Energy Independence via Solar
Power". As is our custom with
all of our guest speakers, Ram
was presented with a certificate
proclaiming thatourRotaryClub
will donate the funds toTheRo-
tary Foundation to immunize 25
childrenagainstPolio through its
Please Like us on Facebook
and save the date for our Graze
toRaiseFundraiserbenefiting the
REAMilneScholarshipFundon
JustArrived!
NEWSHIPMENT
OFCARPETREMS
Largeand
Small Sizes
GREAT
SELECTIONof
Colors&Styles