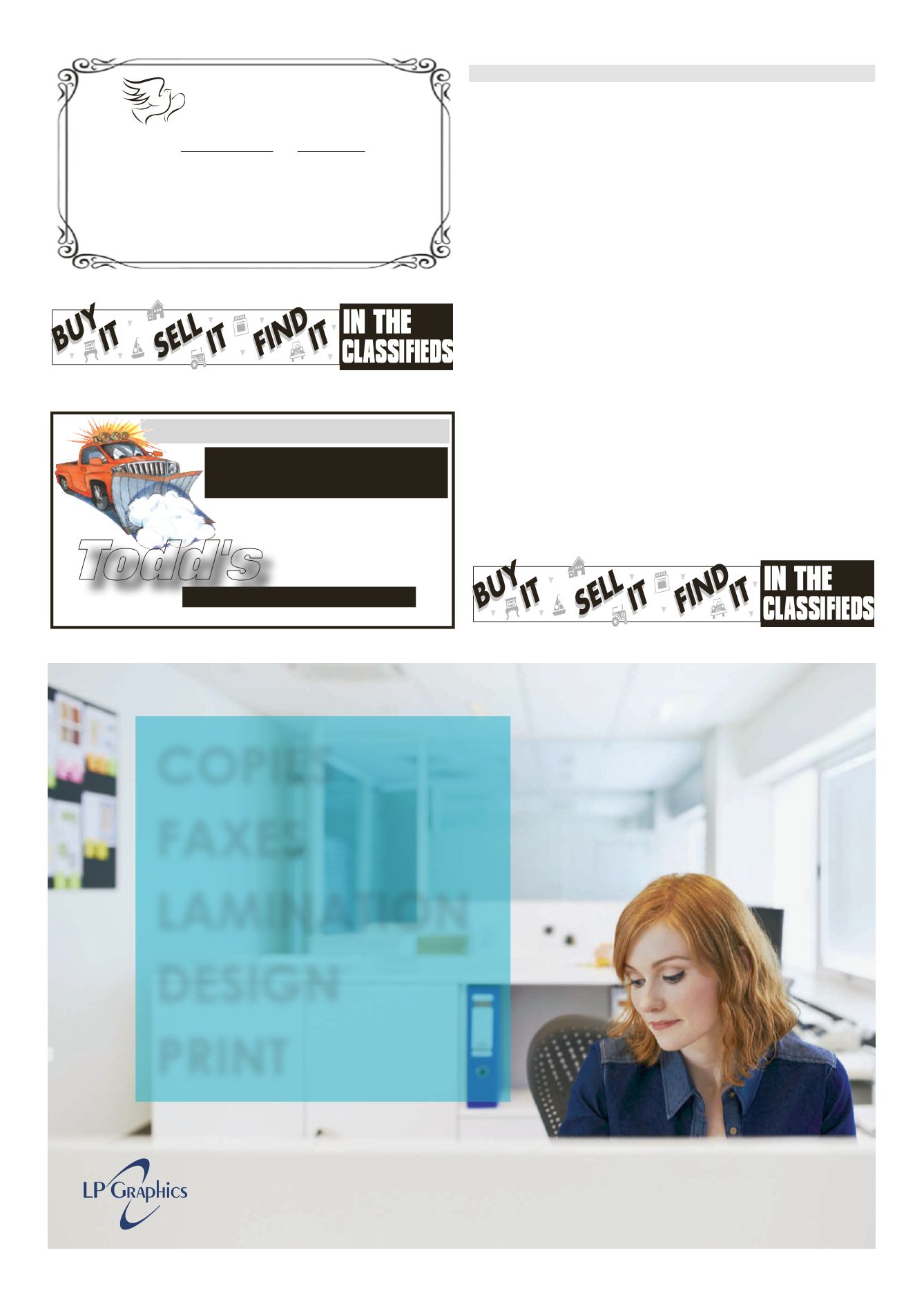 LEROYPENNYSAVER&NEWS - FEBRUARY 28, 2016
Director /Owner
FuneralDirector
F
ALCONE
F
AMILY
Funeral&Cremation Service, Inc.
Director/Owner
"ALOCALFAMILY
CARINGFORLOCALFAMILIES"
1ChurchSt., LeRoy, NY14482
585.768.2201
raphics.net
COPIES
FAXES
LAMINATION
DESIGN
PRINT
byGreg "Porp"Rogers,
Mayor
The recent snowstormdumped
about 18 inches of snow on us
in a one day period. Our DPW
did a great job cleaning up. We
did receive some calls about the
snow banks onMain Street, rest
assured we tried to remove as
much and as fast as we could,
nks for your understanding.
Withspring justaround thecor-
ner, we as a community need to
do our spring cleaning. The first
step that needs to be taken care
of is animal defecation. It seems
the area onMainSt. has become
a dog defecation park as well as
around the trees. This won't be
tolerated and is unacceptable.
On a much brighter note, the
Village has plans to do major
workonourdowntownarea, this
coupledwith the efforts of store
owners isgoing to jump start and
revitalize Main Street business
Currently theVillage Board is
workingonplans to renovate the
Wastewater Treatment Plant.We
aresearchingout thebest funding
available and formulating a plan
to upgrade the plant with little
or no increase in the sewer rate.
I will keep you posted on our
OnMarch15th theVillagewill
be holding an election for the
Mayorand twoTrusteepositions,
whilesomemaynotbecontested
it is still important to come out
andvote. The poleswill be open
from noon to 9 atVillageHall.
"Efforts and courage are not
enoughwithoutpurposeandded-
Notes From TheMayor's Office
NewHomes •Additions •Garages •PoleBarns
ToddCarli • Phone 703-0964
Decks •Windows •Doors
Kitchens •Baths•CeramicTile
Basement Finishing
CustomShelves/Built-Ins
Siding •Remodeling •Roofing
FULLY INSURED
Todd's
Residential • Commercial
Salting • Shoveling