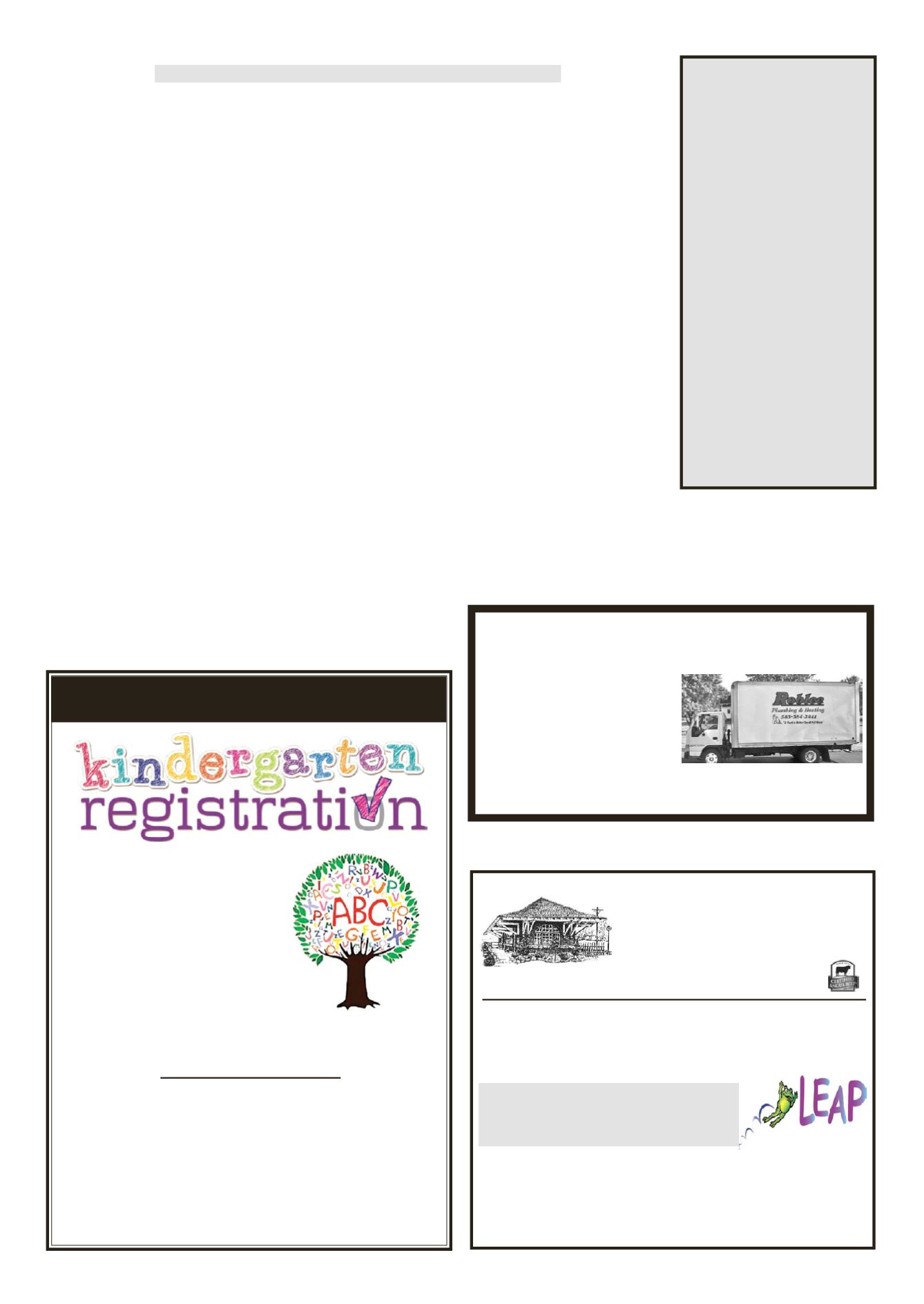 LEROYPENNYSAVER&NEWS - FEBRUARY 28, 2016
Is Scheduled for
Wednesday,
March 2nd
9:30 am to 2:30pm
and in the evening from
6:00pm to 7:30pm
and
Thursday,March 3rd
9:30 am – 2:30pm
Registrationwill be held at the
Wolcott Street SchoolOffice,
which is located onWolcott St., behind theLibrary.
An "eligible child" is a child residing in the
LeRoyDistrict andwhowill be 5 years old
on or beforeDecember 1, 2016.
Formore information, please contact the
ElementaryOffice at 585-768-7115.
Wolcott Street School
byKimM. Cox
Superintendent of Schools
After a longwait, I amdelight-
ed to informyou that theLeRoy
Central School District R.I.T.E.
Capital Project was officially
approved lastweek!Preparations
are already underway for the
construction to begin on May
2nd. Therewill be a lot goingon
throughout thedistrict during the
next 8 to 12months. Many peo-
ple, includinganumberofyouon
variouscommittees,haveworked
many hours to try andmake this
project as seamless as possible,
but realistically there will be
issues. These will probably take
many forms, from communi-
cation issues, to displacement
of resources, to people being
If you have ever done any
remodeling in your own home,
youknow theunexpectedalmost
always occurs and no doubt
some of these will occur in this
very complicated, $12.7 million
project.Although it isourgoal to
make this as smooth as possible
for everyone involved, therewill
be inconveniences and accom-
modations that will need to be
made.Whether it isasports team,
agrade level, the lunchschedule,
or parent pickupor dropoff that
is impacted, patience and under-
standing will be paramount. It
can be frustrating to not totally
understandwhy things are being
done in a certainway. However,
as I will stress again, this is a
complex project, with virtually
every part of the campus being
touched. It will be very much
like a chess game, where each
move is dependent on the one
beforeandafter it tomake sense.
We are fortunate to have both a
very experienced construction
company (CampusConstruction)
and architectural firm (Clark,
Patterson, Lee) leading theway.
Campus Construction has as-
sured us that they will work to
minimize construction distrac-
tions as much as possible, but
we can't promise business as
usual. It is important that we all
keep our eyes on the prize. In
12 short months, we will have
a beautiful, updated campus.
However, inorder toachieve this,
youwill notice that many of the
summer activities that takeplace
at schoolwillbecurtailedoreven
relocated to ensure a safe and
effectiveconstructionzone.More
information about such events
will be forthcoming, however,
if you have any questions about
a certain event, don't hesitate to
contact the district office.
Over the next fewweeks, you
will have anopportunity to learn
more about the project and the
construction schedule. It is our
goal to keep our staff, students,
and entire community updated
throughout the project. We will
do this through our website,
newsletters, and meetings. In
addition, you may contact me,
any administrator or board of
education member and we will
behappy toansweranyquestions
Annual
Plot
Owners'
Meeting
Saturday,
March19, 2016
Thank you for your support
andpatienceasweengage in this
ROBLEE
Plumbing&Heating, LLC
10991LakeRd., Pavilion • (585) 584-3841
Full Insured
LUXAIRE
GOULD
NYSCertifiedBackflowTester
Water&Sewer Lines •Water Treatment&ConditioningSystems
SUNDAY, FEBRUARY 28thdinner special
SHRIMPLOVERS'DELIGHT
Includes delicious shrimp scampi, coconut shrimp, and deep-fried
shrimp, alongwith soupor salad, potato, anddessert $19.99
LeapYear's day
menu
Pennysaver
SUNDAY,MARCH 6thdinner special
DEPOTSHOREDINNER
Celebratewith aMaineLobsterTail, 2homemade crab cakes,
potato, seafood bisque soup or salad
and a creme puff for dessert $22.99
LakeSt. (Rt. 19), LeRoy• 768-6270
... AGreatAmericanBrasserie
OpenForBreakfast, Lunch&Dinner
Sun.-Thurs. 7-7, Fri. &Sat. 7-9
&
YearCelebration