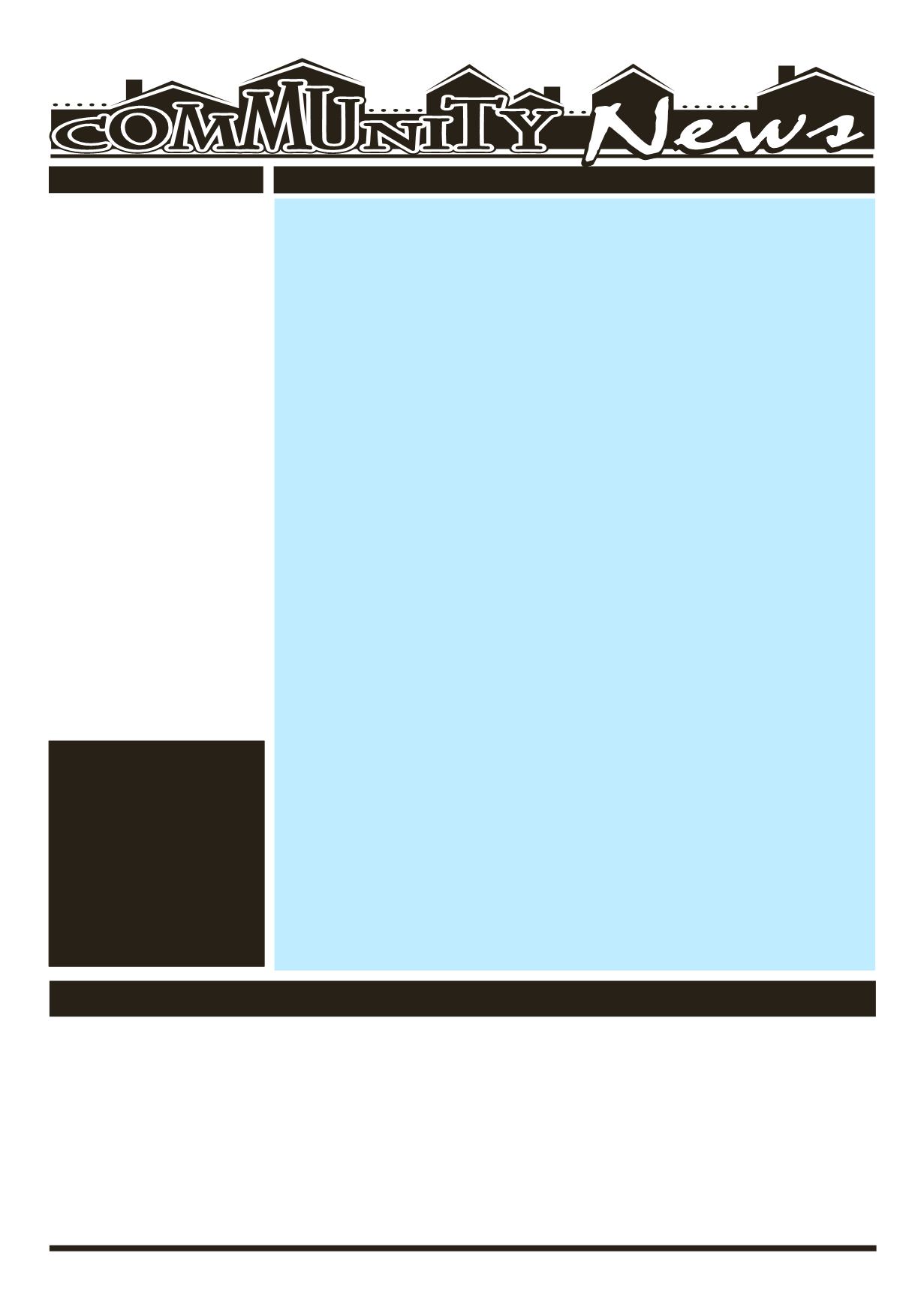 LEROYPENNYSAVER&NEWS - FEBRUARY 28, 2016
All GeneseeCounty residents, 60andolder, can takepart in thisweek'sactivitiesat theBataviaSenior Center, 2BankSt., Batavia. Formore information, call 343-1611.
SENIORCITIZENSACTIVITIES (February 29th -March 4th)
WEEKLYEVENTS
OBITUARIES
TaxPreparation
AvailablebyAppointment Only 9:00 a.m. to 3:00p.m.;
Arthritis Exercise
is scheduled tobegin at 9:30 a.m.;
Bridge
is scheduled tobeginat11:30a.m.
Cribbage
is scheduled tobeginat1:00p.m.
TaxPreparationAvailable
byAppointmentOnly9:00a.m. to3:00p.m.;
Quilter'sGroup
is scheduled tobeginat 9:00a.m.;
Eu-
chre
is scheduled tobeginat1:00p.m. ;
OFAAdvisoryCouncilMeeting
is scheduled tobeginat1:00p.m.
TaiChi
is scheduled tobeginat 9:30a.m.;
GentleFitness
is scheduled tobeginat 10:30a.m.;
Cribbage
Bridge
isscheduled tobeginat1:00p.m.
ARCTaxPreparation
byAppointmentOnly9:00a.m. to3:00p.m.;
ArtClass
is scheduled tobeginat 10:00a.m.;
LineDancing
is scheduled tobeginat10:00a.m.;
Euchre
is scheduled tobeginat1:00p.m.
SUNDAY, FEBRUARY28
KonnectYouthGroupat LivingWaters Church,
Sundays from6:30 to8:30pm forages12-18. "BringDownall theWalls!
Connect with God and Connect with others." For more information,
checkusoutonlineat: livingwatersleroy.org/konnect-youth-ministry/
MONDAY, FEBRUARY29
TOPS (TakeOffPoundsSensibly)
meetsMondayevenings at theLe-
Roy Presbyterian Church, corner of Clay &Main Streets. Doors open at
6:00pmandmeeting is from6:30-7:15pm.Visitorsarealwayswelcome.
Call 585-768-7103 formore information.
TUESDAY,MARCH1
Preschool Storytime
:
EveryTuesday at 11 am featuring stories, craft and songs at Pavilion
PublicLibrary, 5WoodrowDr., Pavilion. For info: 584-8843.
LCCP'sGRACE'SKITCHEN:
AFREEdinnereveryTuesdayevening,5-6:30
pmat theMasonicCommunityCenteron12BankSt. Plentyofparking.
Takeout & delivery are available. Formore info. contact Selby Davis at
GRACE'SCLOSET:Aclothinggiveawayprogram
UnitedMethodist Church, 10 Trigon Park, Le Roy, 9:30 am to 11:30 am
everyThursday.Wehaveclothingforallages.Weneedbeddingofallkinds
especiallyblankets.Donationscanbedroppedoffatthehousenexttothe
church. Pleaseput all bags INSIDE on thebackporch. NO ELECTRONICS,
OpenTuesdays5-6:30pm.
AXISStudentMinistryatLivingWatersChurch
Tuesdaysfrom6:30to8:30p.m.for7thto12thgrade.Ourgoal isforteens'
livestobe impacted,andradicallychanged. Formore information,check
WEDNESDAY,MARCH2
Wednesdaysfrom6:30pmuntil8:00pm-
behavingtheiryouthprogram. titled"JOYCLUB". It isopentochildren in
thePre-schoolageupto6thgrade. Itwillbeheldatthechurch10956S.
LakeRoad, Rte. 19. It is a fun timeof Bible stories, game time, refresh-
mentsandmemorywork.Callforfurther information585-584-3179ext.
12. Leaveyournameandnumber and the secretarywill call youback.
The Good Dinosaur - Movie Showing at the Woodward
Memorial Library
for children in grades K-6, from 3:15 – 5 p.m.
Registration isappreciated! Call768-8300or registeronlineat
THURSDAY,MARCH3
FRIDAY,MARCH4
PenuelChristianFellowship,
OneSteptoFreedomaddictionsminis-
try,aChristCenteredAddictionsprogram,aweeklymeetingeveryFriday
at7pm.Call theChurch formore informationat768-6901or594-9575.
Penuel ChristianFellowship
isorganizingayoungadult fellowship
andBiblestudy.Ages:12andup,Time:Fridays from7-9pm,Study: the
bookof Romans (a16week course), taught by JosiahGariboldi.Place:
SATURDAY,MARCH5
Everyone'sAnArtist:SpiritAnimalsProgramattheWoodward
MemorialLibrary
from1–2p.m.forchildren ingrades1-4.Children
will listen toNativeAmerican folktalesabout spiritanimalsand then
sculpt their own spirit animal outof clay!Usingdifferent tools, learn
techniquesforhowtoshapeandaddtexturetoyoursculpturetomake
it truly unique. LedbyAngelinaViveralli. Call 768-8300or register
UPCOMINGEVENTS
The LeRoy Town& Country Garden Club
meetingonWednesday,March9that7:00pmat LeRoyPresbyterian
Church. Ashortbusinessmeetingwith2016 committee signupswill
be followedby ademonstrationofflowerarrangingbyTammy from
Tops floral department. Contact either Ann at 768-8130 or Lucy at
March 2nd so that there will be
enough flowers andmaterials for everyone. Visitors are welcome.
ContactAnnWaltersat737-9481or768-8130 formore information.
LeRoyUnitedMethodistChurch
Hosts its4th"IdesofMarch"Corned
Beef & Cabbage Dinner & Silent Auction, Followed by a FREE Celtic
Concert by CuisleMoChroi &Dancing exhibitionby students ofMGOS
Academyof IrishDanceofRochester,NY.TheDinnerandConcertareon
Saturday,March12thatthechurch(10TrigonPark inLeRoy). Following
dinner istheFREEConcert from7to8:30pm. Youdonotneedtoattend
thedinnertocomeandenjoytheconcert!Wearehandicappedaccessi-
ble. Formore information,pleasecallthechurchofficeat585-768-8980.
TheGeneseeValley CivilWar Roundtable
on"Custer'sCivilWar",Wednesday,March16that7:00pm.Themeeting
will takeplaceatLeRoyUnitedMethodistChurch,3rddooron rightend
of longsidewalk,10TrigonPark,LeRoy,NY.Discussionperiodwill follow
program.Newmembersarewelcome.
LivingWatersChurch
hasbeenblessingareateenage
free dresses for the prom.
dresses canbe receiveduntil March27th at the Churchoffice. Tues,
Thurs&Fri from8amto3pm.Pleasecallthechurchofficeat768-7570
if adifferentdropoff time isneeded.
CommunityCalendarSubmissions shouldbe sent to:
CALEDONIA/LINWOOD- Helen M. Noble
left us tobewithher husband, R. Ellsworth
Noble on Valentine's Day, February 14,
2016at age99.Memorialsmaybemade to
theChurchorLeRoyVolunteerAmbulance,
1TountasAve, LeRoy, NY14482.
BYRON - George Haroian, 91, of Byron,
went to be with the Lord on Monday
(February 8, 2016) at theUnitedMemorial
Medical Center inBatavia. Memorialsmay
be made to City Church, 210 East Main
Street, Batavia, NY14020.
LEROY / STAFFORD ~GraceW. Cooper,
age91,ofE.Bethany-LeRoyRoad,passed
away Friday morning (Feb. 19, 2016) at
UnitedMemorial Medical Center. In lieu of
flowers,memorials are suggested toeither
her familyor toCrossroadsHouse,POBox
LEROY: Donald J. "Ping" Smith passed
away February 21, 2016 at age 74. In lieu
of flowers memorials may be made to the
OatkaHoseCo., Inc., 11NorthAve. LeRoy,
NY14482or theFirst PresbyterianChurch
STAFFORD/WARSAW ~ Robert E. Rog-
gow, age 68 of Fargo Road, passed away
on Tuesday morning (February 23, 2016)
at StrongMemorial Hospital in Rochester.
Contributions inBob'smemoryaresuggest-
ed toBataviaVFWPost 1602.
Le Roy
Pennysaver