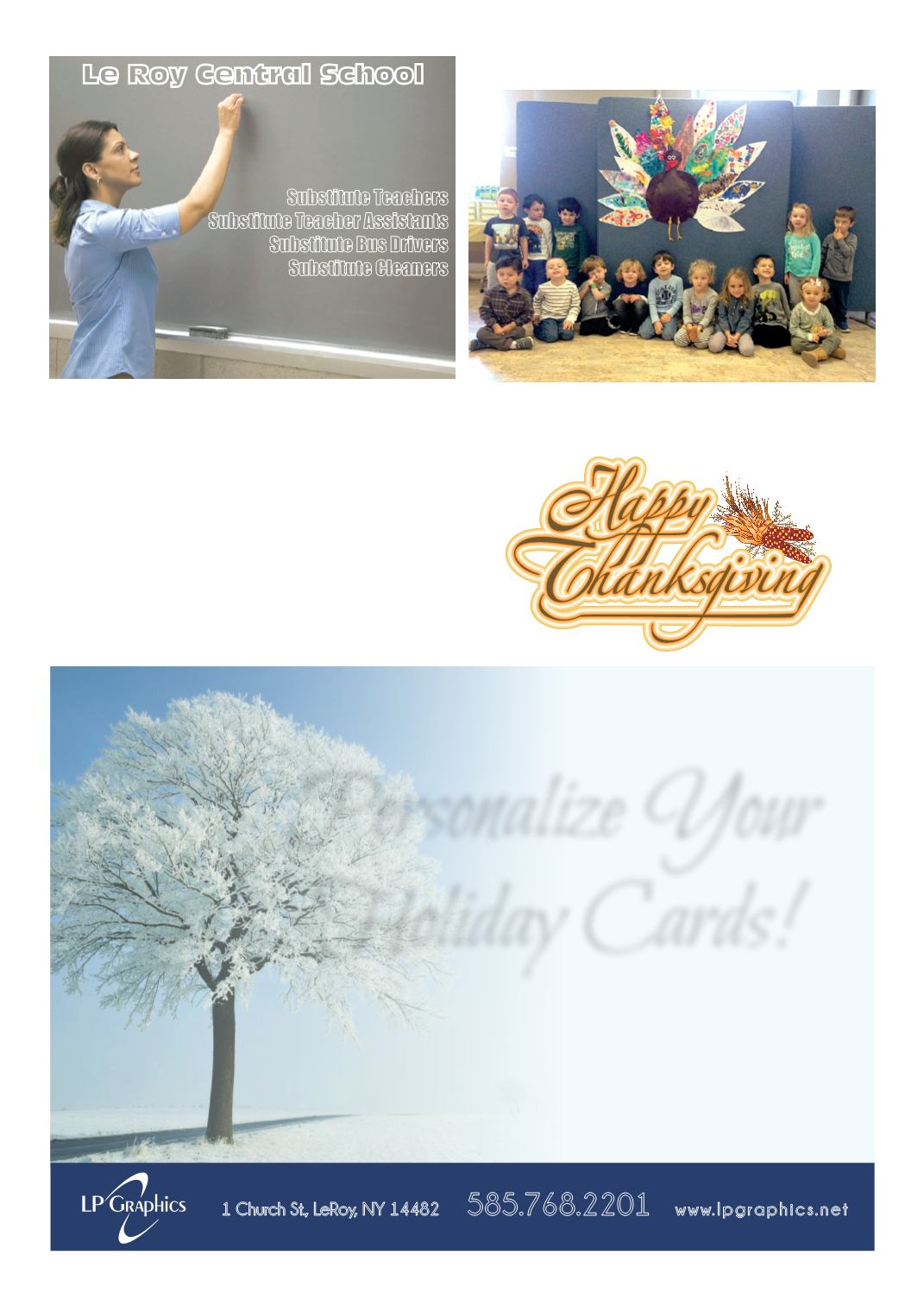 LEROYPENNYSAVER&NEWS -NOVEMBER 22, 2015
Feathers forFred at SNS!
SunshineNurserySchool'sNursery students brought inbeauti-
fully decorated feathers for Fred, their classroom turkey. Fred
is veryproud tobe thebest dressed turkey in town!
is seeking
qualifiedcandidates
toapply for the following
positions:
SubstituteTeacherAssistants
Pleaseapply inpersonor go to
employment opportunities
formore information.
TheGeneseeCo. Sheriff's office has concluded several investiga-
tions in theTownof Staffordwith the arrest of PaulM.Gelardo, age
30,ofValleyViewLane,Batavia.Gelardohasbeenchargedwith three
counts ofBurglary in theThirddegree, aClassDFelony, one count
of Criminal Mischief in the Second degree, a Class D Felony and
one count ofGrandLarceny in theFourthdegree, aClass EFelony.
It isalleged thatbetweenApril2014andSeptember2014,Gelardo
unlawfully entered three separate buildings and removed items and
also damaged equipment at the stone quarry. Hewas arraigned and
committed to theGeneseeCounty Jail in lieuof $10,000bail.He is
scheduled toappear inStaffordTownCourtonDec. 10that9:00am.
1ChurchSt., LeRoy, NY14482
585.768.2201
raphics.net
holiday cardswithpersonal
photos andmeaningfulwishes