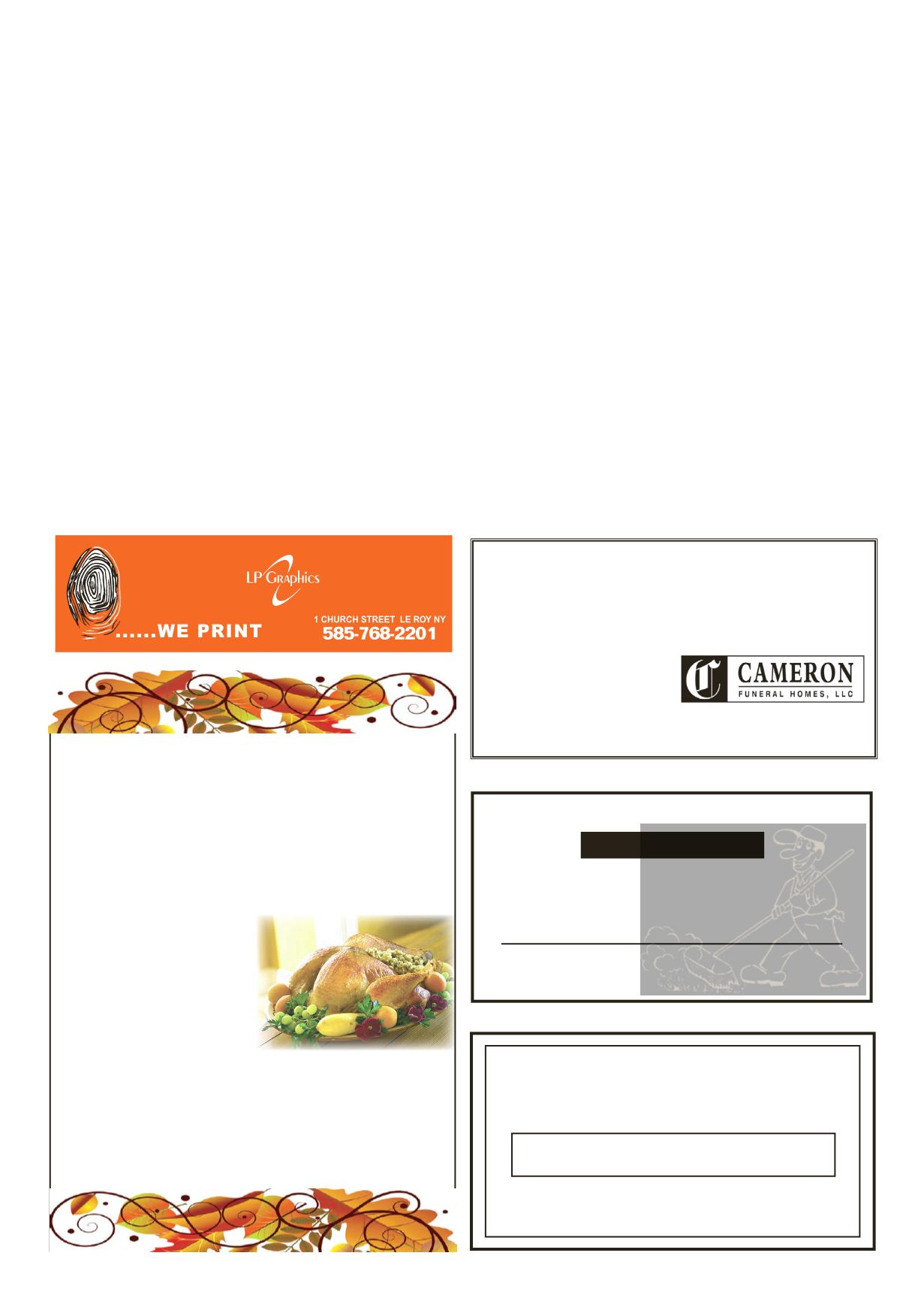 LEROYPENNYSAVER&NEWS -NOVEMBER 22, 2015
HelpingFamiliesCelebrateaLifeLived
"Our FamilyServingYours Since 1907"
Trusted•Honest •Proven
Cameron, Brady&Steuber
FuneralHome
111Wolcott Street
LeRoy,NY 14482
(585) 768-6800 •
Likeus onFacebook
Plumbing • Heating
Installation&Repair Service
For All Residential &Commercial Work
CleaningService
•Carpet &UpholsteryCleaning
•Spot Cleaning&Odor Removal
•Tile&WoodFloor Cleaning&Waxing
•Complete Janitorial Services
bySenatorRanzenhofer
November 2015
Upstate NewYork's crumbling
roads and bridges have been put
on thebackburner for far too long.
According toTRIP, anonprofit
organization with a focus on
transportation issues,ninepercent
of bridges inWesternNewYork
are"structurallydeficient,"while
27 percent are considered "func-
tionally obsolete." Even worse,
more than one-third of roads
are considered either "poor" or
TheAmericanSocietyofCivil
Engineers gives New York's
17,456 bridges a grade of D+.
The organization also rates the
Empire State's 240,000miles of
roads with an even lower grade,
Earlier this year, I pushed for a
record level of state investment
for local highway, road and
bridge repairprojects.The2015-
16 State Budget allocated more
than $500 million as part of the
Consolidated Local Street and
Highway Improvement Program
andExtremeWinterRecovery.
Even with funding levels hit-
ting new highs, it's still not
More recently, Governor An-
Mayor Bill de Blasio agreed to
designate$8.3billion in state in-
vestment for downstate'sMetro-
politanTransportationAuthority.
That is why I am calling for
New York State to invest $8.3
billion to addressUpstate's seri-
ous transportation issues. Upstate
deserves its fair share, too.
If downstate residents stand to
benefit frombillionsofdollars for
theMTA, then so too should res-
idents in other parts of the State.
Upstate residents deserve parity
of transportation infrastructure
investments. It is amatter of re-
gional balance and fairness.
The roadsandbridgesallacross
Upstate New York should be
madeapriority throughoutbudget
talksnextyear.GovernorCuomo,
as well as my colleagues in the
Senate and Assembly, should
demonstrate that same level of
commitment to funding for Up-
state transportation as theMTA.
TheStatecouldpotentiallysave
moneyover the long termby tak-
ingactionnow. Generally, repair
costs start to skyrocket as roads
andbridgesdeterioratefromgood
topoorso it isfinanciallyprudent
tomakeamajor investment soon-
UpstateDeserves Its Fair ShareFor Infrastructure Improvements
Committing more funding to
these critical projects has many
positive economic benefits. A
major investment has the poten-
tial tocreate thousandsof jobs. A
stronger infrastructure will help
tostrengthen thebloodvesselsof
ourWesternNewYork economy
by helping local companies and
small businesses move goods
Fixing our infrastructure will
save motorists hundreds of dol-
lars per year in costly repairs to
their vehicles. The state of infra-
structure is a public safety issue,
and improving roads andbridges
will keep motorists, as well as
AsyourStateSenator, improv-
ing our roads and bridges is one
Just watch any newscast and you'll knowhow
fortunatewe are to live in
LeRoy, GeneseeCounty or surroundingareas.
So, Thanksgiving shouldmean evenmore
to everyone this year.
Remember, if you are in need
or do not want to sit home
alone, give a call at
768-6769 and join us
for a feast at the party barn,
rides and deliveries
are also available.
From all of us at
McGinnisExcavating
Tom'sFavoriteDay
lpgraphics.net