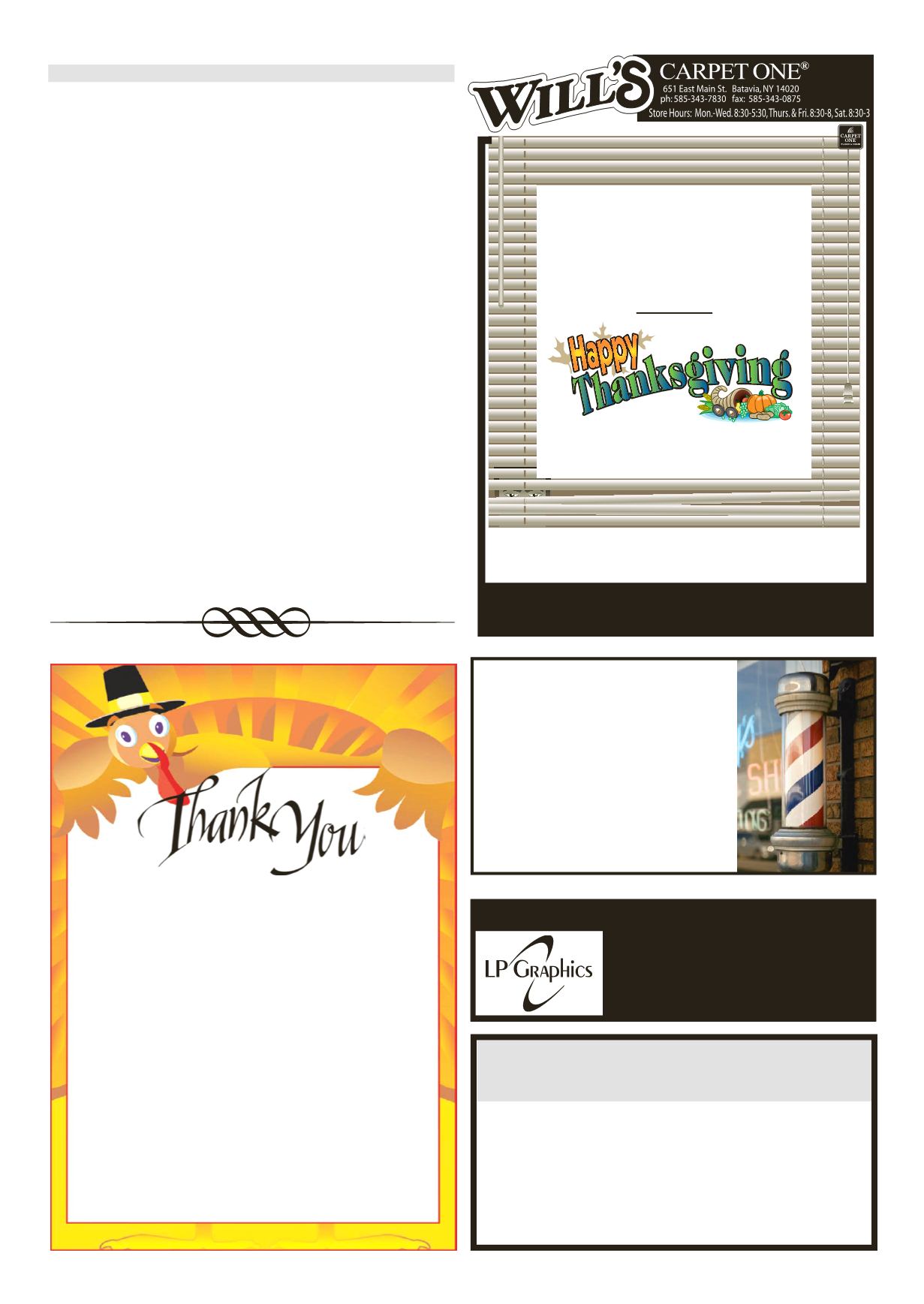 LEROYPENNYSAVER&NEWS -NOVEMBER 22, 2015
TheONE store for your perfect floor.
•Professional InstallationAvailable
•FinancingAvailableToQualifiedBuyers
FLOOR
&HOME
HUNTERDOUGLAS
BLINDS
UpTo
20%
OFF
ALLWORKMANSHIP GUARANTEED • INSURED
297-9097 • 768-7737
• InteriorPainting
• Plaster/LathRestoration
•Drywall&Drywall Repair
•TextureRemoval
• Floors Stripped
&Refinished
•OldCeilings&Walls
MadeLikeNew!
MikeDarby'sPatch&Paint
1ChurchSt., LeRoy, NY14482
585-768-2201
FAX 585-768-6334
WeDo
CLOSEDTHANKSGIVINGDAY
andwill follow the normal schedule for
Themembersof theLeRoyFireDepartmentAuxiliary
would like toTHANK the following for their
donationsand support of ourAnnual TurkeyRaffle.
Knights of Columbus
CarolinaEastern-Crocker
Coniber's
SuperiorPlusEnergy
MedEx
LeRoyPlastics
Orcon Industries
LeRoyFederal CreditUnion
JohnRiderReal Estate
McQuillen, Inc.
Falcone FamilyFuneralHome
StellaCollisionService
DickPrinzi
David andCarol Frost
Save-A-Lot
McGinnis
LeRoyPhysical Therapy
Transformations Salon
PizzaLand
Discount Liquor
D&RDepotRestaurant
SlicePizzaCo.
S&SLimo
NoFinerDiner
LeRoyMoose FamilyCenter
LeRoyHistorical Society
Tompkins
Smokin'Eagle
Ladies First Fitness
JohnMillerMC
BillWood
TerryKanaley
RickBater
Burt and JoManley
JohnHurd
and our guest ticket sellers -ActingChief TimHogle,
SecondAssistant Chief TomWood&CaptainCraig Johnson
Wewill beCLOSED
ThanksgivingDay
byGregRogers,Mayor
Themild fallhas reallyhelped
the DPW stay ahead of leaf
season. In this regard you all
received a letter with the sewer
bill about keeping the leaves out
of the streets. The Board would
like to thank everyone for their
cooperation on this; it should
reallyhelp come springwithour
stormdrains.AfterThanksgiving
the leaveswillhave tobebagged,
placed by the curb to be picked
up on Wednesday, with our re-
TherewillbeaJingleBellRun
onDecember5th fromnoonuntil
5 pm. The run is in conjunction
withWinterfest, even ifyouhave
towalkgetoutandenjoy the fun.
To everyone who is on the
Committee, thanks for all your
work and dedication. We are
already winners, money aside,
because this community andour
neighbors from Bergen have
bonded together towards a com-
mon goal. I believe the whole
community felt thepride inwhat
we have andwherewe live, and
this should really be the spring
board to some growth and mo-
Part ofThanksgiving is realiz-
ingwhat youhave andbe thank-
ful for that. I am thankful for all
theemployeesof theVillage; the
DPW, Police Dept., Wastewater
TreatmentPlant and thegreat job
The truth of the matter is we
are trulyblessedwithoutstanding
DepartmentHeads:SharonJeary,
ChrisHayward,BobLathan, and
SteveCarroll, these people keep
the beautiful Village of LeRoy
On behalf of myself, and the
Village Board Happy Thanks-
giving. Where else would you
"One man with courage is a
majority"Thomas Jefferson
Notes From TheMayor's Office