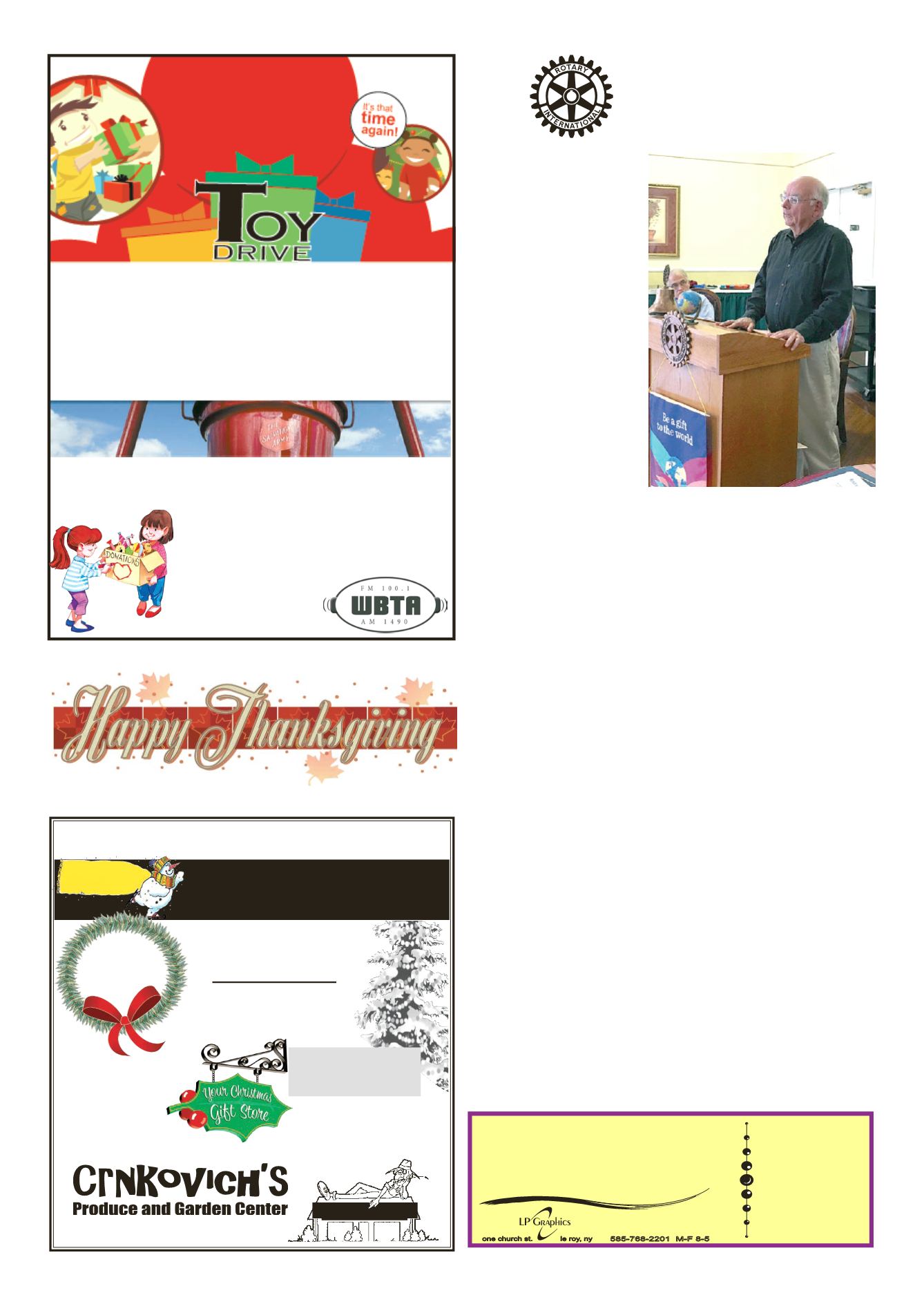 LEROYPENNYSAVER&NEWS -NOVEMBER 22, 2015
LeRotary
Notes
9am to 4pm
KenBarrettChevrolet Showroom
MainStreet, Batavia
Bring aNEW unwrapped toy and helpmake
Christmas brighter for kids inGeneseeCounty.
If you can notmake it down during the event
Friday, December 11,
drop off your item at the
WBTAStudios
113MainStreet, Batavia,
enthusiastic "Happy Birth-
day" with our rendition of
our Club's Veterans Larry
Boylan, Bob Sullivan, Bob
Hope had a great turnout!
Thankyouall for your time
and/or donations. We will be
collecting non-perishable goods
atour luncheon's for thenext few
weeks tobedonated to theLeRoy
FoodPantry.OurAnnualCookie
Auction will be held at our De-
cember 9th meeting, and we'll
be ringing the Salvation Army
Bell at Tops on December 11.
Our 75 Year Anniversary Book
is available and can be ordered
by contactingSamanthaVagg.
Chris Biviano, TomCox, Da-
vidGrayson&ChristyLoTempio
were all cited for missed meet-
ings.Most assisted and attended
the Appliance Raffle and used
thatas theirmake-up. BobBoyce
called on the services of Past
President Larry Boylan due to a
missedmeetingoversight. Larry
decided there was, "No harm,
President Tony started the
fining session by recognizing
two members for their Rotary
Anniversaries: Tracy Ford (7
years)&ChrisBiviano (4years).
KimCoxhappilypaidup for the
success of the Girls' Volleyball
team andCross CountryRunner
MaxMcKenzie. MaryMargaret
Ripley was fined for sending
her husband to the Appliance
Raffle on his 50thBirthday. She
was however given a photo of
him from the Historical Society
Newsletter as a token. RobMur-
ray's alma mater, the Michigan
Wolverines, had a goodwin and
hehappilyacceptedhisfine. Phil
Weiss was cited for, "hanging
out with the ladies in the kitch-
en" at the Appliance Raffle and
Bob Boyce proudly paid for his
grandson's upcoming college
graduation and acceptance to
Today for our program, Bob
Empey shared his research on
LeRoy's involvement in the
Civil War. Bob is originally
fromLeRoybutmovedaway for
a period of time. He decided to
return after retirement because
he always felt LeRoywas a nice
community. He discovered that
soldiers from LeRoy served in
4 regiments throughout the war.
Bob's talkwas interesting and a
timelyVeteran'sDayProgram.
For more information on the
Rotary Club of Le Roy, please
"Like"usonFacebook, followus
onTwitter or checkout ourweb-
8041E. MainRd. (Rt. 5) 1MileEast of LeRoy
OpenDaily • 768-7259 • 768-7813
FREEDrilling
FREEBaling
FREELocal Delivery
NOWTAKINGORDERS
ForMade-To-Order
Fruit&Gift Baskets
Large selection of fresh-cut
Christmas Trees
Jams, Jellies, Dressings
Maple Syrup,Honey,Apples,
Squash andMore!
DouglasFir •FraserFir
ConcolorFir
LivePottedTrees • TableTopTrees
NowOpenFor TheHoliday Season!
ThroughThursday, December 24th.
Tree&WreathAccessories
TreeStands• TreeBags
WreathHangers
one church st. le roy, ny