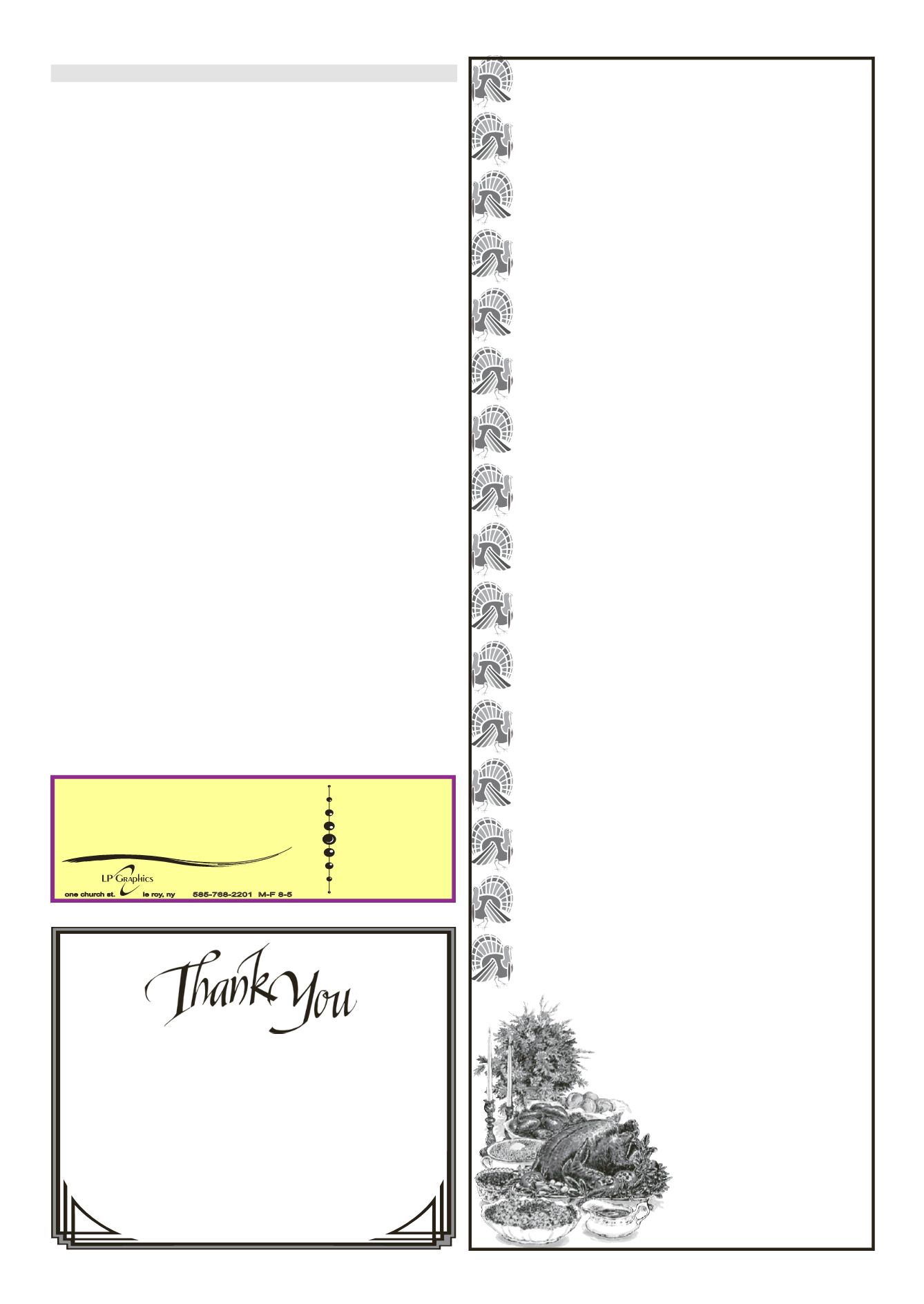 LEROYPENNYSAVER&NEWS -NOVEMBER 22, 2015
Count Your Blessings
andHave a
HappyThanksgiving
- If you have food in the refrigerator, clothes
on your back, a roof overhead, a place to
sleep, youarericher than75%of theworld.
- If you have money in the bank, in your
wallet and some spare change in somedish
some place, you are among the top 8% of
the world's wealthy.
- If you woke up this morning with more
health than illness, you are more blessed
than the million who will not survive this
week.
- If youhavenever experienced the chargeof
battle, loneliness of imprisonment, the
agony of torture, the pangs of starvation,
you are ahead of 500million others.
- If you can attend a church meeting with-
out the fear of harassment, arrest, torture
or death - youaremore blessed than three
billion others.
- If your parents are still alive and stillmar-
ried, you are vary rare, even in theUnited
States.
- If you hold up your head with a smile on
your face and are truly thankful, you are
blessedbecause themajoritycan, butdonot.
- If you can hold someone's hand, hug
themoreven touch themon theshoul-
der, youareblessedbecauseyoucan
offer the healing touch.
- Ifyoucanread thismes-
sage you are more
blessed than over two
billion people in the
world that cannot read
at all.
byKimCox
Superintendent of Schools
As I write this letter, it hard
to believe that last year on this
dateweactuallyhada snowday!
Today thebeautiful sunshineand
60 degree temperature are very
Congratulations toourathletes
andcoaches for averyenjoyable
fall sports season.We are proud
of all of our fall teams and their
efforts. We also celebrate the
Le RoyGirlsVolleyball Section
VChampionship and freshmen,
Maxin Makenzie, as he earned
hisfirst, ofwhatwillprobablybe
many, Cross-Country sectional
matches.Hip,HipHooray for all
November is not only a busy
month; it is a short one. I can't
believe theholidaysare looming.
There are many concerts and
programsplanned for thecoming
weeks. Please check theDistrict
timesand locations. Theseevents
are bound to put you into the
Alongwith theholidays, this is
the time of year when we begin
the budget building process for
thenextschoolyear.The2016-17
school year is fast approaching!
We held a Community Budget
Forum on Tuesday, November
10th and received suggestions
and ideas to keep inmind as we
move forwardwith this process.
Thank you to those who were
able toattend. Ifyouwereunable
to attend, you can learn more
about the budget design process
by going to the District website
and clicking on the District and
Budget tabs.As always, feel free
to contact me for any additional
information or questions.
Inclosing,wecontinue towait
for the NYS Education Depart-
ment approval of the R.I.T.E.
capital improvement project
which was voted on December
3, 2014.We are hopeful to have
approval by the end of January
so that we can begin the bid
process and craft our timeline to
commencework. Unfortunately,
we arehearingof somedelays at
the state level on this approval
processdue to lackofmanpower
to review projects. We remain
optimistic thatwewillhear soon.
At this time of year, and es-
pecially in light of recent world
events, I want extend my grat-
itude in being part of such a
wonderfulcommunityandschool
district. There is much to be
thankful for. Iwishyou, andyour
entire family a wonderful and
To all our friends and family for your support
and comfort during the loss ofmy husband
Special thanks to theFalconeFamily
FuneralHome,Mary ImmaculateParish
and theLeRoyVillageGreen.
VirginiaRigoni&Family
one church st. le roy, ny
one church st. le roy, ny