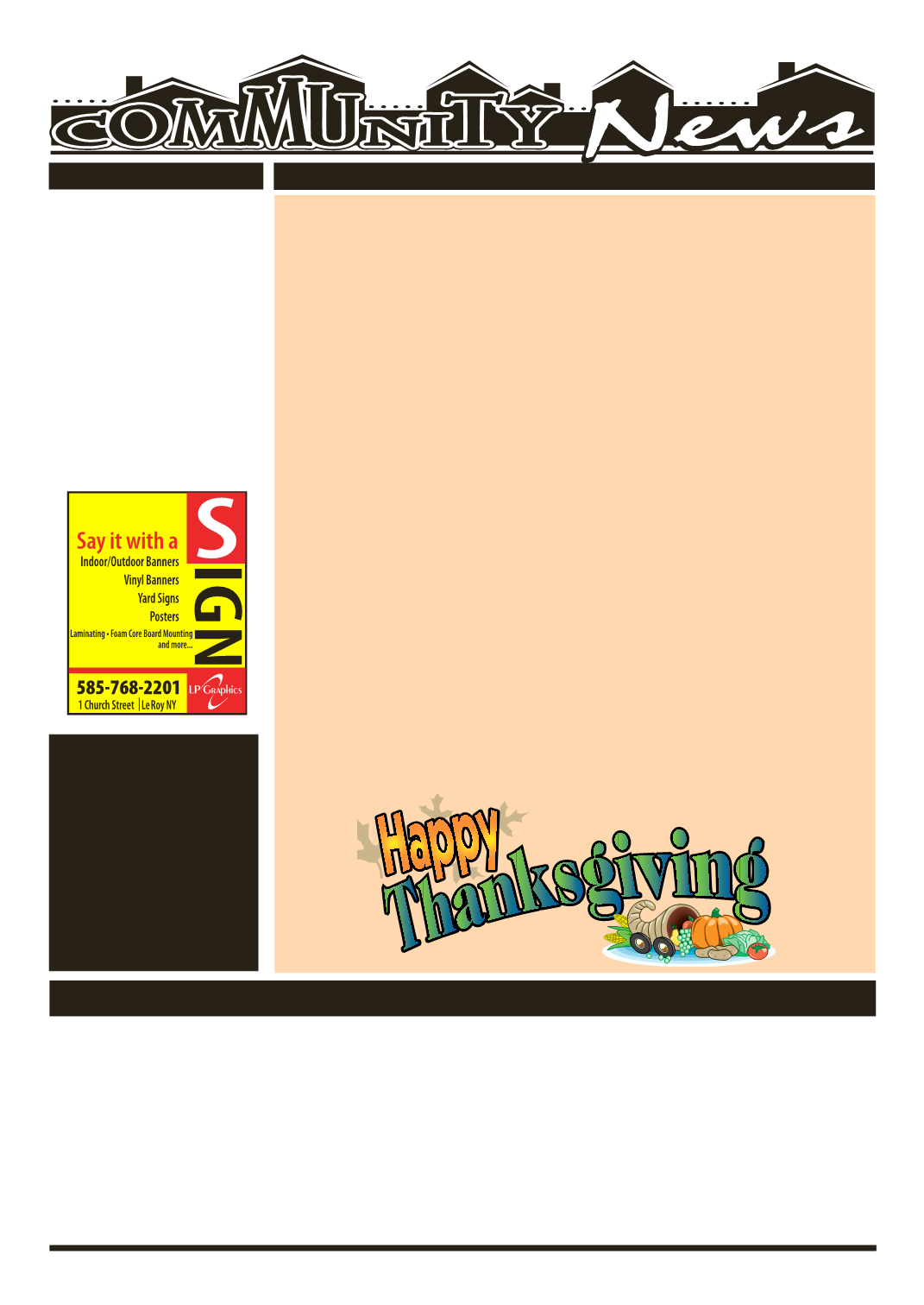 LEROYPENNYSAVER&NEWS -NOVEMBER 22, 2015
All GeneseeCounty residents, 60andolder, can takepart in thisweek'sactivitiesat theBataviaSenior Center, 2BankSt., Batavia. Formore information, call 343-1611.
(November 23rd -November 27th)
WEEKLYEVENTS
OBITUARIES
DefensiveDrivingClass
scheduled to takeplacebeginningat 9:00a.m. (Pre-Registration IndividualsONLY);
ArthritisExercise
is scheduled tobeginat 9:30a.m.;
Bridge
is scheduled tobeginat 11:00a.m.
InsuranceVendorFair
is scheduled to takeplace from10:00a.m. to4:00p.m;
Cribbage
Quilters
is scheduled tobeginat 9:00a.m.;
Euchre
is scheduled tobeginat 1:00p.m.
ThanksgivingHoliday -SeniorCenterClosed
ArtClassandLineDancing
is scheduled tobeginat 10:00a.m.;
Euchre
is scheduled tobeginat 1:00p.m.
SUNDAY,NOVEMBER22
KonnectYouthGroupatLivingWatersChurch,
LeRoy. Sundays from 6:30 to 8:30 pm for ages 12-18. "Bring
Downall theWalls! ConnectwithGodandConnectwithothers."
Formore information, checkus out onlineat: livingwatersleroy.
org/konnect-youth-ministry/
MONDAY,NOVEMBER23
TOPS (TakeOffPounds Sensibly)
at the LeRoy Presbyterian Church, corner of Clay & Main
Streets.Doorsopenat6:00pmandmeeting is from6:30-7:15
pm.Visitors are alwayswelcome. Call 585-768-7103 formore
TUESDAY,NOVEMBER24
PreschoolStorytime:
EveryTuesdayat11am featuringstories,
craftandsongsatPavilionPublicLibrary,5WoodrowDr.,Pavilion.
LCCP'sGRACE'SKITCHEN:
AFREEdinnereveryTuesdayevening,
5-6:30pmattheMasonicCommunityCenteron12BankSt.Plenty
ofparking.Takeout&deliveryareavailable.Formore info.contact
SelbyDavisat585-738-8882or
GRACE'SCLOSET:Aclothinggiveawayprogram
LeRoyUnitedMethodistChurch,10TrigonPark,LeRoy,9:30amto
11:30ameveryThursday.Wehaveclothing forall ages. Weneed
beddingofallkindsespeciallyblankets.Donationscanbedropped
offat thehousenext to the church. Pleaseputall bags INSIDEon
thebackporch. NOELECTRONICS, COMPUTERS,DISHES,etc.
Open
Tuesdays5-6:30pm.
Anyquestions call theoffice768-8980.
LeRoy Zoning Board of Appeals Meeting
7:30pmat theTownHall, 48MainSt. For further info. call 768-
LEGO&GameClubattheWoodwardMemorialLibrary
children in grades K-6 from 3:15 - 4:15 p.m. Buildwith Legos,
playboardgameswith your friends, or jamout onGuitarHero.
There is something for everyone. Registration isNOT required.
WEDNESDAY,NOVEMBER25
Wednesdays from 6:30 pm until 8:00 pm -
Pavilionwillbehaving theiryouthprogram. titled"JOYCLUB". It
isopen tochildren in thepre-school ageup to6thgrade. Itwill
beheldatthechurch10956S.LakeRoad,Rte.19. It isa funtime
ofBiblestories,gametime, refreshmentsandmemorywork.Call
for further information585-584-3179ext. 12. Leaveyourname
andnumber and the secretarywill call youback.
THURSDAY,NOVEMBER26
FRIDAY,NOVEMBER27
PenuelChristianFellowship,
OneSteptoFreedomaddictions
ministry,aChristCenteredAddictionsprogram,aweeklymeeting
every Friday at 7 pm. Call the Church for more information at
SATURDAY,NOVEMBER28
UPCOMINGEVENTS
CommunityCalendar Submissions shouldbe sent to:
Le Roy
Pennysaver
LEROY— Rose M. Cordaro, age
88, of Mill Street, passed away
Tuesdaymorning (Nov.17,2015)at
Strong Memorial Hospital in Roch-
ester. In lieu of flowers, memorial
contributions are suggested toOur
Serusa, age 96, formerly of LeRoy,
passed away Wednesday morning
(November 18, 2015) at Kenmore
Mercy Hospital in Buffalo. Mrs. Se-
rusaandher familyarebeingcared
for by the Falcone Family Funeral
&CremationService Inc. inLeRoy.
lpgraphics.net