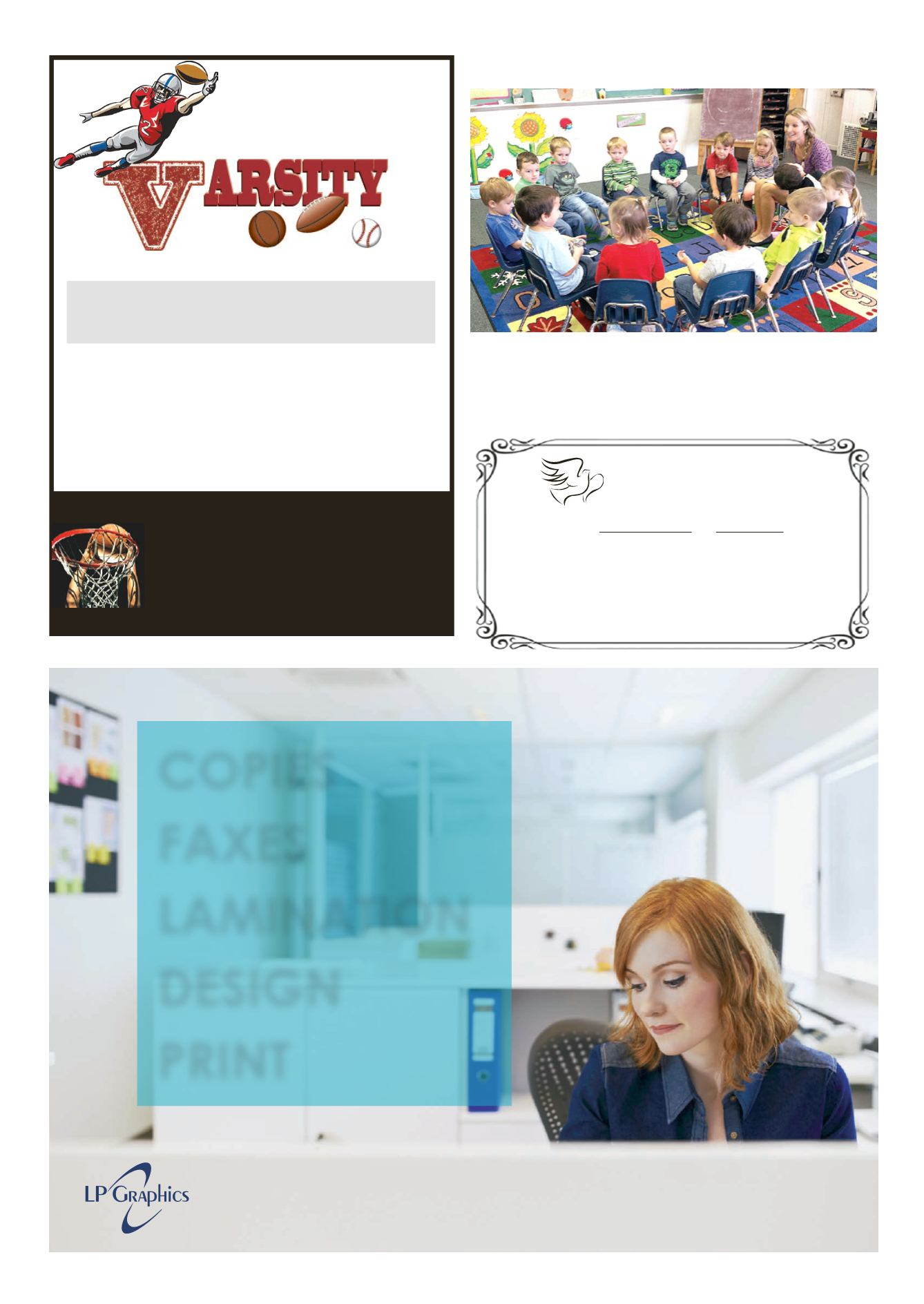 LEROYPENNYSAVER&NEWS -NOVEMBER 22, 2015
Director /Owner
FuneralDirector
F
ALCONE
F
AMILY
Funeral&Cremation Service, Inc.
Director/Owner
"ALOCALFAMILY
CARINGFORLOCALFAMILIES"
1ChurchSt., LeRoy, NY14482
585.768.2201
raphics.net
COPIES
FAXES
LAMINATION
DESIGN
PRINT
LeRoy Sports Boosters
2015 Fall
BANQUET
Dec. 7th
•5:00pm
at Stafford FireHall
Everyone isWelcome!
Dinnerwill be followedbyawards presentations.
Tickets for athletes andguests are $10eachandcanbepurchased
at thehigh school office.Get tickets early, no tickets soldat thedoor.
Abalanceof 1/3-1/2of each ticket
is paidby Sports Boosters.
Come celebrate with the athletes on an amazingFall Sports Season.
ThankYou
toall of thevolunteerswhohelpedout
withour fall concessions and raffle sales!!
Pleasecheckout our website for opportunities
to volunteer forwinter sports activities
providedby LeRoy Sports Boosters
What are you thankful for?Thiswas aquestion the children at
LoveBugsPreschoolhavebeen talkingaboutallmonth.They lis-
tened tostories,playedgamesand learnedallabout themeaning
ofThanksgiving.Picturedhereare themorningNurserychildren
playing a thankful game together!
WeAreThankful