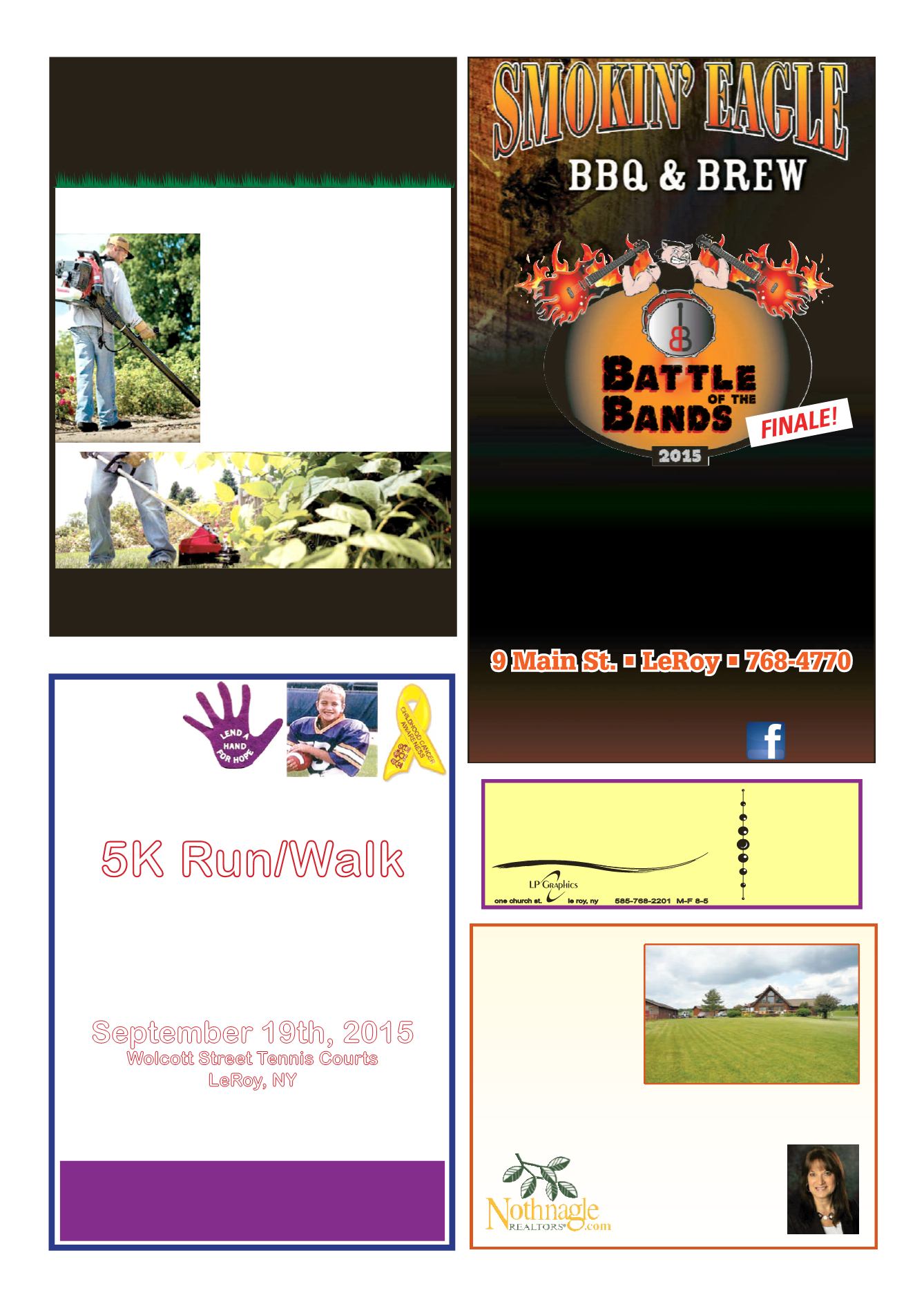 LEROYPENNYSAVER&NEWS - SEPTEMBER 13, 2015
LINWOOD
TURF EQUIPMENT, LLC
1818 LinwoodRd., Linwood, NY
HOURS:Mon.-Fri. 8am-5:00pm, Sat. 8am-12:00noon
ALL Kawasaki
Handheldand
Backpack Products
Kawasaki has discontinued
manufacturinghandheldproducts.
Therefore,weare liquidating
ALL
String Trimmers andPower Blowers.
Limited to stockonhand.
MichaelNapoleoneMemorial Foundation
National PediatricCancerAwarenessMonth
WolcottStreet TennisCourts
FightingPediatricCancer
Board ofDirectors:
Mark andLaurieNapoleone
Darrel Bell
EllenDellaPenna DianeHale
JenniferHouseknecht
KathyKelly
Jeff Klips
SeanaLogsdon
JoAnneMcInerney
MarkNapoleone, Jr.
AnnMarieSuttell
JenniferTriftshauer JoniYaskulski
LEROY:8522Lake
StreetRd. (Rt.19)
run-ins,workshop, 4 pastures andmuchmore!!
292-8500.PC50467nothnagle.com/R277284
Lic. R.E. Assoc. Broker
ByAppointmentOnly
(Cell)
(Office)
one church st. le roy, ny
one church st. le roy, ny
Full ServiceCateringAvailable.
LocalDelivery (Townof LeRoy) Thurs.-Sat. 5pm-9pm
Presents
Saturday, September 19th (2-10pm)
(outside inour parking lot)
Livemusic&greatBBQcome together to
supportGolisanoChildren'sHospital
Raffles, Prizes, ChikcenBBQ&More!!
Comeondown& support the final twobandscompeting
for thechampionship!All for agreat cause!
Nocover charge -OutdoorBeer Tent, sponsoredbyLabatt's
USA • 96.5WCMFon location, livebroadcastwithDaveKane!