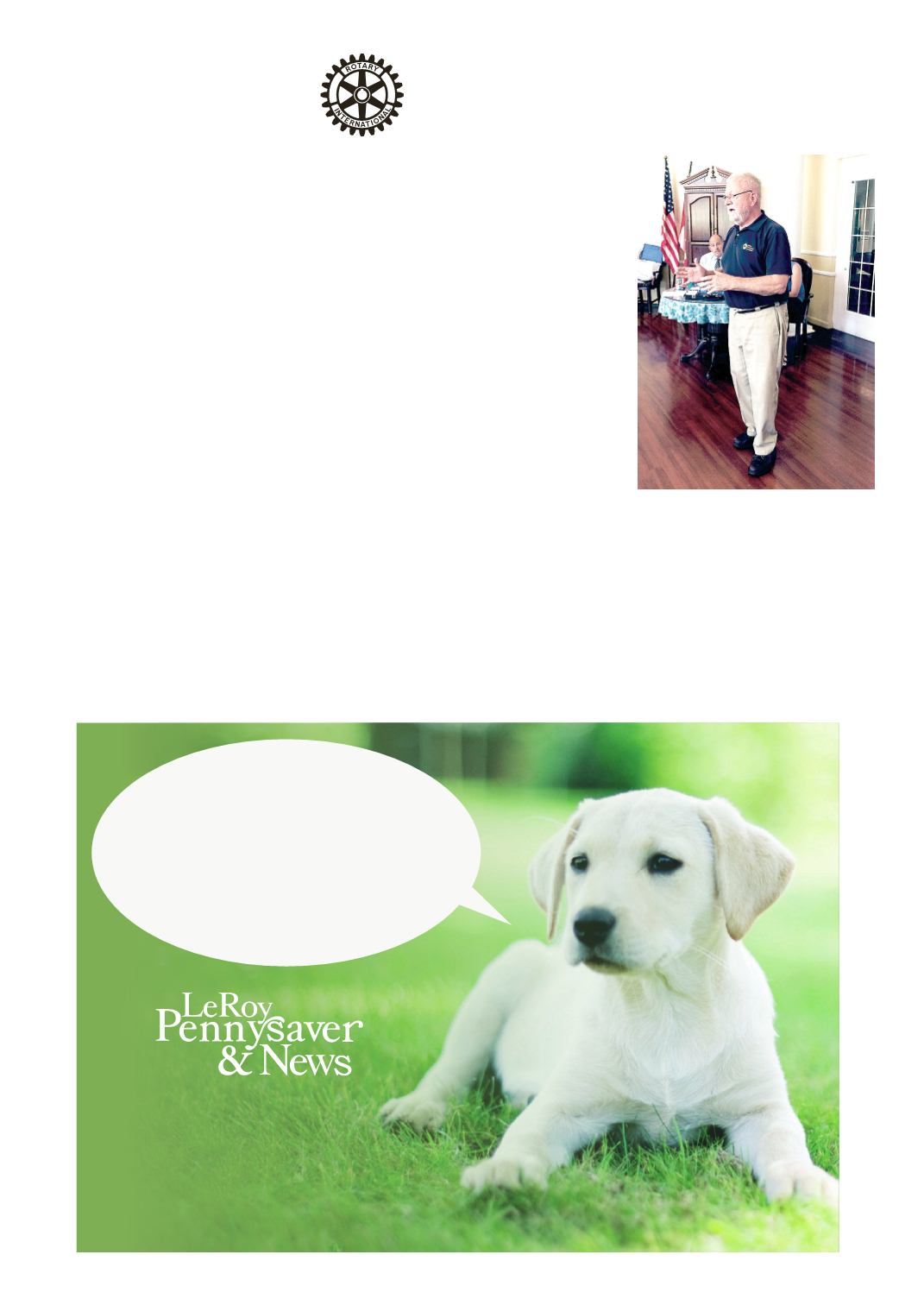 LEROYPENNYSAVER&NEWS - SEPTEMBER 13, 2015
Advertise•Classifieds•News
HelpWanted•CommunityCalendar
1ChurchSt., LeRoy, NY14482
585.768.2201
oyny.com
LeRotary
Notes
Notes for Sept. 2nd
It was another great day to be
alive and serving in Rotary as
President Tony Gugino opened
the meeting at about 12:15 pm
PledgeofAllegiance,
theGraceand theFour-WayTest,
BobCarlsen introducedourguest
Sam Leadley who was also our
Tony noted that we will host
the District Governor on Sept.
9th and that the Past Presidents'
Dinner is Sept. 29th at Stafford
CC and is open to all Rotarians.
Bob Bennett reminded us about
thePicnicat hishousebeginning
at noon on Sept. 27th and about
the Annual Appliance Raffle
which isourmajor fund raiser for
Rotaryoutreachand isscheduled
for Nov. 1st at the Legion. Anil
mentioned that Easter Cities
Dinner will be October 19th at
theRochesterConventionCenter.
The INTERACT Fall Festival is
alsoscheduled for that sameday.
Several folks "donated to the
cause" for missing meetings
due towork and other quasi-ex-
cuses including President Tony
himself who was on vacation,
ChristieLoTempio, BruceBaker
andMaryMargaret Ripley who
had an online make-up! Others
garnered some "special recog-
nition" in the form of modest
fines including Dave Frost who
has a "new knee", Eric Fix and
Christie LoTempio on their 3rd
and 2nd anniversaries as Rotari-
ans,LynneBellusciowhovisited
Norway, Ron Pangrazio on the
earlycelebrationofhis50thwed-
ding anniversary,MarthaBailey
who paid for submitting expired
information about Bob Bennett,
and, of course, President Tony
whowas "worked over" byBob
Bennett for recognizing David
Grayson and Randy Vink for
stepping in at the podium.
Bob Carlsen introduced Sam
Leadley who spoke to us about
the dairy industry in the sur-
rounding counties. Who knew
thatapproximately100,000cows
aremilked and produce over 3.5
million quarts of milk daily?!
Samgaveus somehints fromhis
size of the dairy industry
benefits to our tri-county
uled for Nov. 1st. It is a
like tohelp, pleasecallBobBen-
Le Roy Rotary asks you to
consider becoming part of an
organization that is about to
eradicate polio from the earth,
contributes to numerous assis-
tanceprojects inover100 foreign
countries, and offers a chance
for everyone to give back to
their community. Locally, we
provide over 30 scholarships to
local students annually, cleanup
the West Main trestle, provide
engaging Appliance Raffle and
Graze toRaise events as well as
manyotherfunevents.Whydon't
youhelpusmakeourcommunity
a better place? Remember to
"Like"usonFacebookat"Rotary