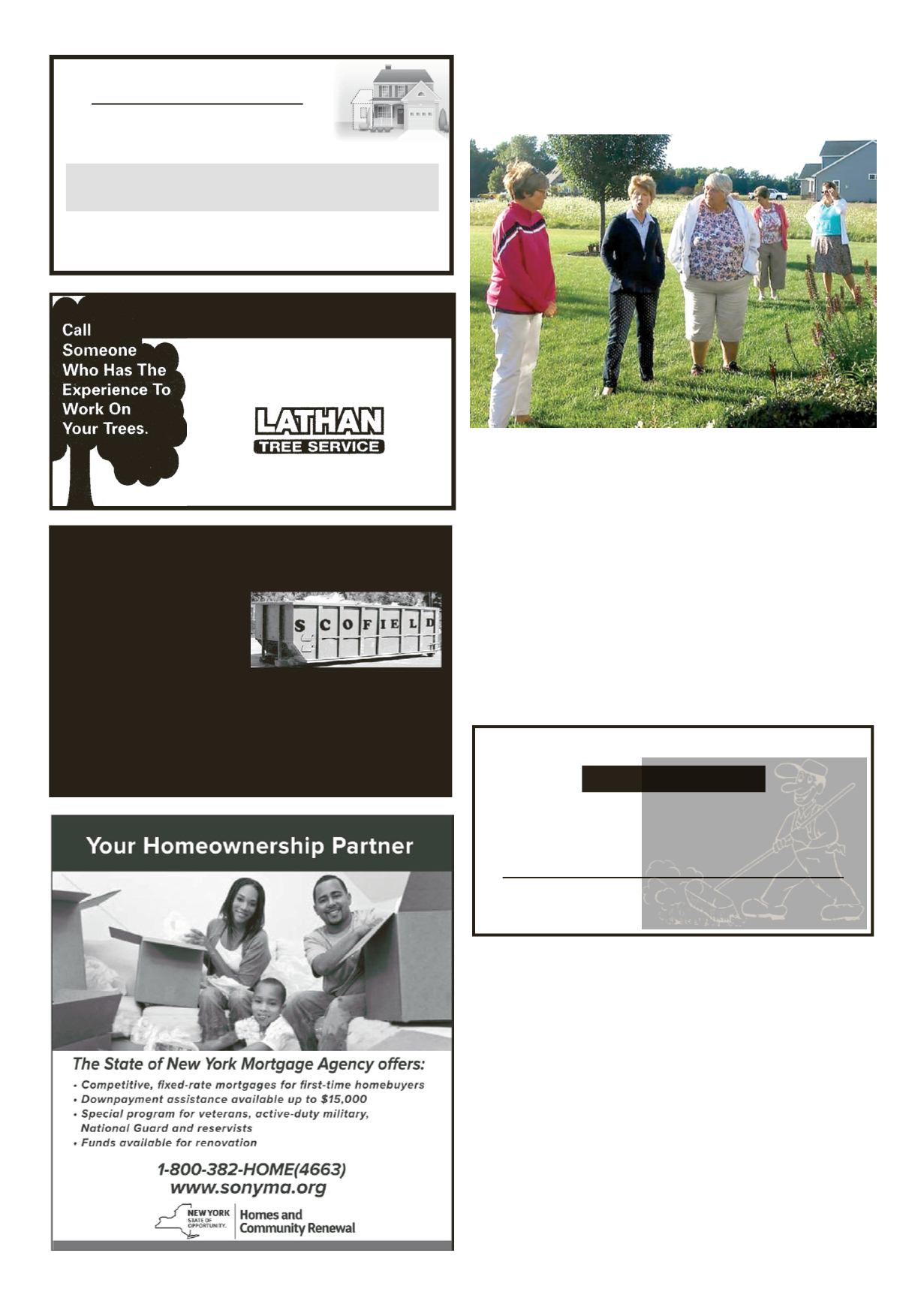 LEROYPENNYSAVER&NEWS - SEPTEMBER 13, 2015
"CompleteCarpentry Service"
M
ILLER
B
ROTHERS
B
UILDERS
CustomHomes •Remodeling•Additions
Roofing• Siding
DANIEL
MICHAEL
Town&Country
GardenClubOfLeRoy
On Wednesday, August 12th
twenty-three members of the
Town & Country Garden Club
of LeRoy held a picnic at Becky
Kelly's home. Pictured above
aremembers (SuePrivirtera,Sue
Dambra, Ann Walters, Eileen
Partise, and Lee Ann Patterson)
discussing the various plants in
Everyoneenjoyed thedelicious
foodwhichwas provided by the
D&R Restaurant. A short busi-
ness meeting was held. At the
September 9thmeeting theywill
be making ornamental cement
leaves using leaves from their
The Garden Club meets the
2nd Wednesday of the month
at 6:30 pm. The location and
program are announced on the
LeRoy
PennySaver
For information about the or-
ganization or the upcoming pro-
gram, contact Ann Walters at
09/07/2015 - A 17 year old from Pavilion was arrested by the
LeRoy Police Department on September 6, 2015 and chargedwith
the following, DrivingWhile Intoxicated, a Class AMisdemeanor,
DrivingWhile Intoxicatedwith a blood alcohol content of .08% or
more, aClassAMisdemeanor, Inadequate exhaust, Insufficient tail
lamps, Unsafe tires, andHavingmore than one passenger under the
age of 21while holding aDJ license, all TrafficViolations.
The 17 year oldwas arrested following numerous traffic infrac-
tionsby theLeRoyPoliceDepartment.Afterabrief investigation the
subjectwas allegedly found to be intoxicated.
The17yearoldwas issuedappearance tickets for thechargesand is
toappear in theLeRoyTownCourtonSeptember28,2015at1:00pm.
At this time the name of the defendant is beingwithheldbecause
of the possibility of a youthful offender status.
CALLUSFIRST
•TreeRemoval •TreeTrimming
•StumpRemoval •Lot Clearing •Firewood
•Tree Planting •FreeEstimates •Fully Insured
CALL585-768-2278
CleaningService
•Carpet &UpholsteryCleaning
•Spot Cleaning&Odor Removal
•Tile&WoodFloor Cleaning&Waxing
•Complete Janitorial Services
15, 17, 20, 25, 30,
and 40 cu. yd.
CONTAINERS
ScofieldRolloff •343-8383
NobodyBeatsOur Prices!