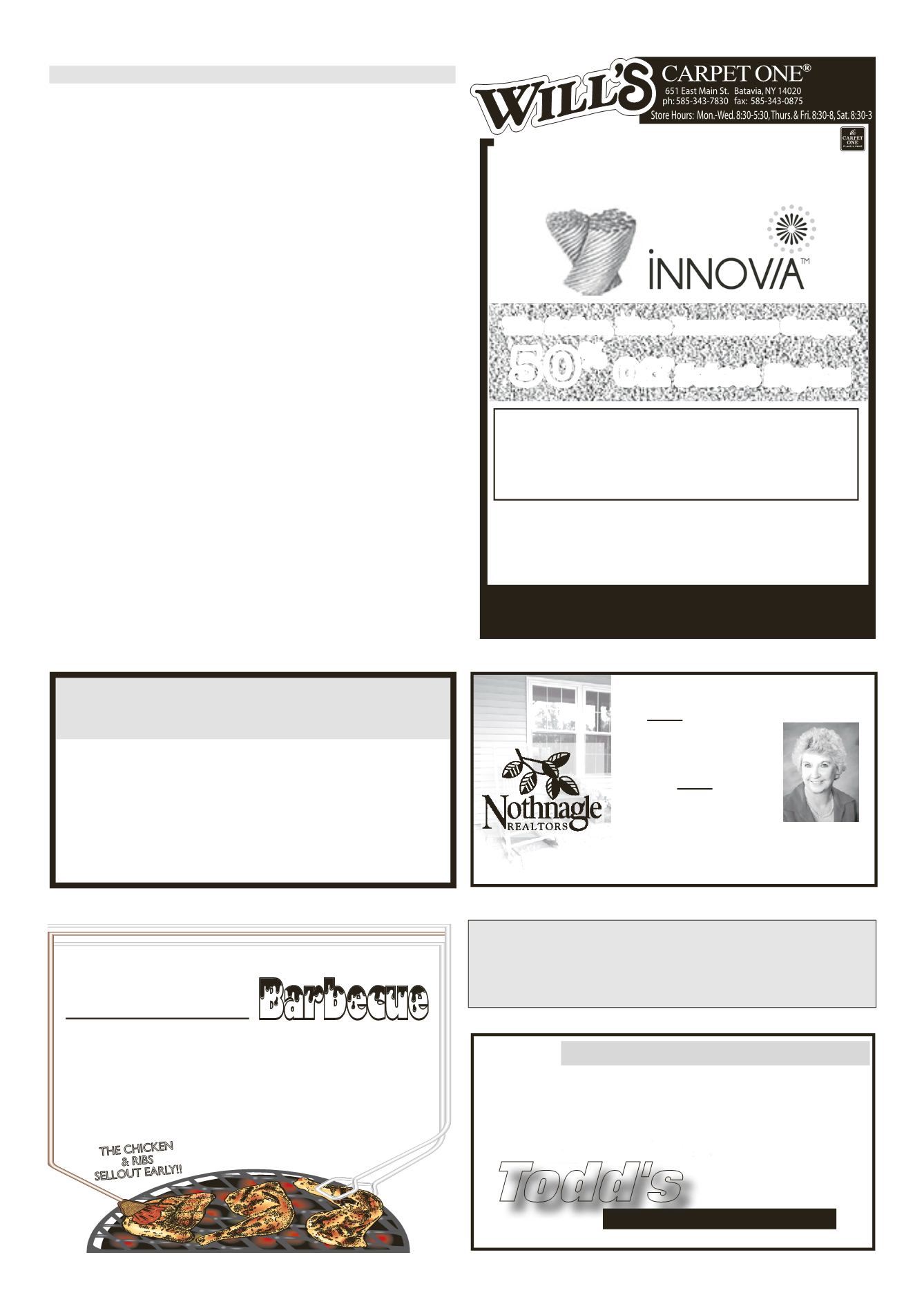 LEROYPENNYSAVER&NEWS - SEPTEMBER 13, 2015
SUPPORTYOUR LOCALADVERTISERS!
They help sponsor the local news section of the Le Roy Pennysaver.
THANKS FORYOUR SUPPORT!
ALLWORKMANSHIP GUARANTEED • INSURED
297-9097 • 768-7737
• InteriorPainting
• Plaster/LathRestoration
•Drywall&DrywallRepair
•TextureRemoval
• Floors Stripped
&Refinished
•OldCeilings&Walls
MadeLikeNew!
MikeDarby'sPatch&Paint
Batavia
585-343-6750
NOW is theBEST time
toBUYwith the interest rates
at their lowest!
Don't wait
toBUY -
call
LindaBeaumont
for all your real
estate needs.
LindaBeaumont
Home (585) 768-6315
LicensedReal Estate
Salesperson
Multi-MillionDollar Producer
NewHomes •Additions •Garages •PoleBarns
ToddCarli • Phone 703-0964
Todd's
Decks •Windows •Doors
Kitchens •Baths
CeramicTile
Basement Finishing
CustomShelves/Built-Ins
Siding •Remodeling
Roofing • SnowPlowing
FULLY INSURED
TheONE store for your perfect floor.
FLOOR
&HOME
Bring ItHome!
FlooringSale!
•Professional InstallationAvailable
•FinancingAvailableToQualifiedCustomers
TheSofter,MoreLuxuriousCarpet.
50
%
Off
SelectStyles
CheckOutOur LargeSelection of ...
WALLPAPERandBORDERS
CARPETREMNANTS
LeRoyHistorical Society
Sunday, Sept. 13th
onTrigonPark, LeRoy
BBQ 1/2CHICKEN - $10.00 • BBQ 1/4CHICKEN&RIBS - $12.00
w/salt potatoes & cole slaw, roll, cookies
Carry Out Only
"DriveThrough" OnTrigon Park
byGreg "Porp"Rogers
Mayor
Summer issupposed tobeover,
but youwould never know it by
theweather. On September 19th
theMichael Napoleone Founda-
tion will once again be hosting
its Run for the Gold 5K Run or
Walk inourVillage.Registration
begins at 8:00 am at the Summit
Street Tennis Courts; the race
startsat9am.Youmayregisteron
TheVillageSidewalkProject is
in itsfinal stages and shouldpro-
videmanynewsidewalks.Not to
sayourwork isfinished,but it isa
start.Whenyoustartaproject like
this,youseemanymoreareas that
need to be addressed. We look
to fix as many as we can in the
future.Youmay ask "whydidn't
this sidewalk get done". There
is a defined scope of work that
was in the grant application and
very little room for adjustment
within that scope, we know it's
notperfect,but it iswhatwehave
TheVillagehasrecentlyapplied
for two more grants. One deals
with water front/business plan
that will include Main St. and
the length of the Oatka through
the Village. The second, is we
are seeking money to upgrade
our sewer plant, I hope to keep
you posted in the future of the
progress of these grants.
TheBoardbudgeted tofixapor-
tionof theMainSt. sidewalks;un-
fortunatelywewon'tbeable toget
asmuchdoneaswe thought. We
are looking intofixing thewalls in
the alleyway off ofMain St. that
has needed repair for years.
Lastly, the sports teams are
back inaction, take timeout sup-
port our young athletes, its great
entertainment. Congratulations
to Brian Herdlien and his new
staff on their first victory Friday
evening.About200morewins to
catchCoachMoran,Nopressure,
I'mchanging thisweek'squote
from one I recently saw in the
Pennysaver.
"LeRoy is the place your feet
can leave, but your heart never
Notes From TheMayor's Office