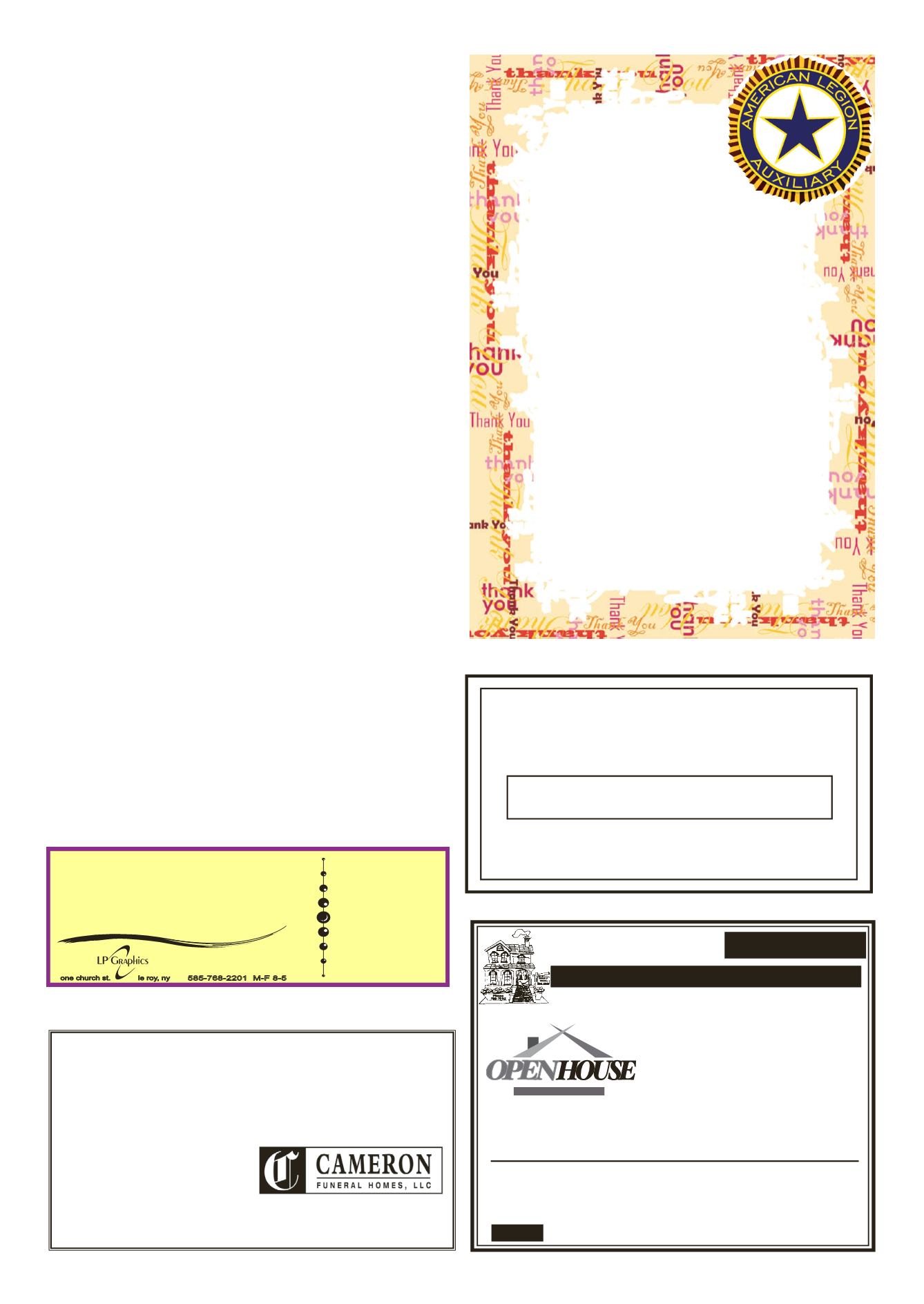 LEROYPENNYSAVER&NEWS - SEPTEMBER 13, 2015
HelpingFamiliesCelebrateaLifeLived
"Our FamilyServingYours Since 1907"
Trusted•Honest •Proven
Cameron, Brady&Steuber
FuneralHome
111Wolcott Street
LeRoy,NY14482
(585) 768-6800 •
Likeus onFacebook
Price reduced to $74,000.
Great starter home, beautiful oakfloors& oak
woodwork. Newer kitchen andmuchmore.
RiderReal EstateNot TheBiggest - Just TheBest!
Sunday, Sept. 13th
2:00-4:00pm
LeRoy - 28SouthSt.
Plumbing • Heating
Installation&Repair Service
For All Residential &Commercial Work
TheAmericanLegion
Auxiliaryof LeRoy,Unit 576
would like to senda sincere
THANKYOU toall of the
participantsanddonorswho
helpedmake ourGlow-Ball Tournament
a success ...
Crocker'sAceHardware
C&G'sGas&Go
Ladies First Fitness
LeRoyVillage Fitness
LeRoyServicemen'sClub
LeRoy'sNoFinerDiner
MarianKohl
Mill Street Liquor
HillaryMacomber, ConstellationBrand
StaffordTradingPost
TheDivineTree •TheHobbyHorse
Scooter's •Vintage andVogue
Woody'sDeli •LeRoyVillageHardware
SweetlandPinesGolf Course
Becauseof all of youandourCommunity
weareable to fulfill our commitment
to support ourVeterans!
The LeRoy American Legion,
Botts-Fiorito Post #576 is proud
to announce this year's selection
for the "LeRoyan of the Year"
Bill is a well-known local
contractor, having maintained
his business, "Bill Fox & Son,
Construction and Remodeling,
LLC" in thearea for over twenty
Bill ismarried, he andhiswife
Anne, of thirty four years have
three children, sonsBill Jr. "Bil-
ly", and hiswifeMady; Andrew
and daughter Marisa. Billy and
Mady have two children Farrah
An integral part of thecommu-
nity, Bill has devoted countless
hours in support of local sports
programs,participatingwhenand
where he could as his kids pro-
gressed through soccer, baseball
and football. Hehas lenthishand
in contributing time and effort to
school sports projects including
such thingsasanew trophycase,
after a SectionV championship.
Hehasbeen instrumental inor-
ganizing support groups tomeet
and "Welcome Back" veterans
returning from "Honor Flights"
from Washington, D.C. at the
Rochester Airport. In addition,
hehasorganizedChristmasvisits
at the Veterans Administration
Facility inBatavia,NewYorkand
has sponsored ice cream socials
Bill has a strong interest in
community awareness projects
and leadingeducationalprograms
involving hunting, hunter safety
and animal awareness. He con-
tinues to instruct theDECHunter
Safety program for youth; and
hasconductednumerousAnimal
Education programs forNursery
Schools andPre-School children
OneofBill's strongest endeav-
ors involves the "Shooters Com-
mittee onPolitical Education" or
SCOPE. Bill has served as the
ChapterChairperson forGenesee
County for two years and was
previously theSecretary for three
years.Hecontinues toserveas the
SecondVice-Presidentof theNew
YorkState SCOPEorganization.
Bill stronglybelieves inseveral
essentialprinciples, theConstitu-
tionandourGod-given rightsand
his local community. In his own
words: "Being an area business-
manmyself, I firmlybelieve that
we should shop and do business
locally. I am all for helping to
keepbusinessesalive inLeRoy."
For these reasons, and many
more we feel very pleased to
presentMr. Bill Fox as the 2015
"LeRoyanof theYear", the 47th
recipientof thisprestigiousAward.
The 2015LeRoyan
OfTheYear
one church st. le roy, ny
one church st. le roy, ny