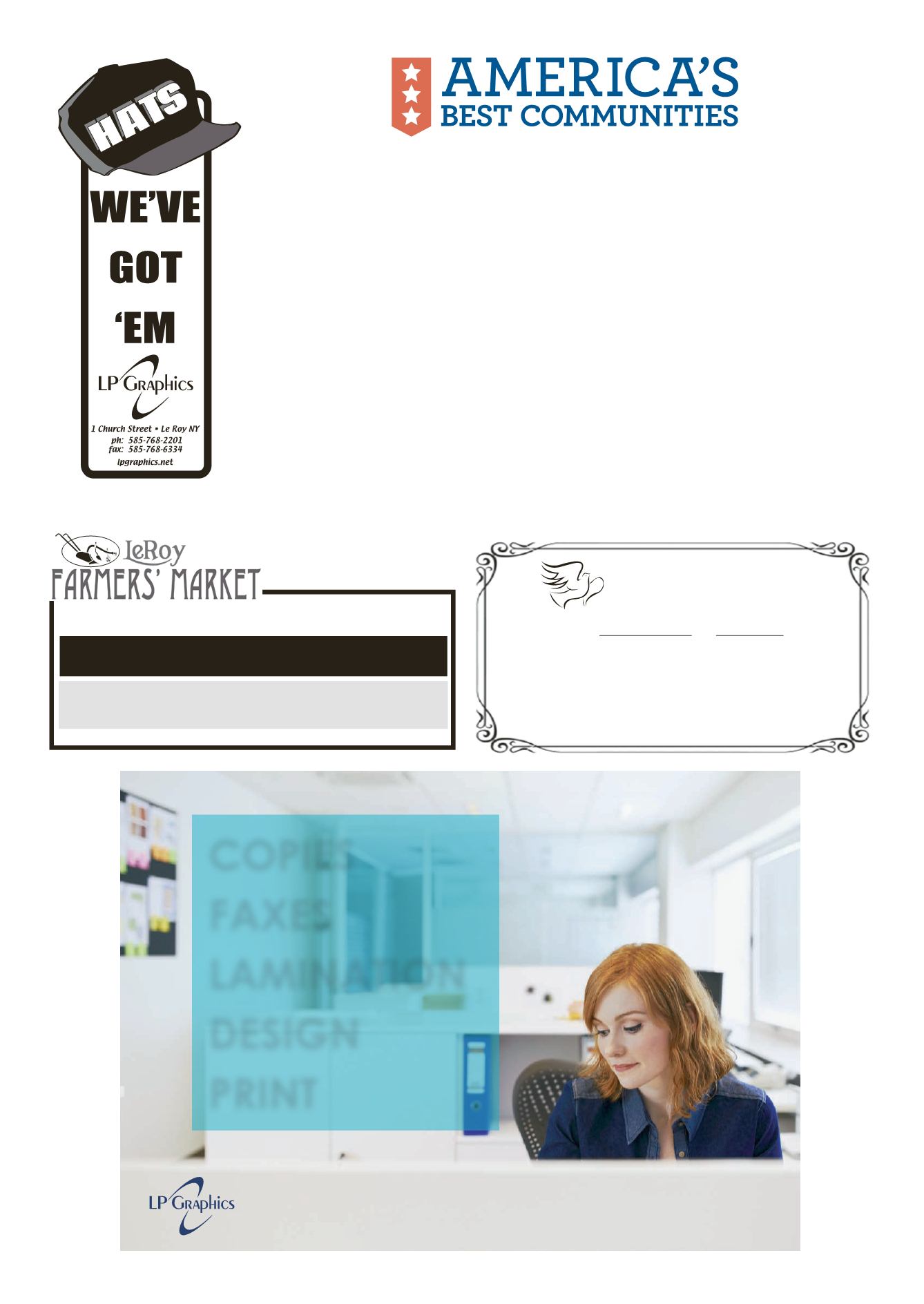 LEROYPENNYSAVER&NEWS - SEPTEMBER 13, 2015
Director /Owner
FuneralDirector
F
ALCONE
F
AMILY
Funeral&Cremation Service, Inc.
Director/Owner
"ALOCALFAMILY
CARINGFORLOCALFAMILIES"
LeRoyFarmer'sMarket onFacebook
TRIGON PARK
Saturday, Sept. 19th
9:00 am-12:30 pm
LOCAL • FRESH•DELICIOUS •NUTRITIOUS
Seasonal Fruits andVegetablesWill BeArrivingWeekly!
Guitar player, ErnieLawrencewill be in ourmusic tent
andSt.Mark'swill havehandmade paper ornaments
in ourCommunityBooth.
Jams, jellies, eggs,Yancey'sFancyCheeses, NundaMustards,
OnceAgainNut Butters, baked goods, organic produce, honey,maple syrup
and fresh, locally grown produce.
Bergen andLeRoymean busi-
ness - - agricultural business.
From the earliest times, it has
beenour richsoiland thecaretak-
ers of the land - - our farmers - -
whohavesustainedoureconomy.
Thispastweek,wecelebrated
the strength and commitment of
our farmers at the Field to Fork
Feast in the middle of an alfalfa
fieldon theSteinFarm. Our local
farms contributed all the food –
from thebeef and thepork, to the
corn and apples and pears and
raspberries and cheese. Again, it
was our agricultural community
who sustained us. And by doing
so, theymade it possible to raise
$5,000 toward our community's
match for the America's Best
would be interested in an eco-
nomic sustainability plan that
will promote the installation of
gas and sewers along the Route
19 corridor, but they knowmore
thananyone, that our community
needs to forge partnerships with
agricultural industry in order to
survive, and that industry needs
sewers and gas. And all of us,
who are trying to do business in
this community need high speed
broadband Internet service. We
need equal footing in order to
compete and our community is
Why do farmers need broad-
band Internet service?Cropyields
and fertilizer application is now
monitored by G.P.S and satellite
connections mounted on farm
equipment. Milk production and
nutrition requirements aremoni-
tored by chips placed in a cow's
ear. Rural business is conducted
notonlyona tractor, but at adesk
withacomputerandbothneed re-
liablehighspeed Internet service.
This is not a newdevelopment
for our agricultural community.
Fifteen years ago, theNewYork
Times focusedon the technologi-
calchanges thatour local farmers
had embraced, citing theMowry
Farm in LeRoy, and businesses
inBergen andElba.Our farmers
know only too well that any
opportunity, such as the ABC
contest needs to be pursued, to
bringgas, sewers andbroadband
Internet toBergen andLeRoy.
1ChurchSt., LeRoy, NY14482
585.768.2201
raphics.net
COPIES
FAXES
LAMINATION
DESIGN
PRINT