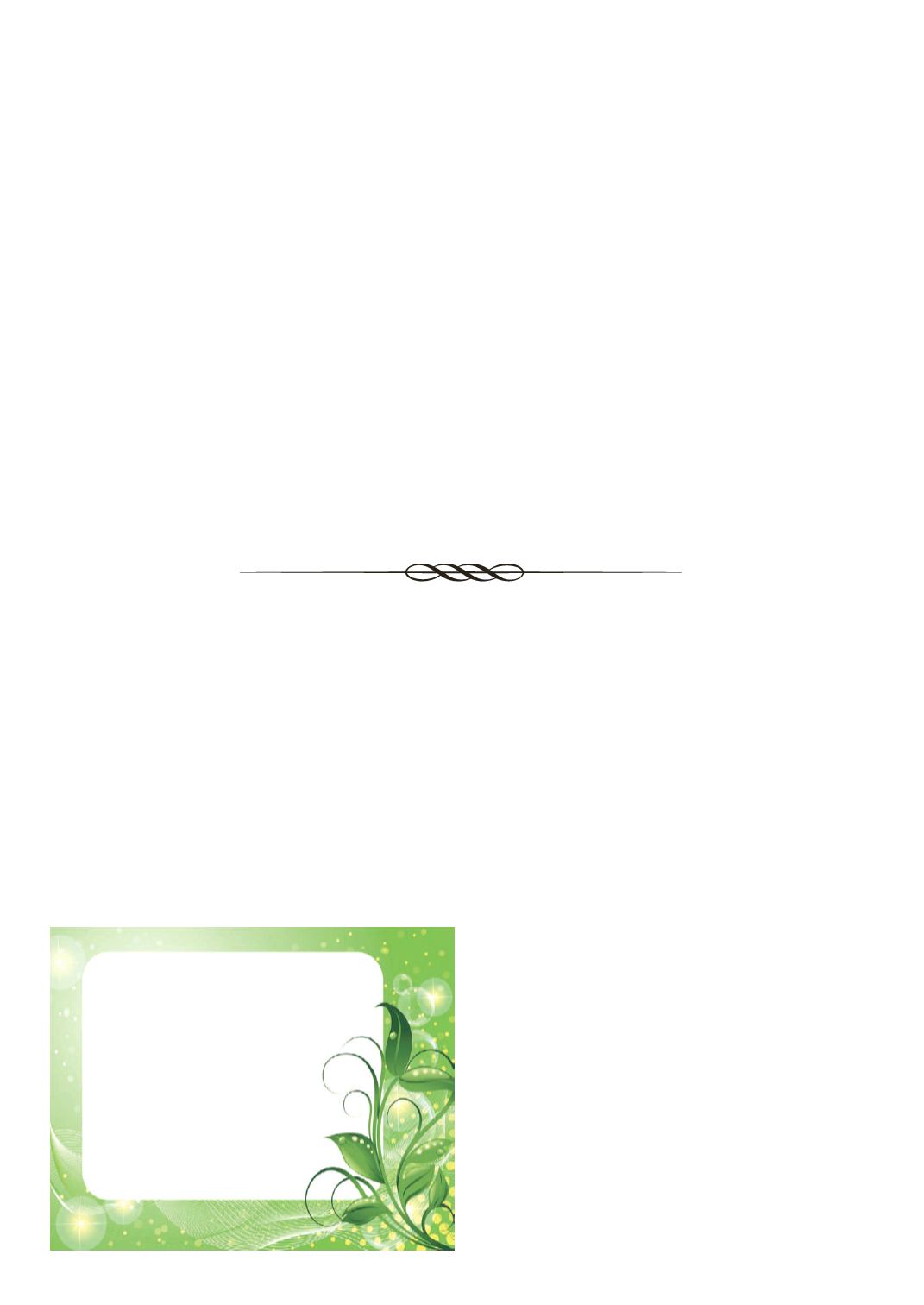 LEROYPENNYSAVER&NEWS - SEPTEMBER 13, 2015
In seniors football, theLeRoy
Knights took on the Wellsville
Lions. The Lions would start
thefirsthalfonoffense.LeRoy's
defense,held theLionson4plays
to takeoverondowns.On thefirst
offensive play for the Knights,
Brock Flint took the ball up the
middle, followingblocksbyJack
Tonzi and Tyler Strollo. Flint
then outran the defense for a 45
yard touchdown.AdamRisewick
would add a 2 point conversion
together a 7 play drive which
was ended by 3 straight tackles
for loss from Le Roy defenders
RyanHiggins,ZachVanderhoof,
Brett Babcock and Brock Flint.
LeRoywould takeoverondowns
and Le Roy's Brady Fix would
start the drive off with a 14 yard
carrybehind theblockingofZach
VanderhoofandJacksonLocke.2
plays laterJohnPanepentowould
rumble for 26 yards around the
right end getting Le Roy to the
Wellsville 10 yard line. Brock
Flint and Fix would carry the
ball to get Le Roy to the 1 yard
line where Wellsville put up an
impressive goal line stand.
Wellsville took over and downs
andhadaniceoffensivedrivegoing
before Le Roy Linebacker John
Panepento forced and recovered
a Wellsville fumble. Le Roy took
over on offense and on the first
play the hand off went to Brock
Flint who ran 40 yards for his
second touchdown of the day.
Brady Fix would add a 2 point
conversion on a sweep to the
right, puttingLeRoy up 16-0.
On the next kickoff Le Roy
would kick the ball to the near
sideline and the speedy Adam
Risewick ran down and recov-
ered it. LeRoywouldagain take
The LeRoy Junior Football
team (3rd and 4th grade) began
their season on a high note on
August 30th with a dominating
victoryatWellsville. Afteravery
long ridedown toWellsville, the
Junior Knights used a dominat-
ing and swarming defense and
explosive offense to defeat the
Wellsvilleopened thegameon
offense and were forced to punt
after 3 negative plays. Drew
Strollo returned thepunt30yards
to theLions'15yard line. Strollo
would take the handoff on the
very next play and scamper 15
yards for the TD. Tony Piazza
bulled into the end zone on the
conversionattempt,givingLeRoy
the early 8-0 lead. After another
quick 3 and out, LeRoy had the
ballbackatmidfield. JacksonFix
ran49yards andwas shovedout
of bounds at the 2, but scoredon
theverynext play, extending the
Once again, LeRoy's defense
stood tall, getting the ball back
after not allowing a first down.
over onoffense. This timeTyler
Strollo rumbled up the middle
for gainsof 7and3yards, before
BradyFixwould take theball 25
yards for a TD. John Panepento
completed a 3 yard pass toRyan
Higgins for the 2 point conver-
sion, puttingLeRoy up 24-0.
Wellsville would get things
goingon thenext offensivedrive,
eventually scoring on a 1 yard
QB sneak, and adding the2point
conversion. With the score now
24-8, Le Roywould again go on
the offensive. Brady Fix started
off by carrying the ball 36 yards
down the field. Adam Risewick
would thengo27yardsfor theTD,
making it 30-8, before the half.
Both teams held each other
scoreless in thesecondhalf,mak-
ing the final 30-8. Rushing for
LeRoy,BrockFlint 5 for91yds.
and2TDs,BradyFix8 for80yds
1 TD 1 2 PT conversion, Adam
Risewick 6 for 52 yards 1 TD 1
2 PT conversion, Tyler Strollo 5
for30yards, JohnPanepento1for
26 yards. Also carrying the ball
for Le Roywere Ben Robinson,
Landen Saeva, Riley Williams,
CoryWallace, EthanHowe, and
Bryce Lathan. John Panepento
went 1 for 2 passing, and Ryan
Higgins went 1 for 2 receiving.
The top tacklers forLeRoywere
John Panepento and Riley Wil-
liams with 5 tackles, Zach Van-
derhoof, Corey Wallace, Brock
Flint, EthanHowe, Tyler Strollo
and RyanHiggins all recorded4
tackles.Alsogetting tackleswere
Bryce Lathan, Brett Babcock,
ConnorMurrell,AdamRisewick,
The1-0 LeRoySeniorKnights
will takeon the1-0LivoniaBull-
dogs Sunday 9-13 at 2:00pm at
LeRoyYouthFootball SeniorsGame 1Recap
The offense wasted no time
at all, as quarterback Tommy
Condidorio hit Adrian Stephens
withaperfectly thrownball for a
27 yard touchdown. Condidorio
thenhitDrewStrollowith apass
in the corner of the end zone to
succeedon theconversion,giving
theJuniorKnightsa22-0 lead just
1 play into the 2nd quarter.
Continued defensive domina-
tion resulted in another LeRoy
offensivedrive. This time,Adam
Woodworth darted 48 yards for
the touchdown, leading toa28-0
halftime lead. TheJuniorKnights
would take the ball to begin the
2nd half. Jude Sherman would
end the drive quickly for the
Knights, as he rumbled 47 yards
for the touchdown to finish the
TheKnightsdefensewasdomi-
natingandsmothering,notallow-
inga singlefirst downduring the
entire game. Wellsville actually
finished thecontestwithnegative
yardage. Jace Jedrewski led the
defensewith4 tacklesand1 fum-
ble recovery. JackEgelinghad3
tackles. XavienWalker, Connor
Hegeman, Drew Strollo, and
TonyPiazzaalladded2defensive
stops. XavierKing, JakeHiggins,
AdamWoodworth,AidenDavis,
William Bogan, Danny Howe,
DJ O'Geen, Jackson Fix, Joey
Biletskiy,andHoldenSullivanall
chipped inwith tackles aswell.
Offensively, 12 different
Knights carried the football.
AdamWoodworth (54 rushing
yards), Jackson Fix (51 rushing
yards), Jude Sherman (49 rush-
ing yards), andDrewStrollo (30
return yards, 15 rushing yards,
3 receiving yards) all scored
touchdowns. TonyPiazzascored
a conversion on his lone rushing
attempt. Adrian Stephens had 1
catch for a27yardTD. Quarter-
back Tommy Condidorio went
2-2 for 30 yards for a TD and
2-point conversion (Strollo).
Jake Higgins and Alex Spezza-
no each added 10 yards on the
ground. Luke Lathan, Aaric
Luce, Peter Clark, Zach Samis,
and Jayce Panepento all added
yardage on the ground aswell.
The LeRoy Junior Knights re-
turnhome forahugeearlyseason
matchupwithLivoniaonSunday
September 13th. The flag squad
kicks thingsoffat10:30, followed
by Juniors at noon andSeniors at
2PM. Pleasestopoutandsupport
LeRoy JuniorFootball -LeRoy 34 -Wellsville 0
ThankYou
To all the volunteerswho gave their time
and the businesseswho donated to
St.Mark'sSummerLunchProgram
.
Woody'sDeli
Pastore'sPizzeria
PizzaLand
Crocker'sAceHardware
A special thanks to SusanPresher for
taking care of all the extra details.