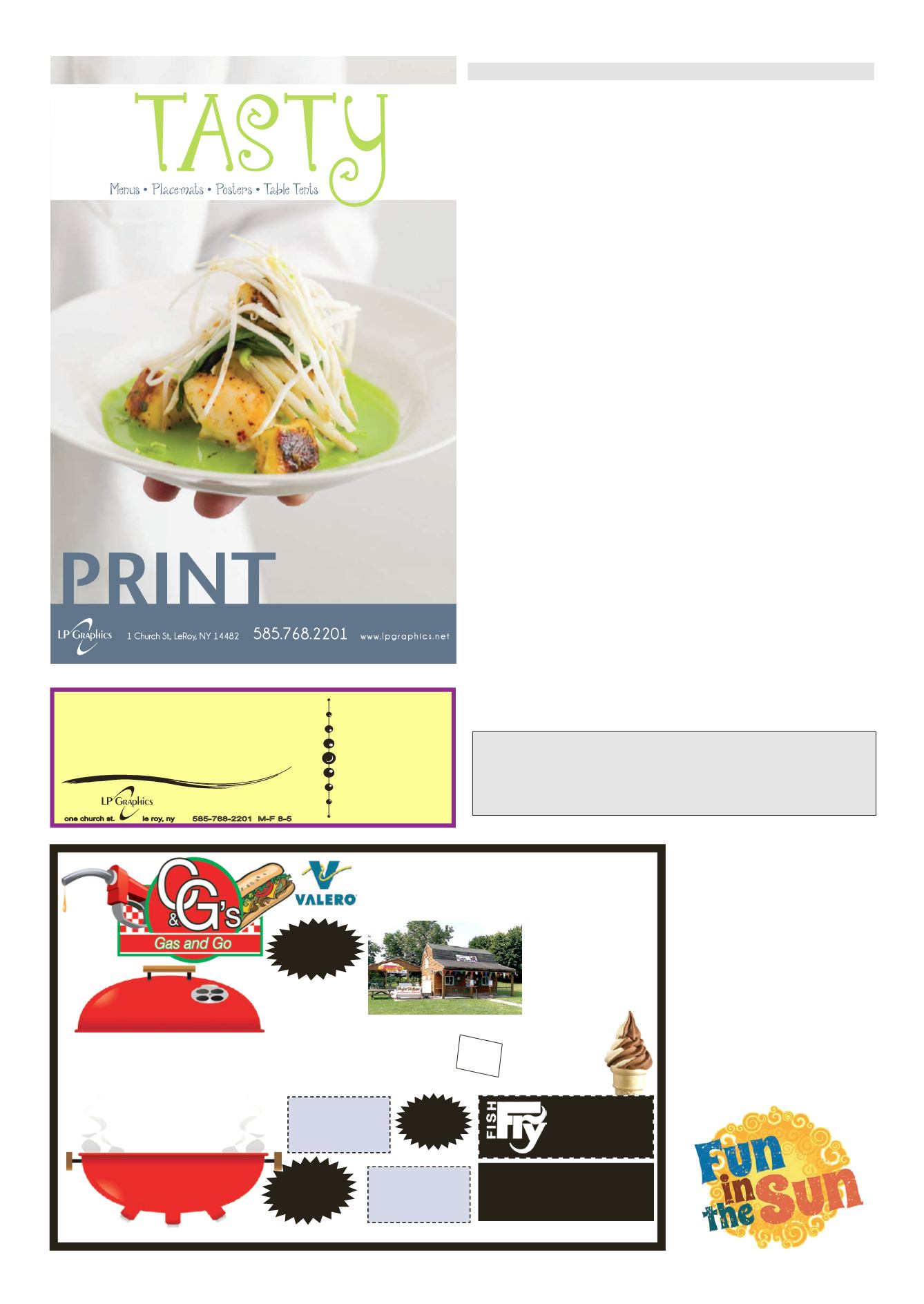 LEROYPENNYSAVER&NEWS -AUGUST9, 2015
OutdoorGrillAtC&G's,M-F11am-2pm
ZweiglesHots (red&white)
HouseMarinatedBoneless/SkinlessChickenBreast
FreshHandPressedBurgers
StoreMade ItalianSausage
byKimM. Cox
Superintendent of Schools
The 2015-16 school year is
fast approaching. We have been
extremely busy creating plans,
readying our facilities, and
preparing for another fantastic
This will be the first of many
more reminders that thestartdate
Wednesday, Sep-
tember 2, 2015
beforeyouknow it. Justa remind-
before Labor Day!
Schoolwillbe insessionWednes-
day and Thursday. Students will
beoffFriday, September 4thand
Monday, September 7th. School
will resumeonTuesday,Septem-
ber8th.Thischangewasmadefor
several reasons. Inorder toensure
180schooldays requiredbystate
law and to preserve some tradi-
tional holidays enjoyedbymany
in our community, we needed
to start prior to the Labor Day
Holiday.We are excited to have
the two days before the holiday
to help students settle in and be
readywith thenew routines.This
will helpwith the transition from
summer vacation to fall andhelp
to have everyone hit the ground
In addition, we will have
new
times
Wolcott Street School day will
run from 8:45 a.m. - 3:15 p.m.
The Jr.-Sr.HighSchool daywill
run from 7:45 a.m. - 2:15 p.m.
You will be receiving informa-
tion from each school regarding
thesechanges.Also, don't forget
to complete your transportation
forms for pick-up and delivery
of your children. At this time,
routes are being created for the
fall. Thank you to those of you
that have already completed
forms and turned them into the
transportationdepartment.
New to the District? Please
call us as soon as possible to
register your children for school
so we can plan for a smooth
transition to our school district.
Thisprocess takesabitof time to
complete, so please do notwait!
If you have any questions,
please feel tocontactyourchild's
school officeduring thehours of
8:00a.m. -4:00p.m.Wearehere
toensure thateveryonegetsoff to
agreat start!Can'twait toseeev-
eryone back onSeptember 2nd!
Enjoy the remaining days of
OFF
Dinner -
Expires 8/31/15
COUPON
C&G'swould like toTHANK the community for their generosityandongoing support!
PIZZA SLICES
2/
$
3.00 Every Day!
COUPON
$
2.00
OFFAny
LargePizza
Expires
8/31/15
COUPON
$
2.00
OFFAny
LargeSub
Expires
8/31/15
HOURS: 5 am-9 pm •Deli 11 am-8 pm • Lunch 11 am-2 pm
ClairBears
IceCream
12-9 pmDaily
ServingTheHighestQuality
Hershey's IceCream
Everything
Made FRESH
Daily
Never
Frozen
CheckOut Our
GAS PRICE
5¢OFF
Every SUNDAY
Generous
Servings
at
Affordable
Prices!
Includes
FountainDrink
orCoffee
Upstate
Soft Serve
Mon.-Wed.
$5.00SPECIAL!
Ham, Turkey or Roast Beef on aRoll, withPotatoSalad
Thursday -
2Slices of Pizza and 3Wings
Friday -
FishSandwichw/Mac orColeslaw
Sat.&Sun. -ColdSubSpecial - $5.99
Phillip James Moulton
nior majoring in linguistics and
philosophy at the University of
Rochester, has been named to
the Dean's List for academic
achievement for the spring 2015
Moulton, a resident of LeRoy,
NY, is the child of Stephen and
Martina Moulton, and a gradu-
ate of LeRoy Central School in
SUPPORTYOUR LOCALADVERTISERS!
They help sponsor the local news section of the Le Roy Pennysaver.
THANKS FORYOUR SUPPORT!
one church st. le roy, ny
one church st. le roy, ny