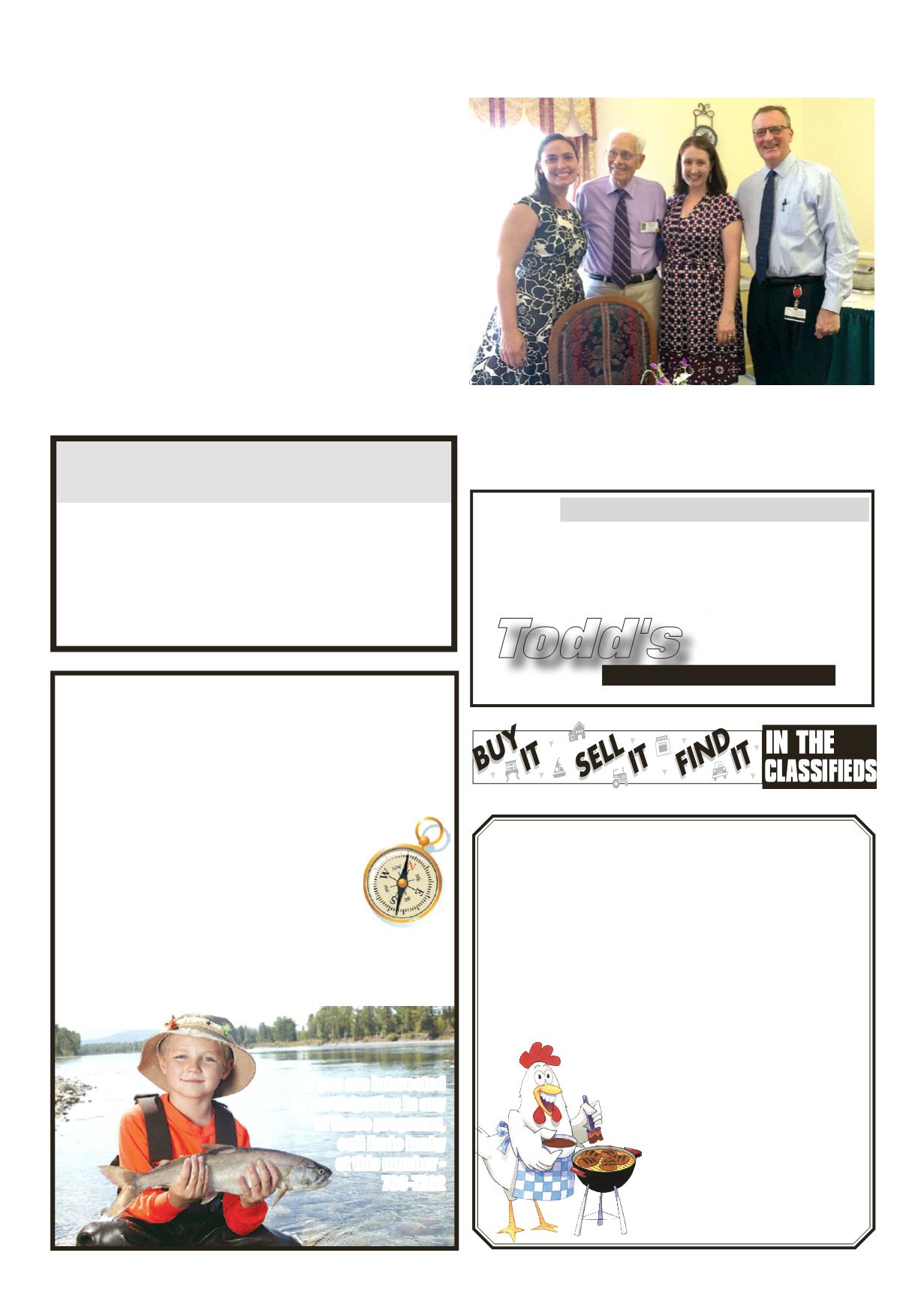 LEROYPENNYSAVER&NEWS -AUGUST9, 2015
Family Medicine physicians
AndreaN. Kudel, D.O., andKel-
lyRose M. Nichols, D.O., have
joined UR Medicine Primary
Care's LeRoy Medical Associ-
ates to serve the primary health
care needs of area residents. Drs.
Kudel and Nichols are both ac-
ceptingnewpatientsat theiroffice
located at 8745Lake Street Road
Dr.KudelearnedherBachelor's
degree from theUniversityofBuf-
falo prior to graduating from the
NewYorkCollegeofOsteopathic
Medicine. Dr. Nichols holds a
Bachelor's degree from the Uni-
versityofRochesterandaMedical
degree from the Philadelphia
CollegeofOsteopathicMedicine.
Prior to their appointmentwith
UR Medicine, Drs. Kudel and
Nicholas served as resident phy-
sicianswith theSistersofCharity
is part of Strong West and UR
Medicine PrimaryCare, working
closelywith the region's top spe-
cialists at Strong Memorial and
Highland hospitals. As a Family
Medicine Practice, LeRoy Med-
ical Associates provides care for
For more information or to
scheduleanappointmentwithDr.
Kudel or Dr. Nichols, please call
NewLeRoyMedicalAssociatesphysiciansDr.AndreaKudel (far
left) andDr.KellyRoseNichols (second from right)were joined
by LeRoy family physicianDr. Bruce Baker (second from left)
andURMedicine PrimaryCareDirectorDr.Wally Johnson at
a recentmeeting of theLeRoyRotary.
FamilyPhysicians JoinLeRoyMedicalAssociates
ALLWORKMANSHIP GUARANTEED • INSURED
297-9097 • 768-7737
• InteriorPainting
• Plaster/LathRestoration
•Drywall&DrywallRepair
•TextureRemoval
• Floors Stripped
&Refinished
•OldCeilings&Walls
MadeLikeNew!
MikeDarby'sPatch&Paint
NewHomes •Additions •Garages •PoleBarns
ToddCarli • Phone 703-0964
Todd's
Decks •Windows •Doors
Kitchens •Baths
CeramicTile
Basement Finishing
CustomShelves/Built-Ins
Siding •Remodeling
Roofing • SnowPlowing
FULLY INSURED
LearnToDoSomething Interesting!
TheOatkaFish&GameClub isabout to launch its
Pro-
gramofEvents for2015&2016
memberofOF&G toparticipate. Fathersand sonsand
mothers anddaughters arewelcome toparticipate.
•Fly tyingand fly fishing
•Survival skills in the field
•First Aid for the fieldand thehome
•Learning touse firearms safely
•Learning tocare for & identify trees
•Landnavigation - learning touseamap
&compass
•Fish stocking
Saturday, August 15
12-4 PM
atWildwoodPark
Tobenefit the LeRoyCommunity Pool
Chicken
Barbecue