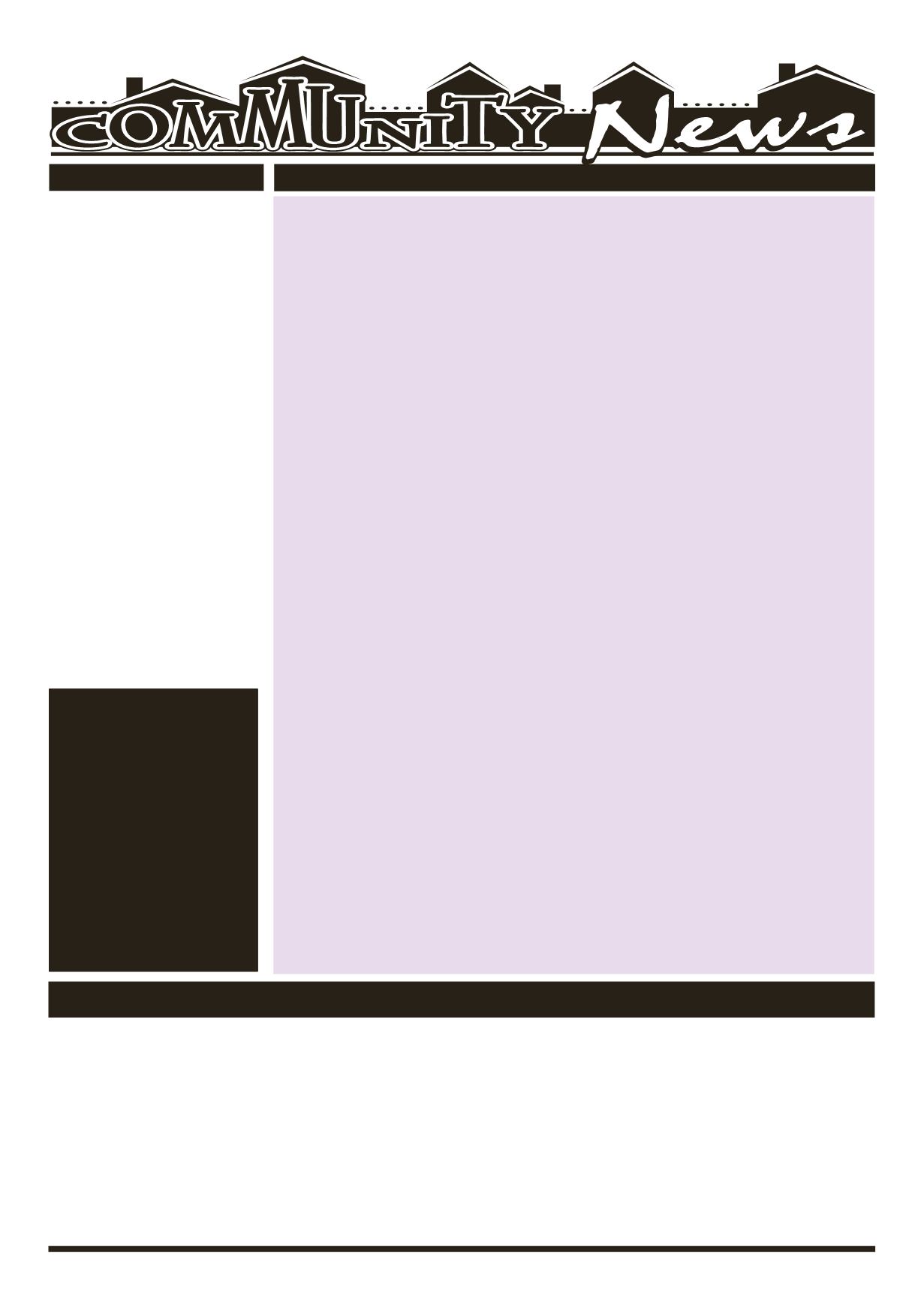 LEROYPENNYSAVER&NEWS -AUGUST9, 2015
Le Roy
Pennysaver
All GeneseeCounty residents, 60andolder, can takepart in thisweek'sactivitiesat theBataviaSenior Center, 2BankSt., Batavia. Formore information, call 343-1611.
SENIORCITIZENSACTIVITIES (August 10 -August 14th)
WEEKLYEVENTS
OBITUARIES
ArthritisExercise
is scheduled tobeginat 9:30a.m.;
Bridge
is scheduled to start at 11:30a.m.
Alzheimer'sCareMeeting
is scheduled tobeginat 8:30a.m.;
Cribbage
is scheduled tobeginat 1:00p.m.
QuiltersGroup
is scheduled tomeet at 9:00a.m.;
Euchregame
is scheduled tobeginat 1:00p.m.
Cribbage&Bridge
are scheduled tobeginat 1:00p.m.;
GeneseeSenior FoundationMeetingandViolenceTraining
scheduled tobeginat 2:00p.m.
Legal Services (ForAPPOINTMENTSONLY)
is scheduled to takeplace this date;
ArtClassandLineDancing
ARepresentative fromUnivera Insurance
will be available from10:00 a.m. to12:00p.m.;
Euchre
scheduled tobeginat 12:00p.m.
SUNDAY,AUGUST9
Konnect Youth Group at LivingWaters Church,
LeRoy. Sundays from6:30 to8:30pm for ages12-18. "BringDown
all theWalls! ConnectwithGodandConnectwithothers." Formore
information, check us out online at: livingwatersleroy.org/kon-
MONDAY,AUGUST10
TOPS (Take Off Pounds Sensibly)
theLeRoyPresbyterianChurch, cornerof Clay&MainStreets.Doors
openat 6:00pmandmeeting is from6:30-7:15pm.Visitors areal-
wayswelcome. Call 585-768-7103 formore information.
TUESDAY,AUGUST11
Preschool Storytime:
Every Tuesday at 11 am featuring stories,
craft and songs at PavilionPublic Library, 5WoodrowDr., Pavilion.
GRACE'SKITCHENwill be closedTuesday, Aug. 11thandwill
re-openTuesday,Aug.18th -LCCP'sGRACE'SKITCHEN:
dinner every Tuesday evening, 5-6:30 pm at theMasonic Commu-
nityCenter on12BankSt. Plentyof parking.Takeout&deliveryare
available. For more info. contact Selby Davis at 585-738-8882 or
GRACE'SCLOSET:Aclothinggiveawayprogram
RoyUnitedMethodistChurch,10TrigonPark,LeRoy,9:30amto11:30
ameveryThursday.Wehaveclothing forall ages. Weneedbedding
of all kindsespeciallyblankets.Donations canbedroppedoffat the
housenexttothechurch.Pleaseputallbags INSIDEonthebackporch.
NOELECTRONICS, COMPUTERS,DISHES,etc.
OpenTuesdays5-6:30
pm.
Anyquestions call theoffice768-8980.
WEDNESDAY,AUGUST12
BasicBirdwatching (foradultsand teens) at theWoodward
MemorialLibrary
at6:30p.m.DidyouknowthatNewYorkState is
home toover450bird species? Learn the4keys to identifyingbirds
by family, aswell as some tips for usingfieldmarkings, songs and
calls. Bringbinoculars ifyouhave themanddress for theweatheras
weheadoutside for a short field session! Leader: ShannonMorley,
EducationProgramCoordinator,GeneseeCountyPark. Call768-8300
Village of LeRoy BoardMeeting,
7 pm at the Village Hall, 3
THURSDAY,AUGUST13
Town of LeRoy BoardMeeting,
7 pm at the Town Hall Board
Genesee Veterans Support Network
developmentofVeterans focusedAAmeetingseveryThursday, 6-7
pmattheFirstBaptistChurch,306E.MainSt.,Batavia.Meetings led
byMikeW.&areopentonon-veteransaswell.Handicapaccessible.
For additional information call 585-302-0825.
FRIDAY,AUGUST14
Penuel Christian Fellowship,
One Step to Freedom addictions
ministry, a Christ CenteredAddictions program, aweeklymeeting
every Fridayat 7pm. Call theChurch formore informationat 768-
Flea&Farmer'sMarketFridays
-GeneseeValleyEMS,3338Cale-
doniaAvonRd. (Rte.5),Caledonia,NY.11amto6pm-everyFriday,
May1st-October30th.Fresh fruitandvegetables,etc.Hot foodand
drinkswillbeavailable forpurchase.11'x22'spaces-$20.Toreserve
aspaceormore info-call585-698-8244.AllproceedsgotoGenesee
ValleyEMS&CaledoniaAmbulance. Come shopandvisitwithus!
SATURDAY,AUGUST15
Free Food outreach brought to you by Foodlink
Streetparking lot. Every3rdSaturdayof themonth. 11-1pm. Call
Penuel ChristianFellowshipat585-768-6901withanyquestions.
UPCOMINGEVENTS
LCCP's Mommy & Me Playgroup: Every 2nd & 4th Friday,
12:00-1:30, LeRoyPhysical Therapy (in thebackgym). Anymoms
and their birth-kindergarten children arewelcome to come enjoy
socialization, lunch, coffee, structuredgames& freeplay.
TheSeniorCitizensofLeRoyandStafford
August 19, for anicedinner. Wemeet at theKnights of Columbus
Hall behindSave-A-Lot inLeRoyonWestMainStreet. Eachperson
is asked to bring a generous dish to pass. Bring your own place
settingandbeverage. Coffee, teaanddessert areprovided.Dinner
isservedat6:00pmandaprogram follows. Thismonthsprogram is
TimGillespieClassicCountry,asingerandguitarplayer.Please joinus
foranenjoyableevening. Anyquestionspleasecontact JudyRidley
at768-2001or SharonFrost at768-6846.
CommunityCalendar Submissions shouldbe sent to:
CALEDONIA—GlaucoRiggi diedWednes-
day (July 29, 2015) at age 83. In lieu of
flowers, memorials may be made to St.
LEROY—DavidE. Petersen, 50, of Bernd
Roadpassedawayunexpectedlyathomeon
Friday (July 31, 2015). Memorials are sug-
gested to eitherMercy Flight Central, 2420
BrickyardRd., Canandaigua, NY14424; or
the Kessler Burn and Trauma Center, 601
ElmwoodAve., Rochester, NY14642.
LEROY—MariettaJ.Cordaro, 84, ofStan-
ley Place, passed away Tuesday morning
(Aug. 4, 2015) at StrongMemorial Hospital
inRochester. Memorial contributions in her
memorymaybemade to thePalliativeCare
Program, University of Rochester Medical
Center, 601 Elmwood Avenue, Box 687,
LE ROY — David R. Taylor, 45, of Lake
Street passed away suddenly at home on
Monday morning (Aug. 3, 2015). In lieu of
flowers, donationsmaybemade toLifetime
Assistance Inc., 425 Paul Rd., Chili, NY