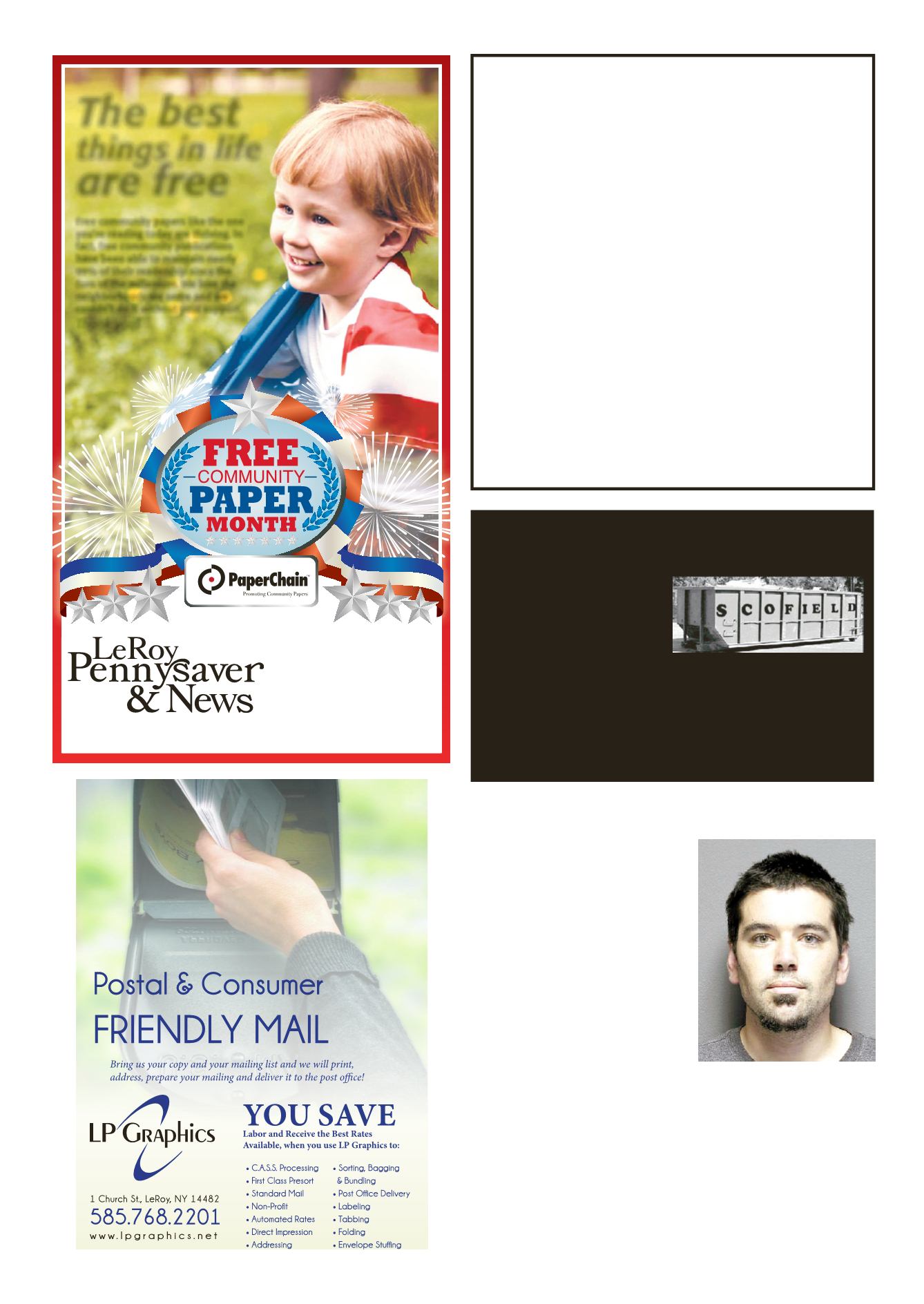 LEROYPENNYSAVER&NEWS -AUGUST9, 2015
15, 17, 20, 25, 30,
and 40 cu. yd.
CONTAINERS
ScofieldRolloff •343-8383
NobodyBeatsOur Prices!
FACTORYPOSITIONS
AVAILABLE
We are looking for dependable individuals to work year
round in our established localmanufacturing operation.
Wages start at $11.00 per hour andwe offer:
Ifyouareover18and interested infindingoutmore –please
send a letter of interest andwork history or a resume to:
FactoryPositionsAvailable
08/06/2015 - 28 year oldTimothy
J. Corke II of 232 Liberty Street,
Batavia was arrested twice in one
day (on 08/05/2015), by the LeRoy
PoliceDepartment.Thefirstarrest for
theA-MisdemeanorchargeofEndan-
gering theWelfareofaChildoccurred
about3:45pmandwassubsequent to
an investigationwhichalleged thaton
7/27/2015,Corke threwawatchata3
year old child then slapped the child
about the head causing both a large
goose egg style bruise on the child's
forehead and a bruise about the left eye.
Corkewasarraignedon thischargebefore theHon.MichaelWelshof
theLeRoyTownCourt and releasedunder the supervisionof theGen-
esee Justice Program alongwith a full stay away order of protection.
The second arrest was for theA-Misdemeanor charge of Criminal
ContemptofCourtwhichoccurredabout11:30pmandwassubsequent
to a complaint from one of the protected persons alleging that Corke
called the protected person in violation of the Order of Protection.
Corkewas arrested and arraigned again in front of theHon.Michael
Welsh and this time committed to theGeneseeCounty Jail in lieu of
Free community papers like the one
you're reading today are thriving. In
fact, free community publications
have been able tomaintainnearly
99%of their readership since the
turnof themillenium.We love the
neighborhoodswe serve andwe
couldn't do it without your support.
Thank you!
The best
things in life
are free
CIRCULATION VERIFICATIONCOUNCIL DATAMEASURINGPAPERSAUDITED INBOTH 1999 AND 2013.
Visit paperchain.com to learnmore
[MEMBER PUBLICATION LOGO&CONTACT INFO]