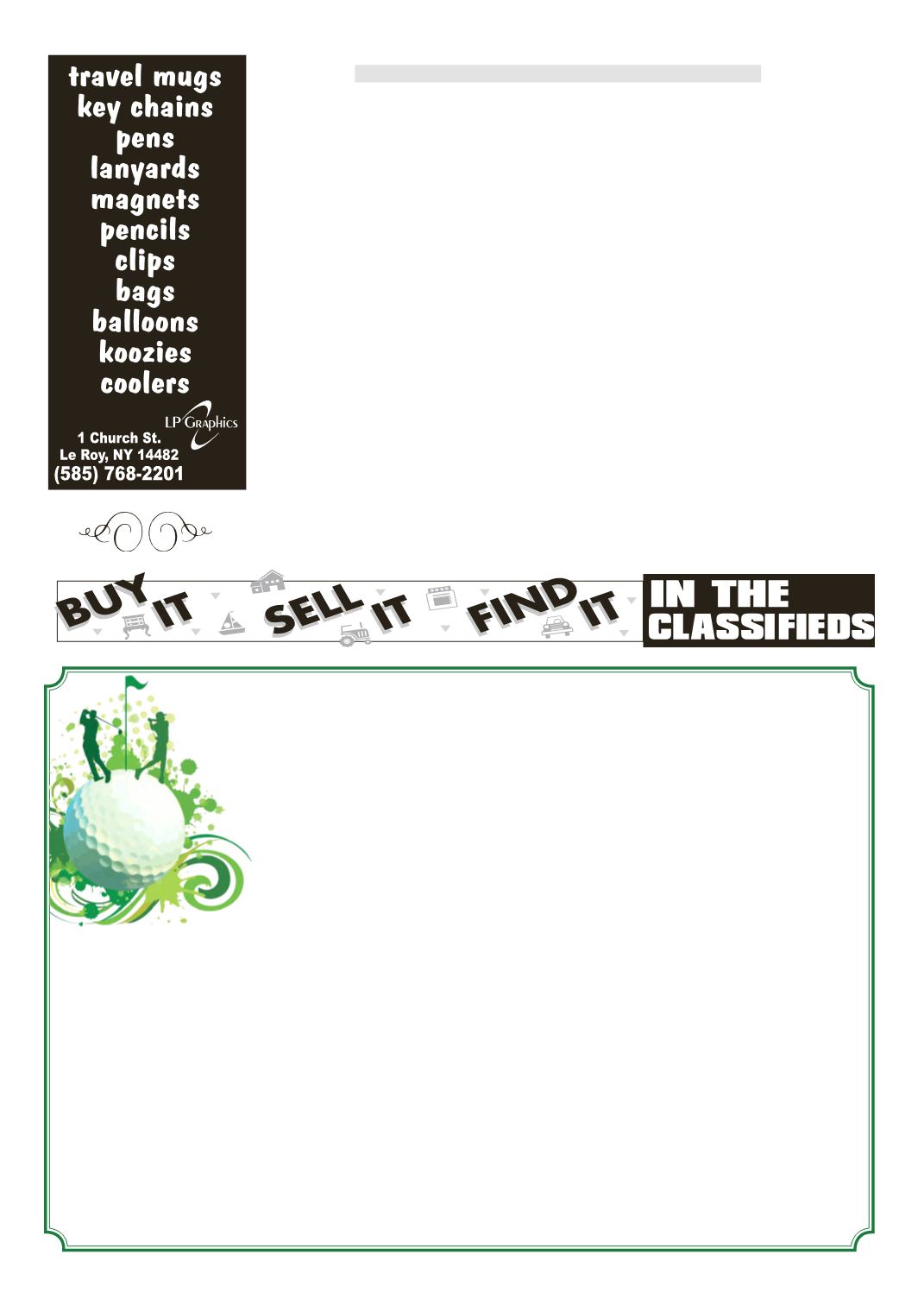 LEROYPENNYSAVER&NEWS -AUGUST9, 2015
LeRoyKnights Inc.
OnAugust 1, 2015, LeRoyCountryClubhostedour
12thManGolf Tournament, and it was awonderful success!
Thankyou LeRoyCountryClub, all thegolferswhoparticipated,
and volunteerswhohelped to run the tournament.
Thankyou to the followingpeopleandbusinesses that helped to
support the tournament andcontinue to support the
LeRoy Junior and Senior High Football Program
:
LeRoyKnights Inc. FootballBoosters
ThankYou
for your support!
OnAugust 1, 2015LeRoyCountryClubhostedour 12thManGolf To rna t, and itwas
Thank youLeR yCountryClub, all the golferswhoparticipated, and
vol nteerswhohelped to run the tournam nt.
Thank you to the followingp ople andbusinesses that helped t support the tournament and
continue to support theLeRoy Junior andSeniorHighFootball Program:
PlaceOptical Company Inc.
Superior PlusEnergyServices
StellaCollisionService Inc.
Bill Fox andSonConstruction
TheBatavian
oyOrder of theMoose Lodge
Tops FriendlyMarkets LeRoy
LeRoyPhysical Therapy andAthleticTraining
LeRoyKnights Inc. Football BoostersTHANKYOU for your support!
byStephenR. Barbeau
Supervisor,Townof LeRoy
(585)768-6910 x 231
AROUNDTOWN
I would like to share some
financial news with everyone in
this column.
First, the Board just accepted
thefindings fromour2014audit.
I am pleased to announce that
this was outstanding. From our
auditor, we show "good fund
balancesandcashpositions"and
we show"nomaterialweakness-
es nor significant deficiencies."
Foranaudit, that'sabout asgood
as it gets. We were given some
recommendations as to how to
improve some processing of
invoices and time sheets that we
will implement in 2016, but all
Second, the Genesee County
Economic Development Center
just submittedaNYSConsolidat-
edFundingApplication(CFA)for
$1.5milliononourbehalf.This is
a further attempt to secure fund-
ing todevelopourproposedclean
commercialparkand isaconcrete
example of how this County
agency is, in fact, working on
behalfofLeRoy's interests.Your
CountyLegislator,ShelleyStein,
andyourTownBoardare leaving
no stone unturned inour attempt
to increase the commercial tax
base, in appropriate locations, in
order to lighten the residential
On that same note, the Town
Boardwill holdapublichearing
at itsnextmeeting (August13) to
consider a tax incentive, as part
of the main street revitalization
project, forowners in that future
historic district to improve their
mixed use (commercial and
residential) properties. This ex-
emption, if approved, will have
specificguidelines but allow for
main street (area) businesses,
and their second/third floor
potential residences, to upgrade
without having topay increased
property taxes for a period of
Finally, don't forget to buy
your reducedprice tickets toLe-
RoyNight at Dwyer Stadium on
August 14. Tickets are available
at the Town Hall or Tompkins
BankofCastilefor$6and include
the game (Batavia vs. Lowell),
recognition of our Little League
9-10yearolddistrict champions,
free gift giveaways from several
LeRoybusinesses, andfireworks
after the game. It promises to be
agreatLeRoycommunityevent.
See you at the game and
AroundTown!