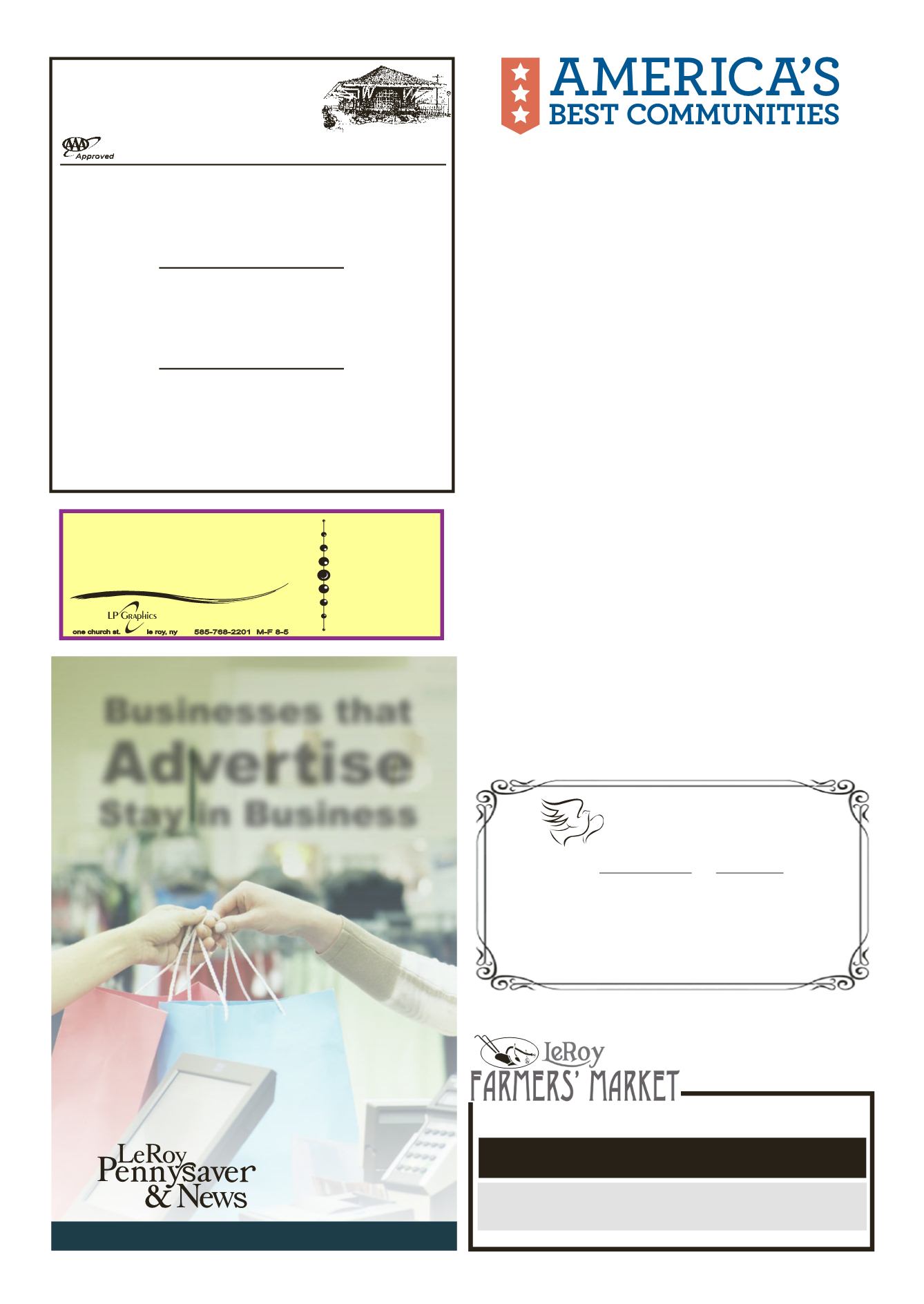 LEROYPENNYSAVER&NEWS -AUGUST9, 2015
Director /Owner
FuneralDirector
F
ALCONE
F
AMILY
Funeral&Cremation Service, Inc.
Director/Owner
"ALOCALFAMILY
CARINGFORLOCALFAMILIES"
LeRoyFarmer'sMarket onFacebook
TRIGON PARK
Saturday, Aug. 15th
9:00 am-12:30 pm
LOCAL • FRESH•DELICIOUS •NUTRITIOUS
Seasonal Fruits andVegetablesWill BeArrivingWeekly!
August 15th -
Guitarist, Ernie Lawrence is in the music tent and the
candidates from the LeRoy Republican Party will be in our
Jams, jellies, eggs,Yancey'sFancyCheeses, NundaMustards,
OnceAgainNut Butters, baked goods, organic produce, honey,maple syrup
and fresh, locally grown produce.
D&RDepot
63LakeSt. (Rt. 19), LeRoy• 768-6270
Let'sMeetAt The ...
OpenForBreakfast, Lunch&Dinner - 7DaysAWeek 7am-9pm
SUNDAY,AUGUST 9th DINNERSPECIAL
STUFFEDPEPPERDINNER
Includes soup or salad, rolls andmuffins, rice pilaf and
apple cake for dessert - 17.99
SUNDAY,AUGUST 16thDINNERSPECIAL
BEEFN'SEAFOODKABOBS
Servedwith soup or salad, rolls andmuffins,
and for dessert –a homemadeBanana Split!! - 17.99
SUNDAY,AUGUST 23rdDINNERSPECIAL
Make reservations for theDepot's famous
SHOREDINNER
Includedwill be homemade SeafoodBisque, lobster tail,
crab cakes,broccoli salad& strawberry shortcake - 26.99
Perhaps you have noticed ar-
ticles and Facebook posts about
a contest that LeRoy andBergen
are involved with. It is called
America's Best Communities
and it is sponsored by Frontier
Communications, Dish Net-
work, theWeather Channel and
CoBank. The good news is that
LeRoy and Bergen have made
it to the quarterfinals. There are
50 quarter finalists.WhyLeRoy
and Bergen? In order to meet
the requirements to apply for the
contest, itwas necessary tohave
a certain population base and
a shared common project. The
common project is quite simply
theneed forgas lines, broadband
Internet, and sewers - - what we
To provide the possibility of
economic growth for both our
communities,weknow thatGBS
is critical and it is expensive. To
start down the road of trying to
secure GBS for the Route 19
corridor, it is necessary to have
a community revitalization plan
and that is what we are doing
right now.We have hired a pro-
fessional community planning
consulting firm and they will
prepare a plan that has to be
submitted to America's Best
Communities for thenext round.
Where did we get the money to
pay for the consultingfirm? We
won it by being one of the 50
quarter finalists. That includes
$50,000 from Frontier, $15,000
from American Express and
$15,000 that we have to raise
from our communities. Some
of our $15,000match is coming
fromourmunicipalitiesandsome
Who is"we"?Well itstartedas
a group of three people, Shelley
Stein,LynneBelluscioandSteve
Barbeau,whodared to think that
LeRoyandBergenmightqualify
tobecomeAmerica'sBestCom-
munity.Thankfully it isno longer
just threepeople - - the"we"has
grown and continues to grow.
We are all giving our time and
energy because we believe that
Bergen and LeRoy are "in it to
win it." As we prepare for the
next round of qualifications, we
arediscoveringsomegreat things
about LeRoy and Bergen that
wewant to sharewithall of you.
Eachweek,wewill include in the
Pennysaver
page,whatwearedoingandwhat
you can do to get involved.
Advertise •Classifieds •News •HelpWanted •CommunityCalendar
585.768.2201
1ChurchSt., LeRoy, NY14482
one church st. le roy, ny
one church st. le roy, ny