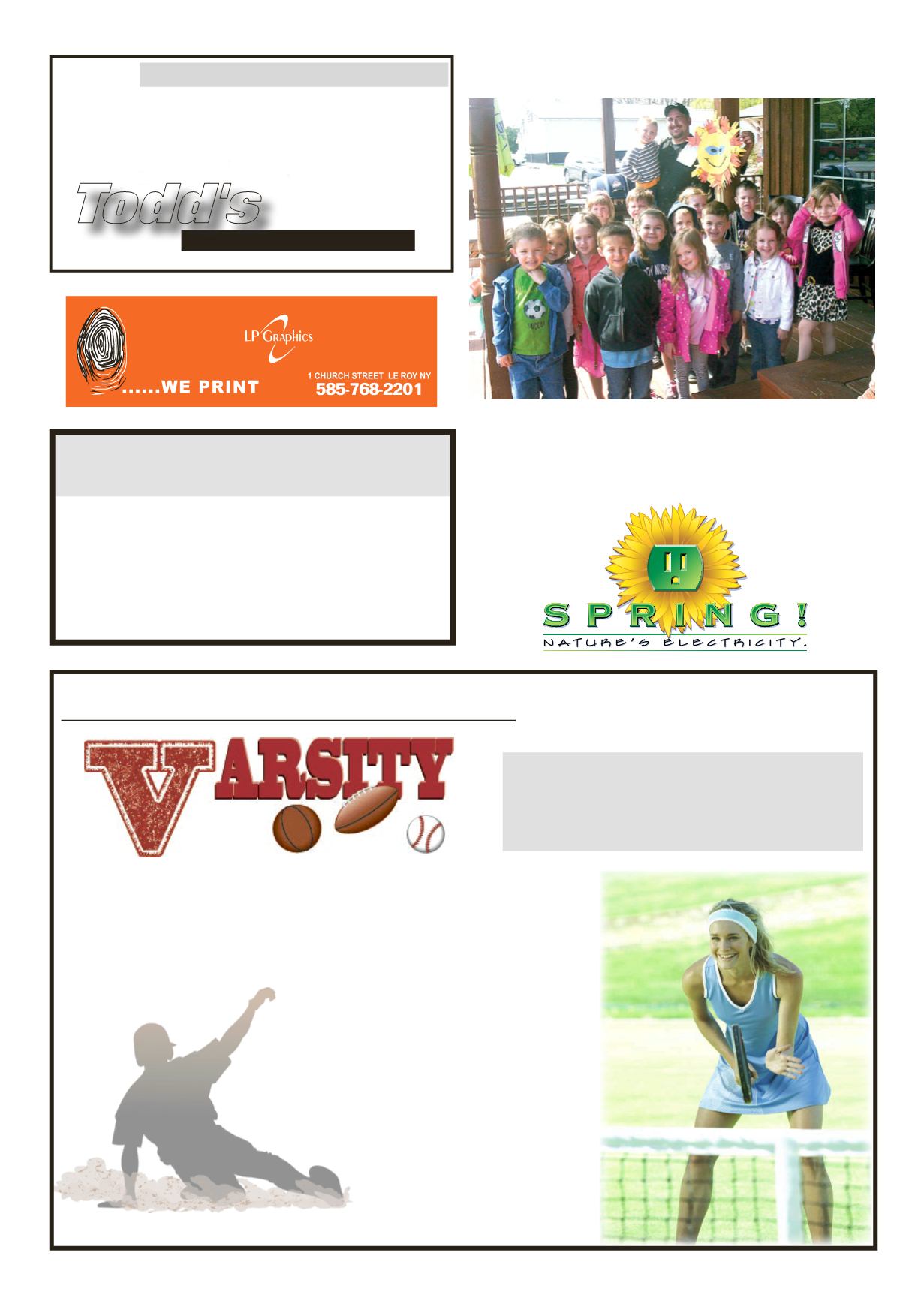 LEROYPENNYSAVER&NEWS -MAY 17, 2015
NewHomes •Additions •Garages •PoleBarns
ToddCarli • Phone 703-0964
Todd's
Decks •Windows •Doors
Kitchens •Baths
CeramicTile
Basement Finishing
CustomShelves/Built-Ins
Siding •Remodeling
Roofing • SnowPlowing
FULLY INSURED
LeRoySportsBoosters presents
BANQUET
Dinnerwill be followedbyawards presentations.
Tickets for athletes andguests areonly $10each.
Due to thegenerosityof the Sports Boosterswhoarepaying
for aportionof everyone's ticket.
Tickets canbepurchasedat thehigh school office.
Pleasepurchase your tickets asap.
Everyone is
Welcome!
Comecelebratewith theathletes
onanamazing
Winter/Spring Sports Seasons.
VOLUNTEERS
ARENEEDED!
June1st
•5:00pm
Stafford FireHall
ALLWORKMANSHIP GUARANTEED • INSURED
297-9097 • 768-7737
• InteriorPainting
• Plaster/LathRestoration
•Drywall&DrywallRepair
•TextureRemoval
• Floors Stripped
&Refinished
•OldCeilings&Walls
MadeLikeNew!
MikeDarby'sPatch&Paint
LeRoyNurserySchool goes on awalkingfield trip toMooney's
Restaurant onLake St. The children got a tour and each child
got tomake their very own pizza for a snack! Pictured here is
Jaxson Cook and his classmates with his father Steven Cook,
Manager andhead cook atMooney's.
AWalkToMooney's
lpgraphics.net