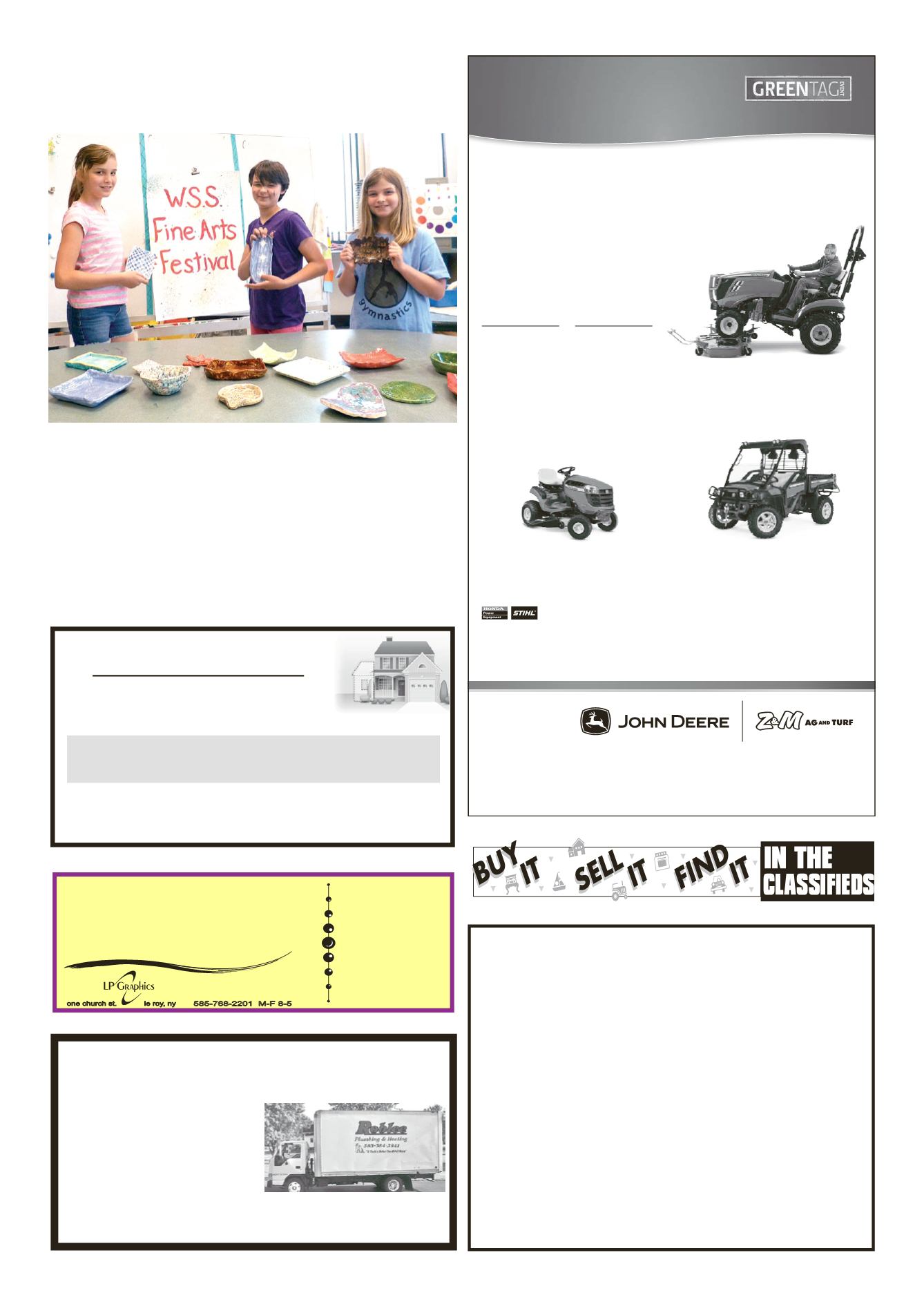 LEROYPENNYSAVER&NEWS -MAY 17, 2015
• $15.00 - $20.00 per hour
• Customer service experiencea plus
• Seasonal layoff if desired
• Benefits available including401k
TRUCKDRIVER
"CompleteCarpentry Service"
M
ILLER
B
ROTHERS
B
UILDERS
CustomHomes •Remodeling•Additions
Roofing• Siding
DANIEL
MICHAEL
ROBLEE
Plumbing&Heating, LLC
10991LakeRd., Pavilion • (585) 584-3841
Full Insured
LUXAIRE
GOULD
NYSCertifiedBackflowTester
Water&Sewer Lines •Water Treatment&ConditioningSystems
WolcottStreetSchool students
Hollie Beckler, Zoe Keys and
Kaylee Beckler prepare their
Empty Bowls for the school's
upcomingFineArts Festival.
Theeventwhichwill takeplace
onTuesday,May19th from6:00-
8:30 pm in the Wolcott Street
School gymnasium, will feature
artwork created by students in
Wolcott Street School
FineArtsFestival
K-6th grade and musical enter-
tainment. Thecommunity is also
invited to "Buy a Bowl and Fill
Allproceeds from thesaleof the
handmadeclaybowlswill benefit
Grace'sKitchenofLeRoy.Don't
miss this wonderful evening
celebrating the arts at Wolcott
Offer valid fromMay 1, 2015 until June 1, 2015. Subject to approved installment credit with John Deere Financial. Fixed rate of 0% for 72months. $500 off implement bonus is
in addition to financing options and requires the purchase of two John Deere or Frontier implements. In lieu of finance offer, get $1,250 off on the 1 Family Tractors. Some
restrictions apply, so see your dealer for details and other financing options.
Prices and models may vary by dealer. Manufacturer suggested list price at $1,499 on D105
Lawn Tractors. Prices are suggested retail prices only and are subject to change without notice at any time. Dealer may sell for less. Shown with optional equipment not
included in the price. Attachments and implements sold separately. Available at participating dealers.
Offer ends June 1, 2015. Subject to approved credit on revolving
plan, a service of John Deere Financial, f.s.b. For consumer use only. No down payment required. 3.9% for 72 months only. Other special rates and terms may be available,
including installment financing and financing for commercial use. Available at participating dealers. Prices and models may vary by dealer. Offer ends June 1, 2015. $3,500
off only 2014 model year and prior RSX850i models, $800 off XUV825i S4/XUV825i, and $600 off XUV550 S4/XUV550 models. ‡Hour limitations apply and vary by model.
See theLIMITEDWARRANTYFORNEW JOHNDEERECOMMERCIALANDCONSUMEREQUIPMENTat JohnDeere.com fordetails.
ALEXANDER,NY .........
CLYMER,NY...............
EDINBORO,PA............
FALCONER,NY ...........
NORTHCOLLINS,NY...
OAKFIELD,NY ............
SPRINGVILLE,NY........
Z&MAgandTurf
zahmandmatson.com
Visitustogetthebiggestsavingsonthemost
powerfulJohnDeereequipment.
Z&M.
D105LawnTractors
•2-year/120-hour bumper-to-bumper
•Full-lengthwelded steel frame
$
1,499
1FamilySub-CompactTractors
•Quik-Park™ loadershelp youmove
0
%
APR
72
$
500OFF
+
$
1,250OFF
OR
Gator™XUV825i
•Superior terraincapability
•Best-in-class ridequality
ONALLGATOR™UTILITYVEHICLES
3.9
%
APR
72
+
$
800OFF
one church st. le roy, ny
one church st. le roy, ny