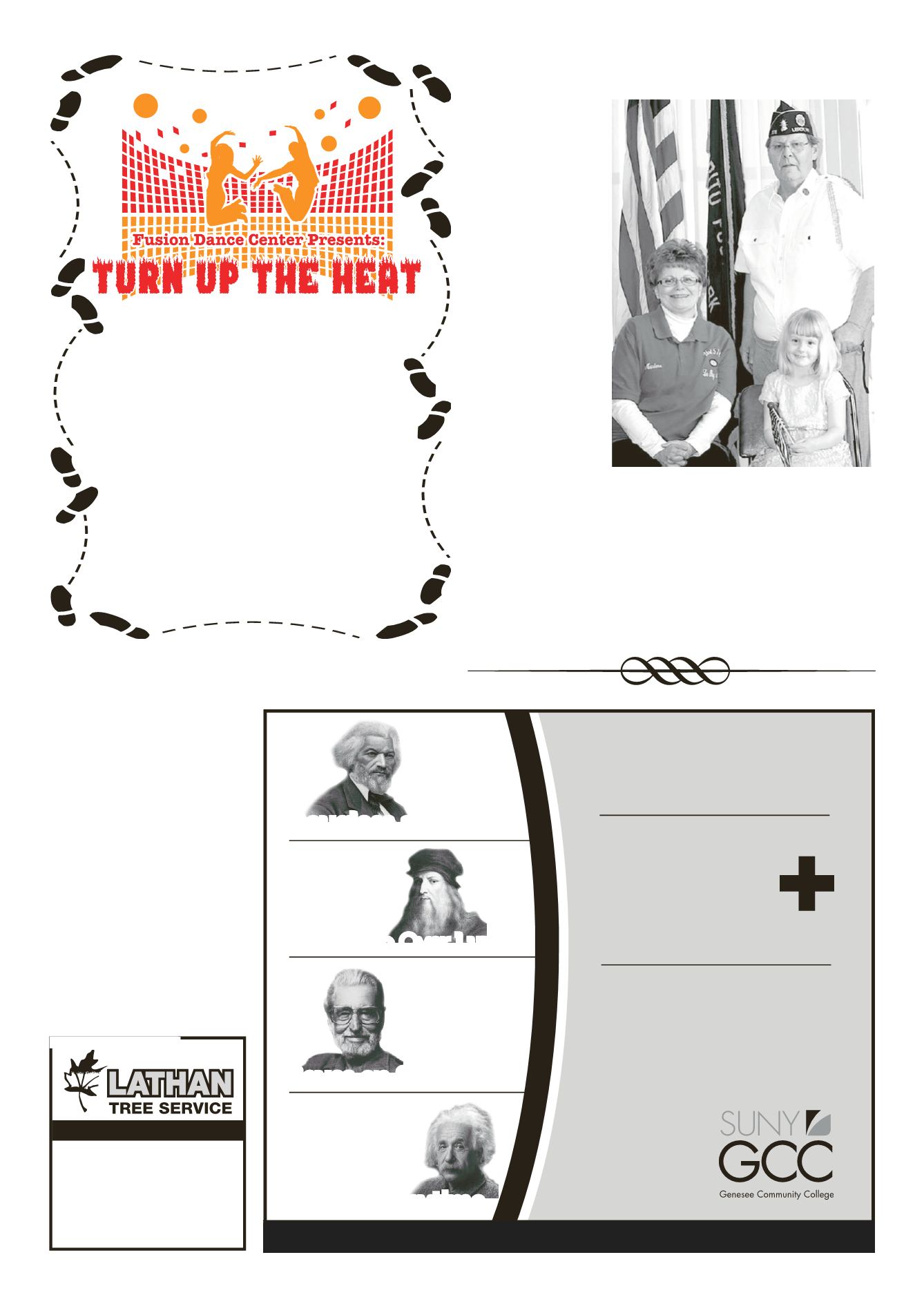 LEROYPENNYSAVER&NEWS -MAY 17, 2015
NEW COURSE:
Geographyof Sustainability
• Session 1 startsMay 26th
GENESEE.EDU
or
866-CALL-GCC
ALBION l ARCADE l BATAVIA l DANSVILLE l LIMA l MEDINA l WARSAW l ONLINE
Genesee Community College is an equal opportunity/affirmative action institution.
Friday,May 29
at 7:00pm
Saturday,May 30
at 2:00pm
LeRoyHighSchoolAuditorium
All tickets are $9.00
and canbe purchased at the door.
since 2009. She enjoys reading,
super heroes, and princesses.
She is very excited to represent
Botts Fiorito American Legion
Auxiliary in the Memorial Day
Parade and distributing Poppies
Pictured:AnnoraKarcherwithhergrand-
parentsMarleneandDennisMcCumiskey.
Le Roy's Memorial Day Pa-
radewill lineupat10:15amat the
Le Roy Legion parking lot, step
off at 10:30 am, withMemorial
Day Services at Trigon Park be-
LeRoy's 2015PoppyGirl
LATHANTREESERVICE
TreeSurgery • TreeRemoval
StumpRemoval • Planting
FreeEstimates Fully Insured
1st team 4
GerardSciera, JimWoodruff,
2nd team 10
CharlieHerring,ArchieCappatelli,
3rd team 2
Dane Sprague, Duane Anchor,
Neal Bedford, RonPangrazio
4th, team 6
5th team 1
5th team 3
6th team 7
6th team 5
7th team 9
8th team 8
LorenWetzel
SeniorGolfLeague