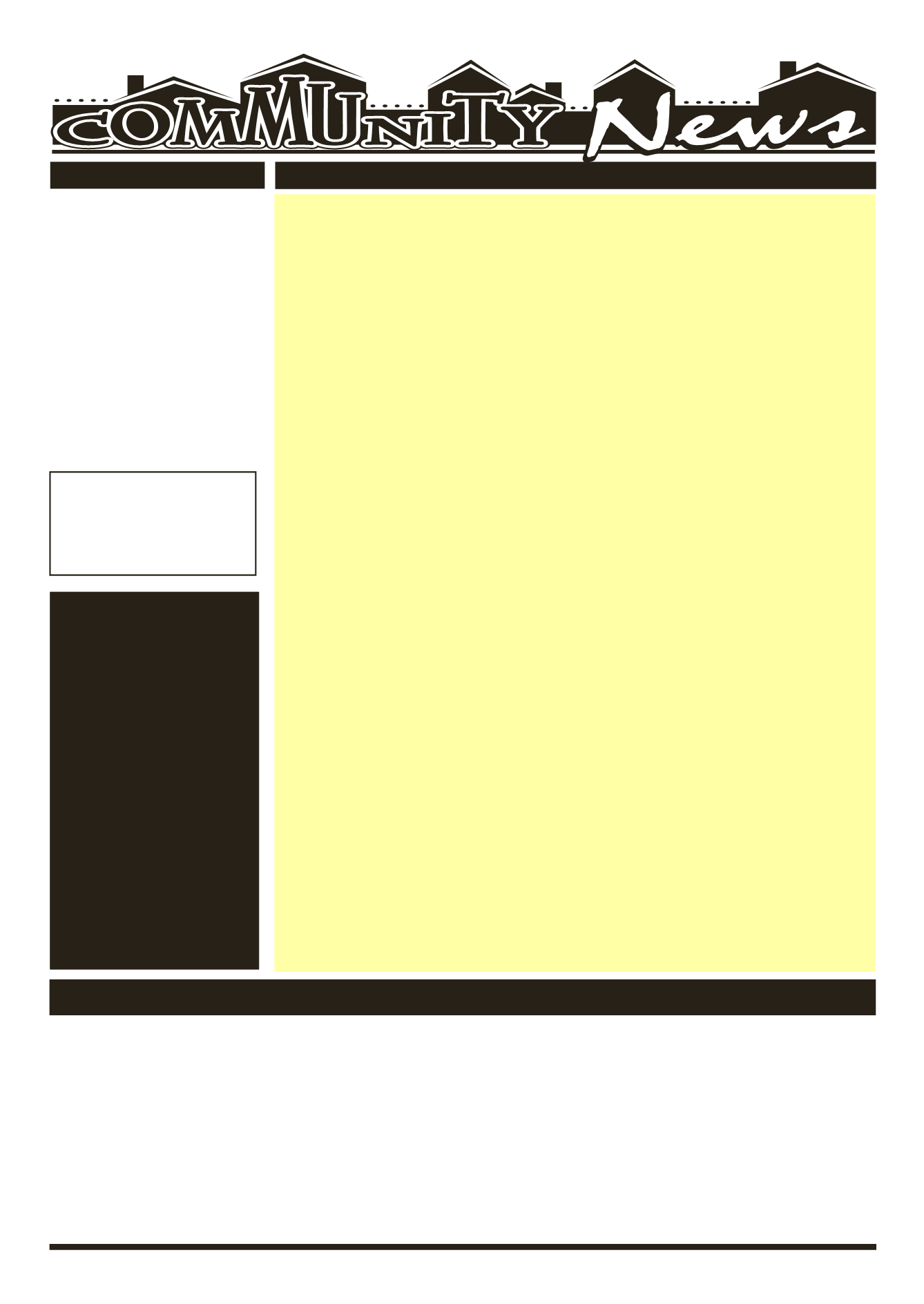 LEROYPENNYSAVER&NEWS -MAY 17, 2015
Le Roy
Pennysaver
All GeneseeCounty residents, 60andolder, can takepart in thisweek'sactivitiesat theBataviaSenior Center, 2BankSt., Batavia. Formore information, call 343-1611.
WEEKLYEVENTS
OBITUARIES
ArthritisExercise
Bridge
NewsletterAssembly
ARepresentative fromBlueCross/BlueShield
Cribbage
is scheduled tobeginat 1:00pm.
QuiltersGroup
is scheduled tomeet at 9:00am.;
Euchregame
is scheduled tobeginat 1:00pm.
TaiChi
isset tobeginat9:30amwith
GentleFitness
Cribbage&Bridge
MusicalKeyboardLessons
ARepresentativefromUnivera
willbeavailable from10:00am to12:00pm;
LineDancingandArtClass
Euchre
DefensiveDriving (Class1)
isset tobeginat1:00pmbyReservationONLY!!!
SUNDAY,MAY17
Konnect YouthGroupat LivingWaters Church,
onMain St. LeRoy. Sundays
from6:30 to8:30pm forages12-18. "BringDownall theWalls! ConnectwithGod
andConnectwithothers." Formore information, checkusout onlineat: livingwa-
tersleroy.org/konnect-youth-ministry/
MONDAY,MAY18
TOPS (Take Off Pounds Sensibly)
meets Monday evenings at the LeRoy
Presbyterian Church, corner of Clay&Main Streets. Doors open at 6:00 pm and
meeting is from 6:30-7:15 pm. Visitors are alwayswelcome. Call 585-768-7103
TheLeRoyTown&CountryGardenClub
willmeetat6:30pmat thewalkway
onMain St. Wewill be cleaning up theMain Street planters and planting the
flowers for Memorial Day. Please bring a trowel and a gallon of water. Contact
AnnWaltersat737-9481or768-8130 formore information.
TUESDAY,MAY19
PreschoolStorytime:
EveryTuesdayat11am featuring stories, craftand songs
atPavilionPublicLibrary, 5WoodrowDr., Pavilion. For info: 584-8843.
LCCP'sGRACE'SKITCHEN:
AFREEdinnereveryTuesdayevening,5-6:30pmat the
LeRoyUnitedMethodist Church, 10TrigonPark. ParkingavailableonTrigonPark
& the lots to the leftandbackof theChurch.HandicappedEntrance in thebackof
theChurch.Takeout&deliveryareavailable. Formore info. contactSelbyDavisat
TownofLeRoyPlanningBoardMeeting
(asnecessary) 7:30pmat theTown
Hall, 48MainSt. For further info. call 768-6910, Ext. 223.
WEDNESDAY,MAY20
StrangeMagic-
MovieShowingattheWoodwardMemorialLibraryforchildren in
gradesK-6 from3:15–5:00p.m.Registration required! Call768-8300or register
MovieShowingofAmericanSniper
for adults at 6:00p.m. at theWoodward
Memorial Library, 134minutes, RatedR. Registration is required. Call 768-8300
TheMayMeeting of the Le Roy-Stafford Senior Citizens
Wednesday, May 20, 2015. The Senior CitizensMeet At 6:00 pm At the K of C
Meeting Hall onWest Main Street behind Save-A-Lot. There will be a potluck
supperandyou shouldbringyourownplace settingandagenerousdish topass.
TheAnnualPlantAuctionoftheStaffordGardenClu
StaffordTownHall, located at Route 237 andRoute 5. The auctionwith start at
6:30pm. Bringyour extraplants to share.
TheseniorcitizensofLeRoyandStafford
meetthethirdWednesdayofeachmonth
for apot luckdinner and aplannedprogram. Wemeet at theKnights of Columbus
Hall locatedbehindSave-A-LotonWestMainStreet. Eachpersonattendingbringsa
generousdish topass or contributes $4.00For anicebuffetmeal and social. Please
bring your ownplace setting andbeverage. Coffee and tea are provided. Dinner is
served at 6:00 pm and a program follows. Please join us for an enjoyable evening.
Anyquestions, please contact JudyRidleyat768-2001or Sharon frost at768-6846.
TheGeneseeValleyCivilWarRoundtable
presentsWayneMahoodon"Wyman
Johnsonand theScytheTree." Themeetingwill takeplaceat 7pmat LeRoyUnited
MethodistChurch,3rddooron rightendof longsidewalk,10TrigonPark,LeRoy,NY.
Discussionperiodwill followprogram.Newmembersarewelcome.
THURSDAY,MAY21
Genesee Veterans Support Network
(GVSN) supports the development of
Veterans focusedAAmeetingseveryThursday,6-7pmattheFirstBaptistChurch,
306E.MainSt., Batavia.Meetings ledbyMikeW.&areopen tonon-veteransas
well.Handicapaccessible. For additional information call 585-302-0825.
GRACE'SCLOSET:Aclothinggiveawayprogram
Methodist Church, 10TrigonPark, LeRoy, 9:30am to11:30ameveryThursday.
Wehaveclothingforallages.SPRING&SUMMERclothingnowbeingput inplace.
Weare inneedofCOOLERclothingespeciallycoats, jackets rainboots, especially
clothing forchildrenofallages.Weneedbeddingofallkindsespeciallyblankets.
Weacceptdonationsbedroppedoffat thehousenext to the church. Pleaseput
all bags INSIDE on the back porch. NO ELECTRONICS, COMPUTERS,DISHES, etc.
Anyquestions call theoffice768-8980.
FRIDAY,MAY22
PenuelChristianFellowship,
OneSteptoFreedomaddictionsministry,aChrist
CenteredAddictions program, aweeklymeeting every Friday at 7 pm. Call the
Church formore informationat768-6901or594-9575.
SATURDAY,MAY23
TheWarsaw Barbershop Chorus
present their 74th annual Musical Show,
"Star Trek…The Lost Episode"at theWarsawMiddle/Senior High School, Me-
morialDayweekendat7:30pm.
Gigantic Rummage Sale
– Riga Church, 7057 Chili-Riga Center Rd.
UPCOMINGEVENTS
LCCP'sMommy&Me Playgroup: Every 2nd& 4th Friday,
Roy Physical Therapy (in the back gym). Anymoms and their birth-kindergar-
ten children arewelcome to come enjoy socialization, lunch, coffee, structured
Foodlink FreeMobile FoodPantry:
Morganville United Church of Christ is
partneringwith Foodlink of Rochester to host a freemobile food pantry, Tues-
day, May 26, 4:00-6:00 pm at Morganville United Church of Christ, 8466Mor-
ganville Road (off Rt 237, 1mile north of Stafford). The exact food items and
quantity available arenot known, but freshproducewill be available. Must be
18yearsof age, no income requirementor ID required. Mustprovideownbags/
vehicle to transport items to your home. Food provided on a first come, first
servebasiswhile supplies last.
YardSaleandOpenHouse,
Sat., June6th, 9am to2pm.MorganvilleUnited
ChurchofChrist, 8466MorganvilleRd., 1milenorthof Stafford.Browseourbar-
gains, enjoy freebeverageand ice creamand$1hot dogs. Todonate sale items
to the churchor to rent a tableat$5, call Laurieat585-757-2257.
St. Mark's Episcopal Church,
1 East Main St., LeRoy is hosting a
Supper &
BookDiscussion
onMonday, June8at 6:00pm to talkaboutTheFaithClub: A
Muslim, AChristian, A Jew—ThreeWomenSearch forUnderstandingbyRanya
Idliby, Suzanne Oliver, and PriscillaWarner. Supper is free, but please call the
churchat768-7200 to reserveyourplace.
27thAnnual Oatka Festival,
July 18th& 19th, 2015. SAVETHE DATE!
ebook.com/oatkafest,Twitter.com/OatkaFestival
CommunityCalendar Submissions shouldbe sent to:
LEROY— JohnW. Metzler, 66, of LeRoy
passedawayonFeb.22,2015,at theWilmot
CancerCenter of StrongMemorial Hospital
in Rochester. In lieu of flowers, memorials
in John's namemay bemade to Genesee
Cancer Assistance, 16 Bank St., Batavia,
NY 14020 or to theWilmot Cancer Center
of StrongMemorial Hospital, Attn: Office of
Gift andDonor Records, P.O. Box 270032,
BYRON—Donna E. Strong, 56, of Byron
diedWednesday (May6,2015)atherhome.
The family isbeingcared for by theMichael
S.TomaszewskiFuneral&CremationChap-
Don't waste precious time