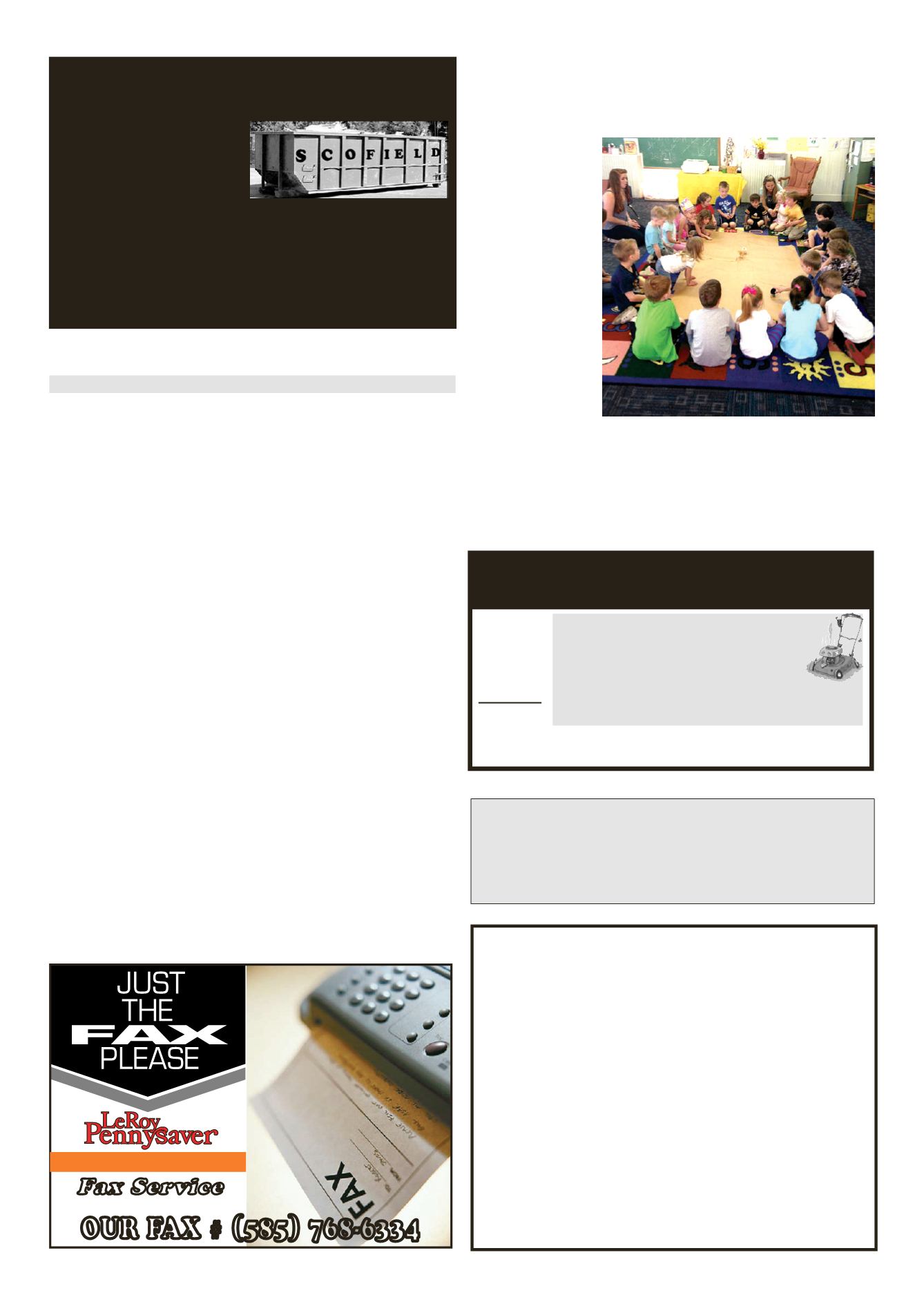 LEROYPENNYSAVER&NEWS -MAY 17, 2015
SUPPORTYOUR LOCALADVERTISERS!
They help sponsor the local news section of the Le Roy Pennysaver.
THANKS FORYOUR SUPPORT!
1ChurchSt., LeRoy, NY • (585) 768-2201
PAINT&BODYTECHNICIAN
(BATAVIA, NYAREA)
• 3-5 years of experience
• Trucks / ConstructionEquipment
• Part-time or Full-time position
• Pay based on experience
• Competitive compensation package
Send resume or outline of experience to:
Paint&BodyTechnician
• Engine andTransmissionRebuilds
• Lawn andGardenEquipment
•ATV's, Dirt Bikes • Light Equipment
• PickUp andDeliveryAvailable
• Snowblowers • Snowmobiles •Generators
SummerHours:
Thurs., Fri., Sat.
9 am to5 pm,
Sunday
9 am toNoon
Mon., Tues.,
Wed. byAppt.
WeNow
AcceptAll
Major
Credit Cards
for thefirst signs of their chicks.
Theybegan toseemanyeggsbe-
gin tocrackandheard thechicks
Finally their chicks arrived.
TheNursery and Pre-K children
BabyChicksAt
LoveBugsPreschool
gathered together and were able
to hear, see and carefully touch
their new chicks before it was
time to bring them to their final
byKimCox
Superintendent of Schools
Happy spring (summer?)! I
hopeyou are enjoying this beau-
tifulweather. Likemanyof you,
the district is busy trying to get
lawns,playingfieldsandgardens
inorder.Thispastweekhasbeen
challenging with the explosion
of grass that has occurred. Our
maintenance staff is working
overtime tobeautify thegrounds
and keep everything mowed.
Thanks to this department for all
Another large project youwill
notice is some care andmainte-
nanceon thebeautiful beech tree
located in the frontof theWolcott
Street School. Thismajestic tree
isan icon forboth the school and
the community. A professional
arborist company will be doing
theworkwhichwill include trim-
ming,bark treatment,andcabling
of certainbranches.Youwill see
the work begin during the last
week in May. I wanted to alert
you to this effort to alleviate any
fears that the tree is being taken
down. The tree is in excellent
health, but does require profes-
sionalattention from time to time.
Great News!
Street School has been named a
National School of Char-
acter
by CharacterEd.org, a na-
tional character education advo-
cate located inWashingtonD.C.
The award recognizes schools
that focuseffortsoneducating the
"wholechild" fromacademics to
citizenship. The Wolcott Street
Schoolwas one of six schools in
NewYork to receive the honor.
Congratulations toMrs.Messura
andMr.Wilson, the entire staff,
andmost of all, the students for
Just a reminder, the 2015-16
Tuesday,
May 19, 2015 from 7:00 am to
9:00pm
ridor.Alongwith thevote, come
on out to enjoy aChickenBBQ,
hostedby theHonor Society, the
Wolcott Street School Spring
Concert, and the FineArts festi-
val. Hope to see you there!
10, 15, 17, 20, 25,
30, and40 cu. yd.
CONTAINERS
ScofieldRolloff •343-8383
NobodyBeatsOur Prices!