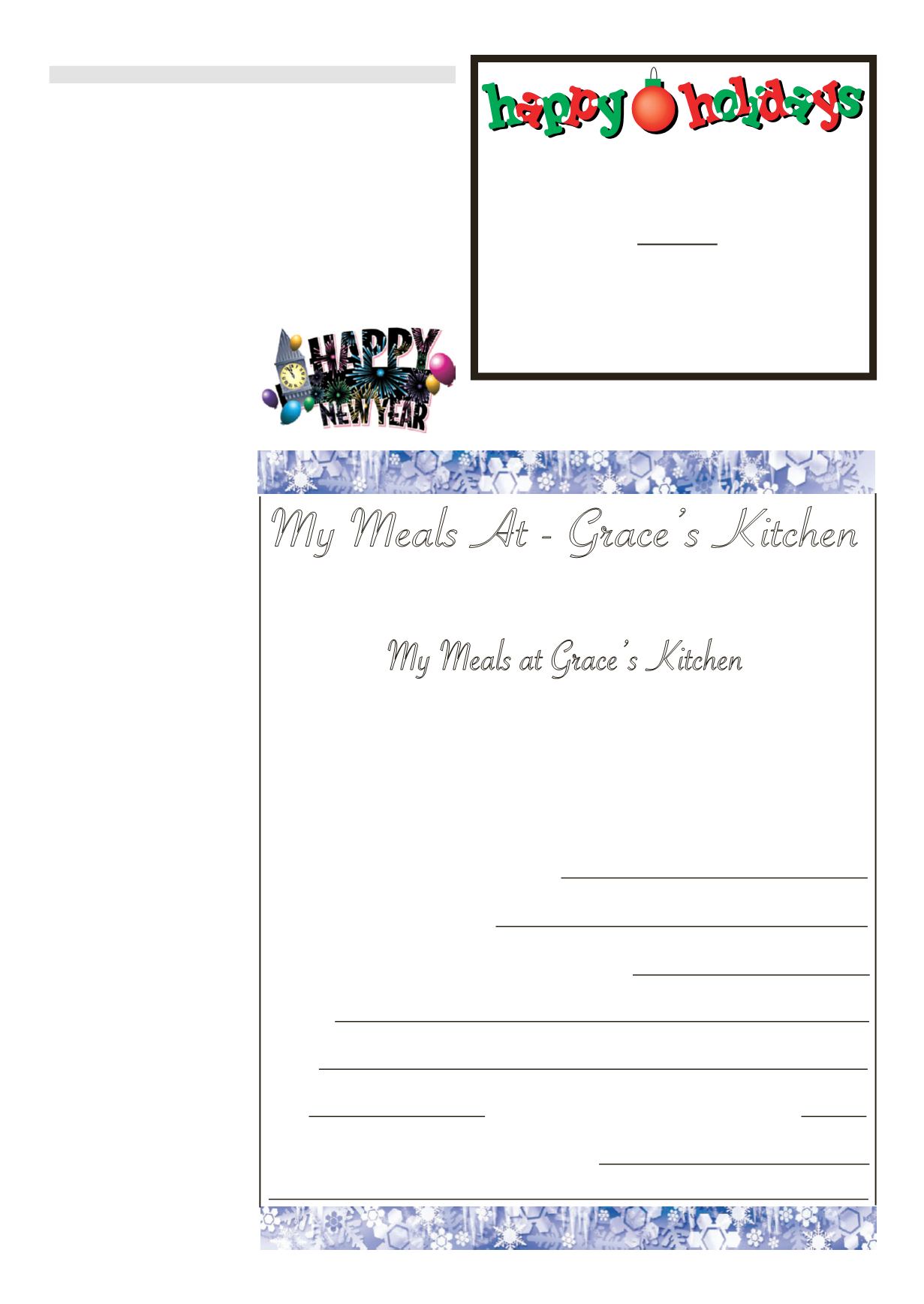 LEROYPENNYSAVER&NEWS -DECEMBER 28, 2014
ROBLEE
Plumbing&Heating, LLC
10991LakeRd., Pavilion • (585) 584-3841
Full Insured
LUXAIRE
GOULD
NYSCertifiedBackflowTester
All TypesOf Plumbing&Heating Jobs
Water Treatment&ConditioningSystems
To our customers and friends, we extend ourBestWishes
for a joyous holiday season and prosperousNewYear!
MyMealsAt -Grace'sKitchen
Awonderful program to honor, celebrate, congratulate, memorialize or thank
friends, family, colleagues, loved ones, teachers, students and others. It's a perfect
and unique gift that will always be remembered.
MyMeals at Grace'sKitchen
Provide a donation of $50 ormore toLCCP/Grace'sKitchen
andwewill rename ameal for you.
Your namedmeal and dedicationwill be displayed on themenu board in our dining area
as our guests and volunteers arrive.
A certificate plus a photo of themenu board andmeal will be sent to you
orwhomever you choose.
Complete formbelow and send to:Grace'sKitchen
c/oLCCP, 7EastMainSt., LeRoy, NY 14482
Name of Person forwhommealwill be dedicated to
Preferred date of themeal to be renamed
Dedicationmessage (in honor of, congratulations, thank you, etc.)
I have enclosed $50 (or other donation amount) for each
Name and address that certificate and photoswill be sent to
byGreg "Porp"Rogers
Mayor
Doesn't the Christmas tree
lookgreat, thankyou toAndrew
Lathan and his crew working
withourDPW topull it all off in
OnNewYear'sEveplease join
the LeRoyBusiness Council for
the First Night Festivities on the
Creek Bank for the annual fire-
works show, beginning at 9:00.
This justanotherexampleofwhat
separates our community from
others, and adds to thequalityof
At this time I would like to
thank the people who run this
Village and may go unnoticed.
The Village Board; made up
of trustee Bob Taylor (Deputy
Mayor)and trustee'sMikeTucci,
JimBonacquisti andBill Kettle.
These four peopleput their heart
andsoul into running theVillage,
trying to balance the costs with
theservices, anddoanwonderful
job.Thebest part of thisboard is
itsdiversityboth inageandback-
ground, bringmanyperspectives
LeRoy is blessed with the
very best department heads in
the state. Russ Lathan who has
been running our waste water
treatmentplant foryears, it'sone
of those jobs that we all take for
granted, but if there is aproblem
it'sahugeone.Russmaybe leav-
ingus this summer, so if youget
a chance to thank him for a job
Thefirst thingIdidwhenelect-
edMayorwas to talkPoliceChief
ChrisHaywardoutof retirement,
probably the best move to date,
Chris is themodelofstabilityand
helps insomanyareasother than
law enforcement. My goal is to
keephimhereas longasI'mhere.
Lathan Jr. does a great job and
makes it look real easy.Last, but
not least, is Sharon Jearywho is
the Clerk Treasurer. If you ask
any of my predecessor's they
would all say that Sharon keeps
the whole Village running and
none of us could have done it
A coach is only as good as
his team, in our case it's all the
sewerplant staffaswell asLinda
Aspecial thanks toJimWujcik
who served this year as Village
Attorney. Thanks to all, you are
trulyoutstandingprofessionals in
your respective fields, and have
"Worry is likea rockingchair,
itwill give you something todo,
but it won't get you anywhere"
Notes From TheMayor's Office