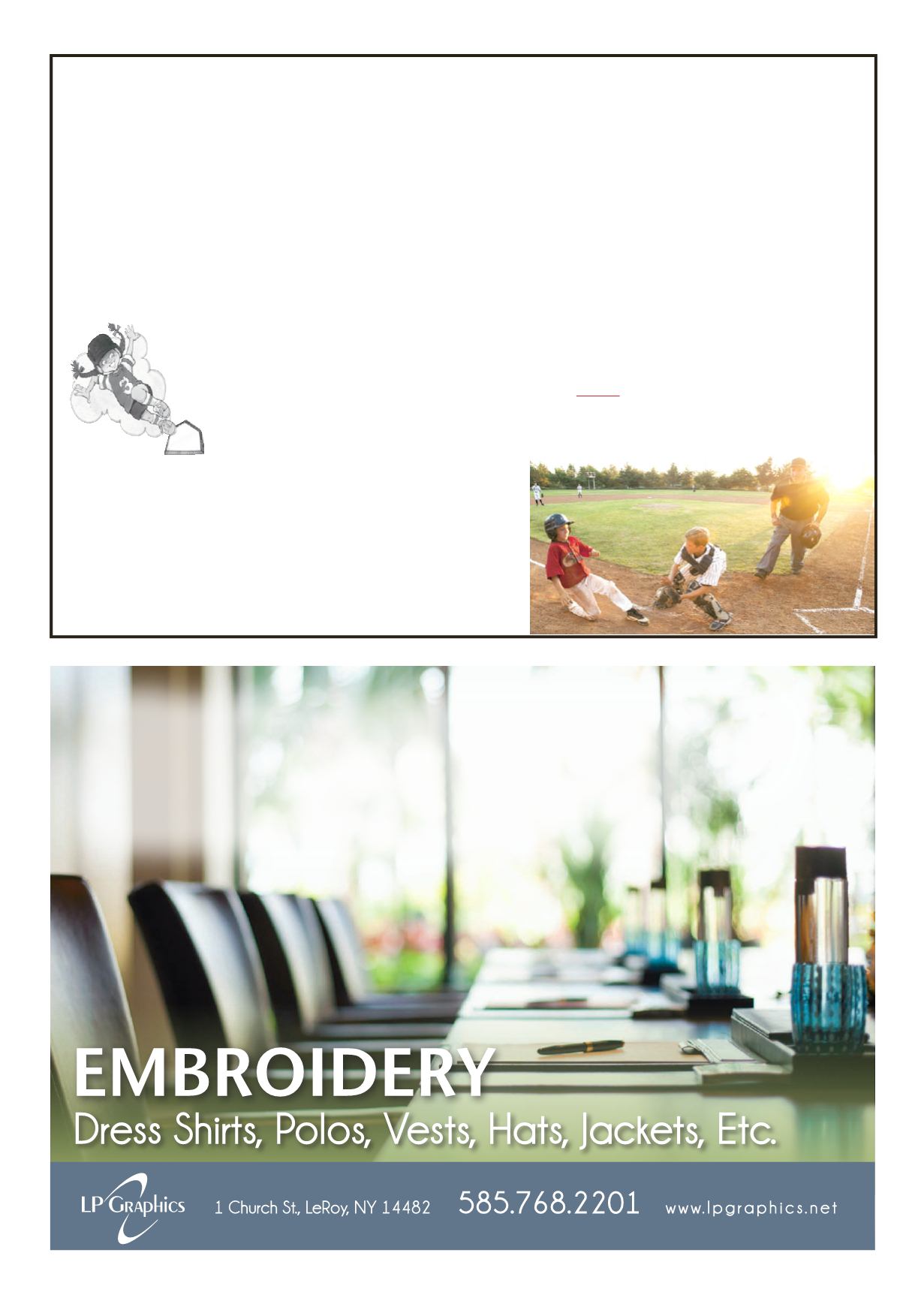 LEROYPENNYSAVER&NEWS -DECEMBER 28, 2014
Important Update Regarding Little League Baseball Eligibility!!!
LittleLeague International headquartered inWilliamsport, PAhas announcednew agedetermination rules thatwill partially take effect in the
2015 season. Previously, a player's
eligibility
for placement in an appropriate league level was determined by that child's age onApril 30th
of the actual season. The leadership of LittleLeague inWilliamsport has now changed this date toDecember 31st.
What does thismean formy child?
Depending on themonth and year of your child's birth, their "league age" and eligibility statusmay
change, impacting the levels inwhich your child is eligible to play. Straight fromWilliamsport:
As a result of this recent adjustment to the implementation strategy, effective immediately, any player born on or after January 1, 2006who
turn the ages of 4-9during the 2015 calendar year
will be eligible toparticipate in a local LittleLeague program andwill use the
new
agedeterminationdate ofDecember 31 for the reminder of theirLittleLeague career.
Consequently, players born prior to
January 1, 2006
will continue to utilize the
current age determinationdate ofApril 30
2016, and2017 seasons. In 2018 all players born prior to January 1, 2006will begin utilizingDecember 31 as their age determination date.
LeRoyLittleLeague's current structure broken down by age is as follows:
Age 4 – 6: Instructional League
Age 6 – 9: T-shirt League
(Players age 9 – 12 are eligible to try-out forLittleLeague)
Age 13 – 14: Junior League
Age 15 – 16: Senior League
Age 16 – 19:MonroeCountyBabeRuth
Someageoverlap ispresent atmultiple levels.Finalplacement indivisions issub-
ject toBoardofDirectors review and approval. The goal of LeRoyLittleLeague
is for children to play in the level that best suits their skill level.
Registrationwill be January17th9am–12pm& January21st 6pm–8pm in the
hallwayoutsideof theTrigonGym. Please look formoredetailsabout registration
Pennysaver
If youhave anyquestions about thenew agedetermination or registration,
please call Jeff Strollo at 750-4049.
MissingSomething?