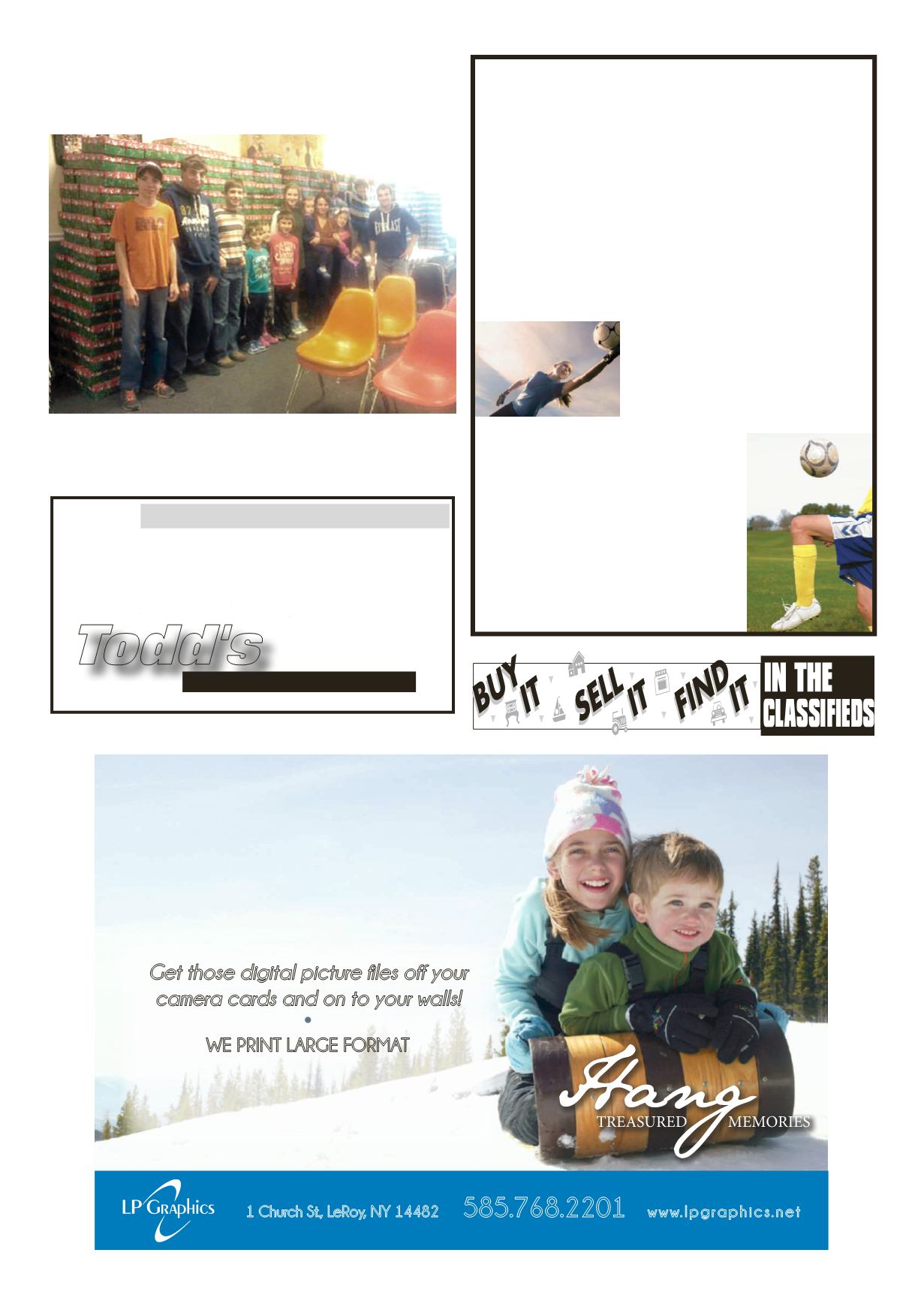 LEROYPENNYSAVER&NEWS -DECEMBER 28, 2014
NewHomes •Additions •Garages •PoleBarns
ToddCarli • Phone 703-0964
Todd's
Decks •Windows •Doors
Kitchens •Baths
CeramicTile
Basement Finishing
CustomShelves/Built-Ins
Siding •Remodeling
Roofing • SnowPlowing
FULLY INSURED
LeRoyYouthSoccerAssociation "LYSA"
Summer2015Registration Information
2ndYear Running ...
(space is limited)
FORDETAILED INFORMATIONREGARDING
REGISTRATION andLYSA'S 2015
SOCCERPROGRAM, GOTOOURWEBSITEAT:
ONLINEREGISTRATION ISOPEN
WALK-INREGISTRATION:
Wed., Jan. 14, 2015
(to be confirmed)
WHERE: LeRoyJr./Sr.
HighSchool Cafeteria
TIME: 6p.m. to 8p.m.
You can register and/or pay online or in
person. Regardless of how you plan to
register, please go to our website and
read the registration informationcarefully
and thoroughlybeforeentering theonline
registrationsystemorcoming toourwalk-
in registration. Thank you!!!
QUESTIONS?
ContactAmyRichardson at:
OperationChristmasChild
LeRoyCollectionSite
TheLeRoyCommunity collected2,671OCCboxes for the2014
campaign. Theseboxeswill go to children inover 130 countries
around the world. If youwould like to join this project, please
contact thePenuelChurch ofLeRoy.
As crispas theday
they weremade.
1ChurchSt., LeRoy, NY14482
585.768.2201
raphics.net
Get thosedigital picture files off your
cameracards andon to your walls!
WE PRINT LARGE FORMAT
Our state-of-the-art wide format color
printer allows prints up to42" wide
by any length youdesire!