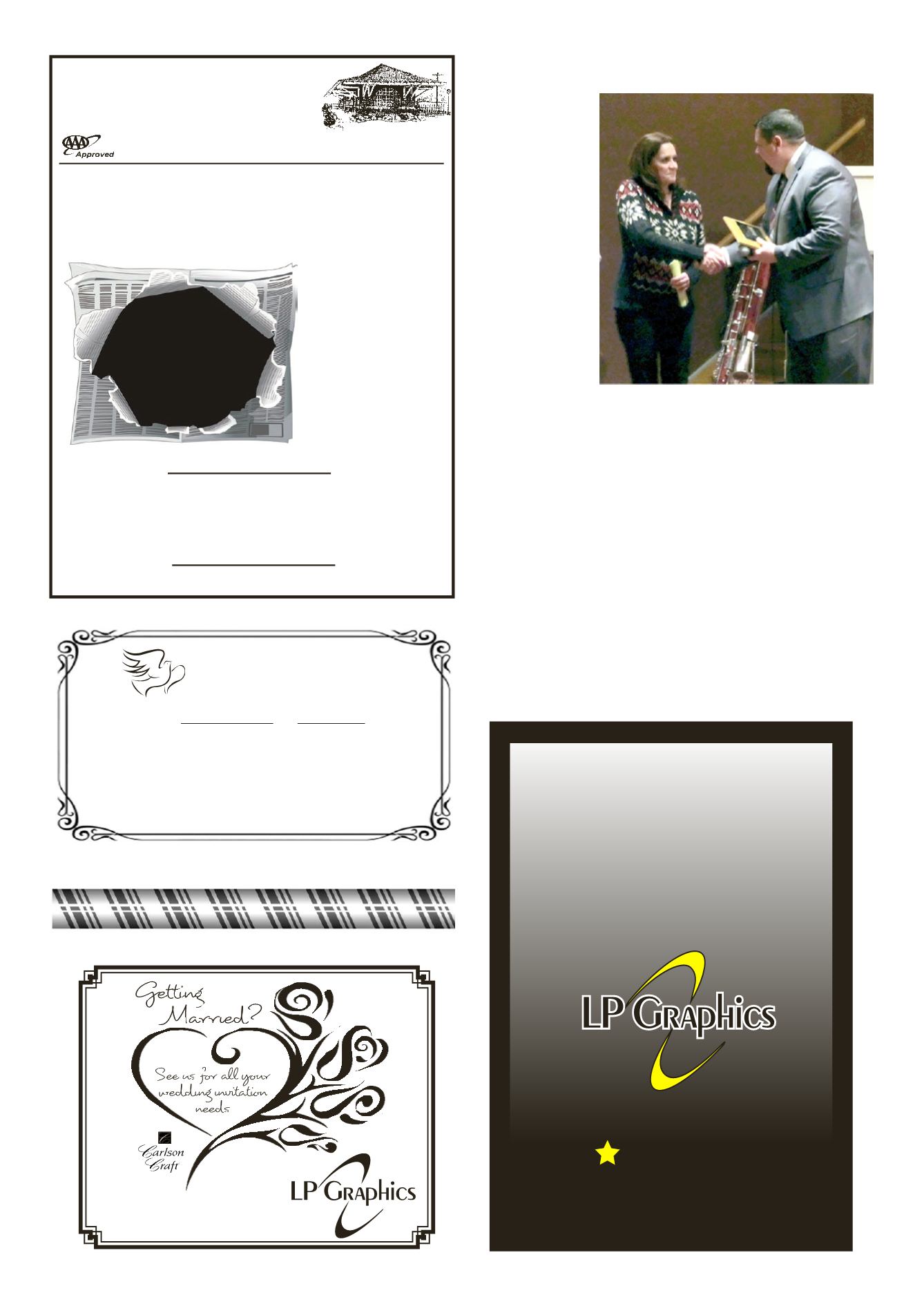 LEROYPENNYSAVER&NEWS -DECEMBER 28, 2014
D&RDepot
63LakeSt. (Rt. 19), LeRoy• 768-6270
Let'sMeetAt The ...
OpenForBreakfast, Lunch&Dinner - 7DaysAWeek 7am-9pm
Director /Owner
FuneralDirector
F
ALCONE
F
AMILY
Funeral&Cremation Service, Inc.
Director/Owner
"ALOCALFAMILY
CARINGFORLOCALFAMILIES"
nizes Gillam-Grant Community
Center's extraordinary service
to the students of Byron-Bergen
Central School District. Peggy
Swapceinski, executivedirector,
thanked the Board of Education
for the recognitionandsaid, "We
will continue to foster our strong
relationship with the school
district over the next 40 years
whichwillmaintain the tradition
Gillam-GrantCommunityCenter
has had over the past 40 years."
TheGillam-Grant Community
PeggySwapceinski,ExecutiveDirector,Gil-
lam-Grant,CaseyKosiorek,Superintendent
Byron-BergenSchools.
Gillam-GrantRecognized
Center opened its doors in1974,
by local resident Grant Gillam
to provide a place providing
social, cultural and educational
programs for the entire commu-
nity and is celebrating 40 years
Today the facility includes a
Preschool program, Kid Zone
Afterschoolprogram,Learning
Center,PhysicianOffice,Youth
Recreation,SeniorServicesand
variousCommunityEducation
Sunday, December 28th - Jolly ol'England
TheEnglishwere influencedby the cultures of their colonies, so
English cookingbegan touse new spices and cooking techniques.
We're featuringBeef, Ale&Parsnip pudding in aflaky crust,
and for dessertGranny'sVictoriaSpongeSandwich ... $17.99
SUNDAY,
JANUARY 4th
wewill be
featuring our
SWISSSTEAK
Dinner
with peppers
and onions, soup or
salad, real mashed
potatoes, and
homemade chocolate cream pie for dessert for ...
SUNDAY, JANUARY 11th
enjoyBRACIOLLE (tender stuffedFlankSteak)
withPASTA and homemade red sauce, soup or salad, and finish
with homemadeCannolis cake for ... $
OURCOUNTINGCONTESTWINNERSANNOUNCED
They're Baaaack!
OurAll - Inclusive
SundayDinners start again
January 4th!
All of our SundayDinners
include soup or salad,
entrée, dessert&
bakery basket.
1CHURCHST, • LEROY, NY • lpgraphics.net
WEHANDLEALLASPECTSOFPRINTING...
PROGRAMS
LETTERHEADS
BILLHEADS
FLYERS
BROCHURES
POSTERS
CARBONLESSFORMS
ENVELOPES
RAFFLETICKETS
NEWSLETTERS
RESUMES
TYPESETTING
RUBBERSTAMPS
ENGRAVEDSIGNS
NAMETAGS
COPIES
LAMINATION
COMMUNITYFAX
NEWSANDPICTURES
ADVERTISING
BUSINESSCARDS
HOURS: Monday thruFriday 8:00 to 5:00