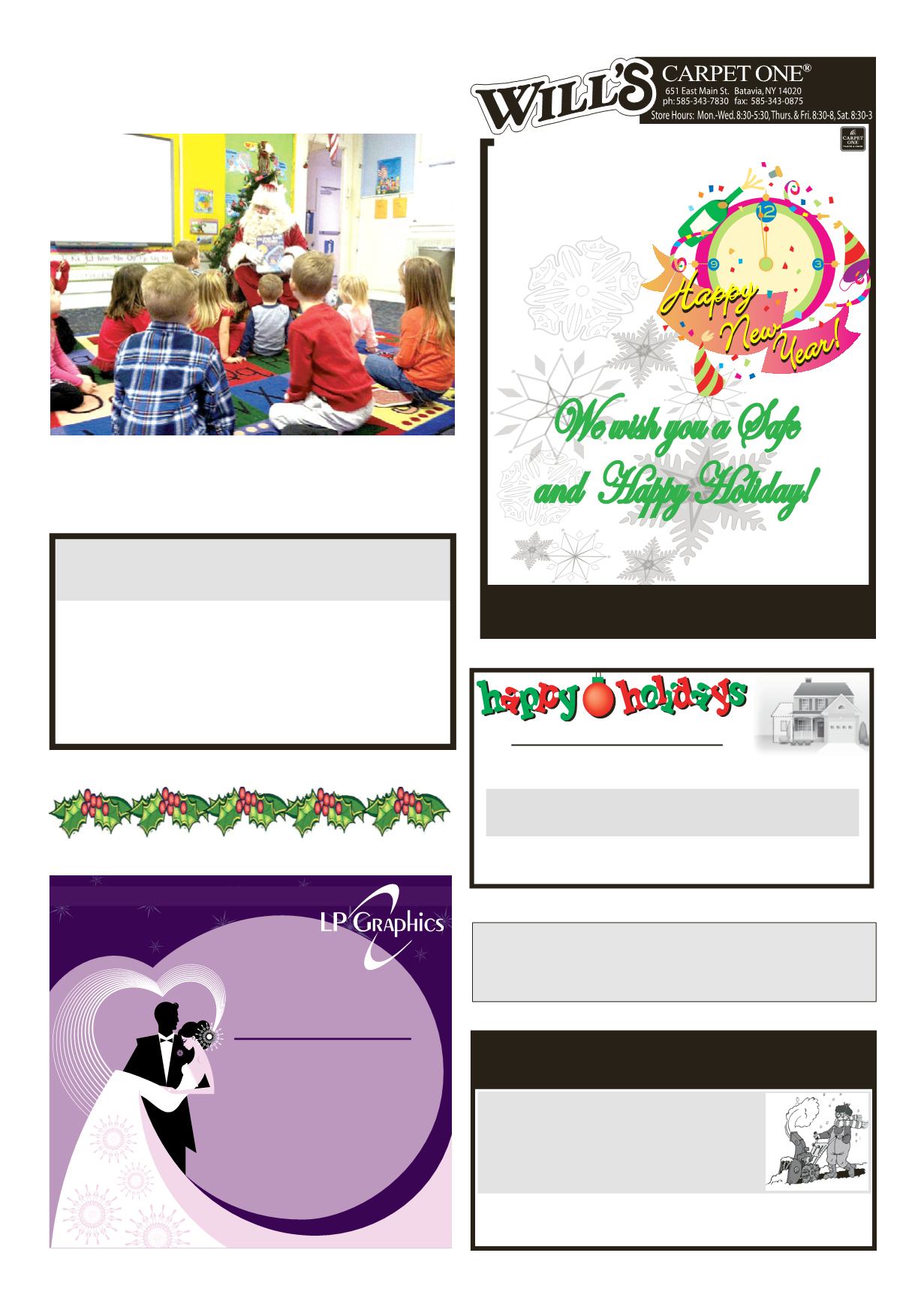 LEROYPENNYSAVER&NEWS -DECEMBER 28, 2014
FLOOR
&HOME
TheONE store for your perfect floor.
"CompleteCarpentry Service"
M
ILLER
B
ROTHERS
B
UILDERS
CustomHomes •Remodeling•Additions
Roofing• Siding
DANIEL
MICHAEL
SUPPORTYOUR LOCALADVERTISERS!
They help sponsor the local news section of the Le Roy Pennysaver.
THANKS FORYOUR SUPPORT!
• Engine andTransmissionRebuilds
• Lawn andGardenEquipment
•ATV's, Dirt Bikes • Light Equipment
• PickUp andDeliveryAvailable
• Snowblowers • Snowmobiles •Generators
Hours: Tues.-Fri. 10 am to 4 pm, Sat. 10 am to 2 pm
8525Rt. 237, Stafford, NY
ALLWORKMANSHIP GUARANTEED • INSURED
297-9097 • 768-7737
• InteriorPainting
• Plaster/LathRestoration
•Drywall&DrywallRepair
•TextureRemoval
• Floors Stripped
&Refinished
•OldCeilings&Walls
MadeLikeNew!
MikeDarby'sPatch&Paint
Will's
Carpet
One
WeWillCloseOnNewYear'sEve
at 3:00pm,Wednesday, December 31st
andRE-OPEN onFriday, January 2nd at 8:30 am.
The childrenatLoveBugsPreschoolwere so excited that Santa
stoppedby theirChristmasparty tovisitwith them.Theyall lis-
tened intentlyasSantareadoneofhisandMrs.Claus's favorite
Christmas books,Twas'TheNightBeforeChristmas!
Twas'TheNightBefore
Christmas
It's
all
You
about
1ChurchSt., LeRoy, NY •OpenM-F8-5
585.768.2201
Andwe are proud tobe a part of
these important occasions and
celebrations inyour life.
We have themost complete
Wedding Invitations&
Announcements plus
Accessories suitable for all
social occasions.
lpgraphics.net • Fax585.768.6334