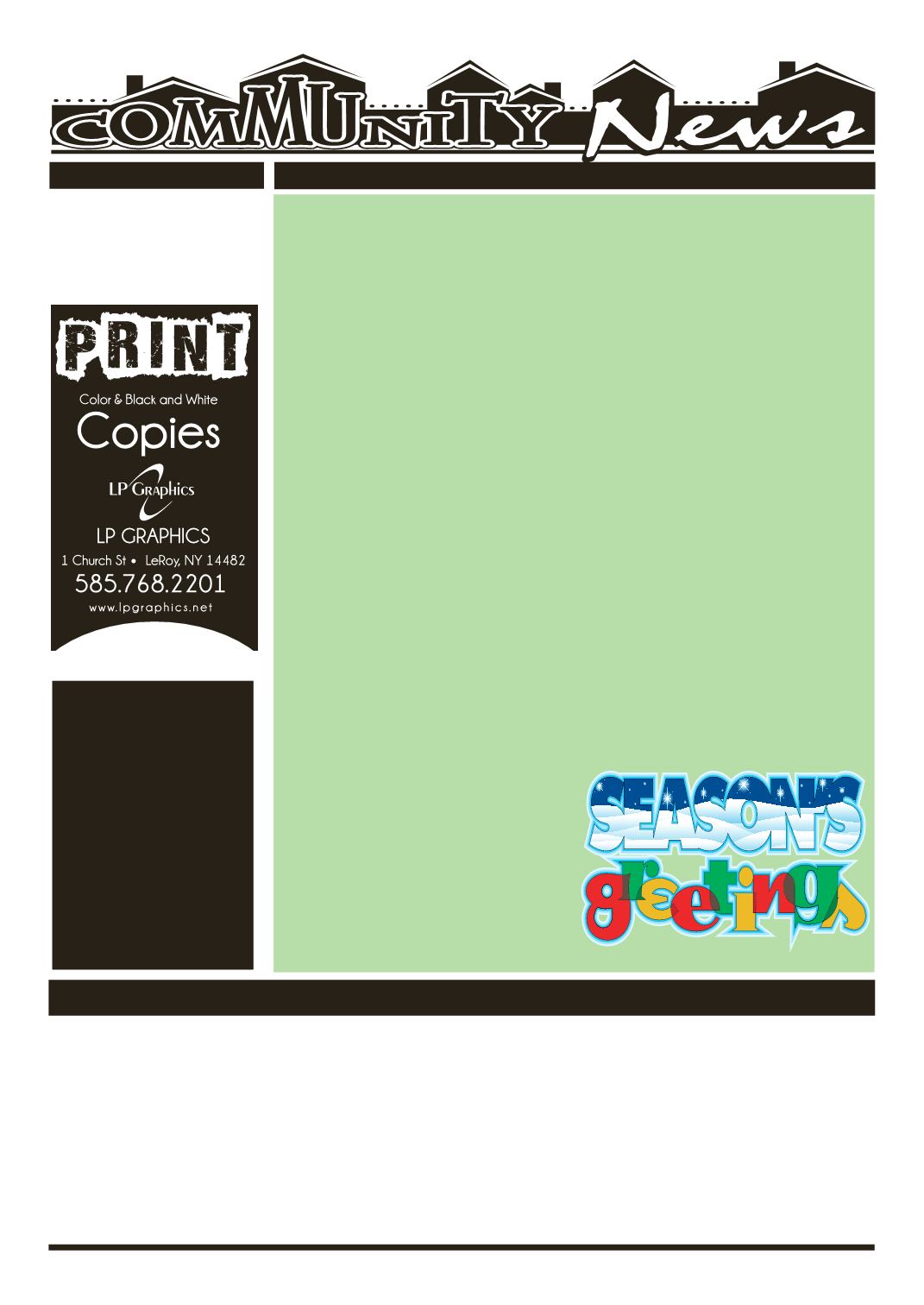 LEROYPENNYSAVER&NEWS -DECEMBER 28, 2014
Le Roy
Pennysaver
All GeneseeCounty residents, 60andolder, can takepart in thisweek'sactivitiesat theBataviaSenior Center, 2BankSt., Batavia. Formore information, call 343-1611.
(December 29 - January 2)
WEEKLYEVENTS
OBITUARIES
ArthritisExercise
is scheduled tobeginat 9:30a.m.;
Bridge
is set tobeginat 11:30a.m.
Cribbage
is scheduled tobeginat 1:00p.m.
Euchregame
is scheduled tobeginat 1:00p.m.
NewYear'sHoliday -SeniorCenterClosed.
ArtClassandLineDancing
is set tobeginat 10:00a.m.;
Euchre
is set tobeginat 12:00p.m.
SUNDAY,DECEMBER28
AWANA Program at Penuel Christian Fellowship.
MainStreet. Sundays12:15 to1:45pm.Ages5-17broken into
groups. Developing friendships. Having fun. Learning about
KonnectYouthGroupatLivingWatersChurch,
LeRoy. Sundays from 6:30 to 8:30 pm for ages 12-18. "Bring
Down all theWalls! Connect with God and Connect with oth-
ers." Formore information, checkusout onlineat: livingwater-
sleroy.org/konnect-youth-ministry/
MONDAY,DECEMBER29
TOPS (Take OffPounds Sensibly)
attheLeRoyPresbyterianChurch, cornerofClay&MainStreets.
Doorsopenat6:00pmandmeeting is from6:30-7:15pm.Vis-
itors are always welcome. Call 585-768-7103 for more infor-
TUESDAY,DECEMBER30
Preschool Storytime:
Every Tuesday at 11 am featuring
stories, craft and songs at Pavilion Public Library, 5Woodrow
Dr., Pavilion. For info: 584-8843.
LCCP'sGRACE'SKITCHEN:
(will re-openDec.30th)
dinner everyTuesdayevening, 5-6:30pmat the LeRoyUnited
Methodist Church, 10TrigonPark. ParkingavailableonTrigon
Park& the lots to the leftandbackof theChurch.Handicapped
Entrance in the back of the Church. Takeout & delivery are
available. Formore info. contact SelbyDavis at 585-738-8882
WEDNESDAY,DECEMBER31
PavilionBaptistChurch
youthprograms
for thewinter everyWednesday evening. All community chil-
drenarewelcome toattend. AWANA is aprogram for younger
childrenPreschool(4yearold)through6thgrade. It isafuntime
of BibleStories, gamesBiblememoryandeven refreshments.
Wordof Lifeprogram is for teens 7th through12thgrade.We
are easily located at 10956 S Lake Road in Pavilion. Call 585-
584-3179ext. #12 for anyquestions.
THURSDAY, JANUARY1
Genesee Veterans Support Network
the development of Veterans focused AA meetings every
Thursday, 6-7pmat the First Baptist Church, 306 E.Main St.,
Batavia.Meetings ledbyMikeW.&areopen tonon-veterans
as well. Handicap accessible. For additional information call
GRACE'S CLOSET:
(will be CLOSED Jan. 1st)
A clothing
giveaway program
sponsored by Le Roy UnitedMethodist
Church, 10 Trigon Park, Le Roy, 9:30 am to 11:30 am every
Thursday.Wehaveclothingforallages. FALL&WINTERclothing
now being put in place.We are in need ofWARMER clothing
especially coats, jackets boots, pajamas. Weneedbeddingof
all kinds especiallyblankets.Weaccept donations bedropped
offat thehousenext to the church. Pleaseput all bags INSIDE
onthebackporch. NOELECTRONICS, COMPUTERS,DISHES,etc.
Anyquestions call theoffice768-8980.
FRIDAY, JANUARY2
Penuel Christian Fellowship,
dictions ministry, a Christ Centered Addictions program, a
weeklymeetingeveryFridayat7pm.Call theChurch formore
informationat768-6901or406-3863.
SATURDAY, JANUARY3
UPCOMINGEVENTS
LCCP's Mommy & Me Playgroup: Every 2nd & 4th
Friday,
12:00-1:30, Le Roy Physical Therapy (in the back
gym). Anymoms and their birth-kindergarten childrenare
welcome to come enjoy socialization, lunch, coffee, struc-
CommunityCalendar Submissions shouldbe sent to:
STAFFORD — Lucille Sandford, a
former resident of Pike, died Saturday
(Dec. 20, 2014) in Lakeside Beikirch
Care Center in Brockport. Memorials if
desired to: PikeRescueSquad.