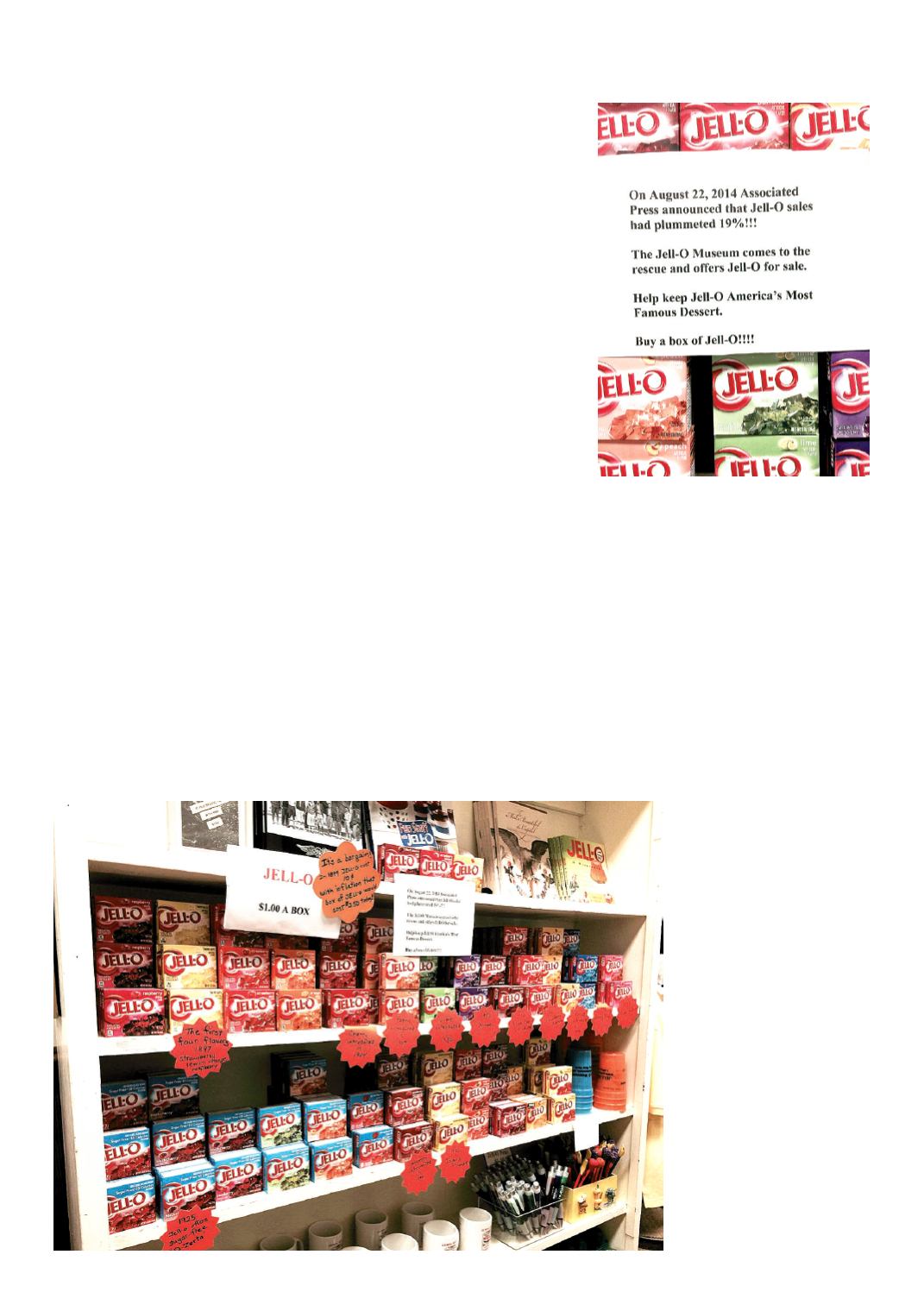 LEROYPENNYSAVER&NEWS - SEPTEMBER 7, 2014
Jell-OGallery To The Rescue
byLynneBelluscio
I took the phone call. "This
is Candice Choi. I'm a reporter
Associated Press
talk to you about the history of
Jell-O?" "Sure. What do you
want toknow?"Andsowe talked
for about twenty minutes. The
usual information – everything
I can cram into twentyminutes.
Then she said, "Jell-O saleshave
declined recently. Have you
seen a decline in visitors at the
museum?" "Certainly not this
year. Attendancedipped the last
couple of years, but it is directly
linked to the amount of money
I spend for advertising and this
year, attendance is back up. But
I can tell you, that for the most
part, the people that visit here,
love Jell-O and if they haven't
had Jell-O lately, they leave
saying they're going home to
make some. Most of themwish
we had samples, or ask why we
As-
sociatedPress
and the entireworld learned that
Jell-O sales had slipped 19% in
the last four years. I had a call
from a radio station in Canada.
"You know, Jell-O is Canada's
Most Famous Dessert," I said,
"Andonlyacoupleof years after
Jell-Owas introduced inLeRoy,
it was being manufactured and
distributed in Canada. Canada
has one of my favorite flavors
- - Granny Smith Apple Jell-O.
- -Andno I don't know anything
about slumping sales. We really
concentrate on the history of
Jell-O and we aren't part of the
That night I went home and
kept thinking, there's got to be a
way tomake something good of
this. Already folks were coming
in to tell us that they learned
about themuseumbecauseof the
AP article. - - Something about
any publicity is good publicity.
So Iwent toTops and bought 80
boxesofJell-Oandpostedasign.
The boxes flew off the shelf and
the next day I went to Batavia
and bought more at Walmart
and discovered several different
flavors. I had to go back again
Folkswereelated tofind Island
Pineapple and Cranberry and
went homewith several boxesof
their favoriteflavors.Agroupof
foreignexchangestudentsbought
boxes of Lime. I have made
arrangements with Walmart to
buy Jell-Oby thecase, but itwill
be two weeks before the order
arrives.So Iwentup toBrockport
and hitWalmart andWegman's.
(Myapologies to the folksbehind
arranged the boxes of Jell-O
We also offer several Sugar-
Free Jell-O flavors. Jell-O has
offered sugar-free favors since
1925when it introducedDiabetic
Jell-O also calledDezerta.
WhenJell-Owas introduced in
1897, it cost 10centsabox. Idid
an Internet search to determine
howmuch that10centboxwould
cost today and was amazed to
discover, itwould cost $2.50. So
Jell-O is really quite a bargain
TheAP article cited yogurt as
infringing on the popularity of
Jell-O – which considering the
fact that Batavia is producing
"tons"ofyogurt - -givesa ironic
twist to the story. I think Jell-O
needs to promote recipes that
use Jell-O and yogurt. Why not
shake some powdered Jell-O on
youryogurt. Infact,wearegiving
away Jell-O and yogurt recipes.
(I remember as a kid, shaking
powdered Jell-O on cottage
cheese - -sounds sogood, I think
I'll get some cottage cheese
tomorrow and try some of that
IslandPineapple on top. Yum!)
We hope to sell Jell-O from
nowon, and I amkickingmyself
thatwedidn'thave itonourselves
before. So if you are looking for
the illusive Cranberry or Island
Pineapple andWatermelon, stop
byandbuy.We justmightbeable
to make Jell-OAmerica's Most
One of the easiest yogurt and
One cup non-fat (or regular)
Pour all ingredients into blender
Pour into dishes and refrigerate
Another recipe for Jell-O and
with large box of Jell-O. Put
into microwave and heat 1
½ minutes. Take out and stir
thoroughly. Return tomicrowave
for 1 minute. Pour into graham
cracker pie crust and refrigerate.