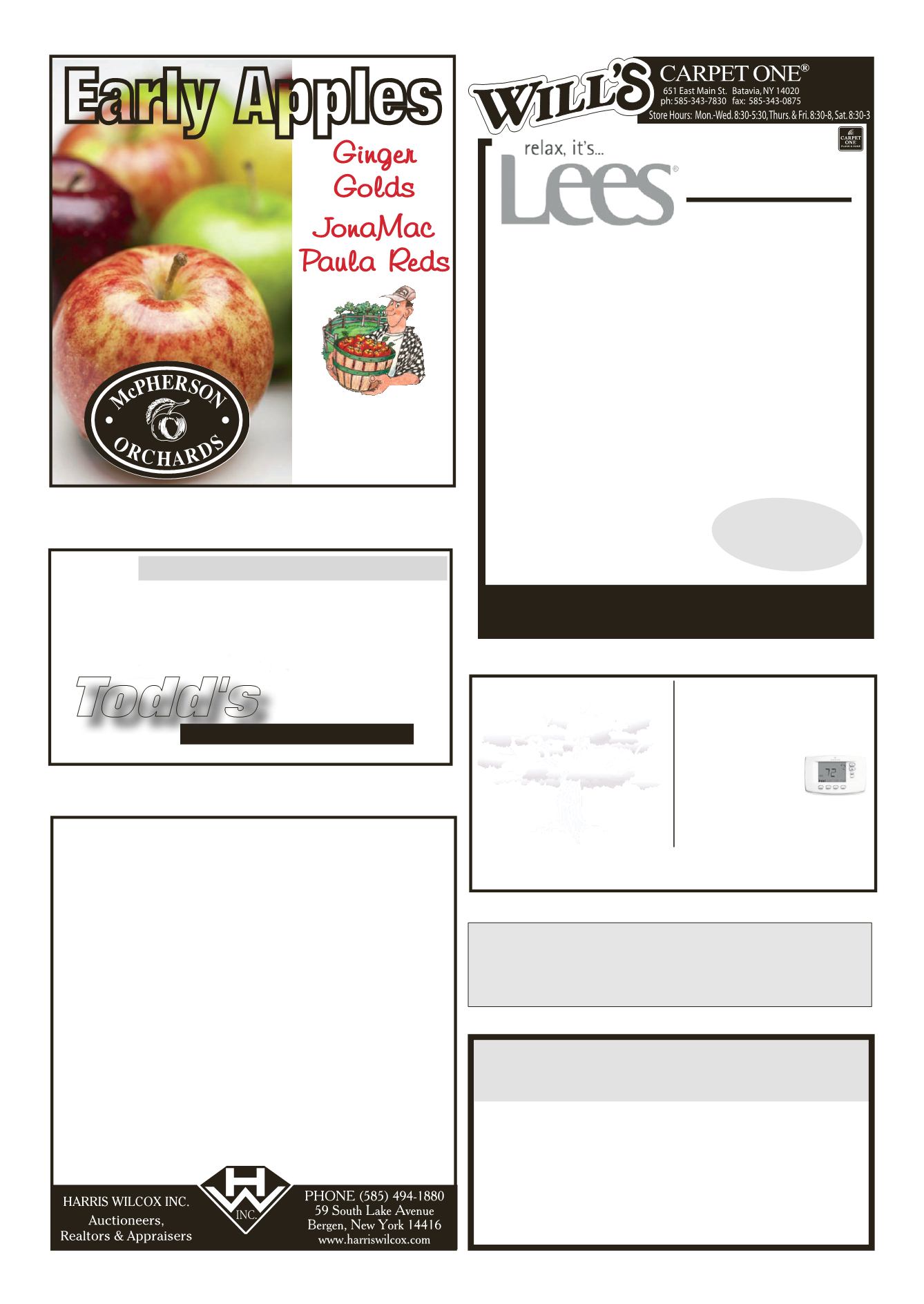 LEROYPENNYSAVER&NEWS - SEPTEMBER 7, 2014
FLOOR
&HOME
TheONE store for your perfect floor.
•NOExclusions - Stain& SoilWarranty
• 25YearPet StainWarranty
• FreeEstimates
• FinancingAvailableTo
QualifiedBuyers
Malovich
Environmental
Tree Service
•TreeTrimming
•TreeRemoval
•StumpGrinding
FreeEstimates • Fully Insured
24Hour Service
• Residential
•MobileHomes
• ServiceRepairs
•New Installations
•ChimneyCleaning/Repairs
•ChimneyLiners
• Plumbing&Electrical
585-409-6509
Hurry
LimitedTime!
CARPET
ENTIRELINEOFLEE'SONSALE
InstalledWith a 6#Pad
50%
OFF
NewHomes •Additions •Garages •PoleBarns
ToddCarli • Phone 703-0964
Todd's
Decks •Windows •Doors
Kitchens •Baths
CeramicTile
Basement Finishing
CustomShelves/Built-Ins
Siding •Remodeling
Roofing • SnowPlowing
FULLY INSURED
SUPPORTYOUR LOCALADVERTISERS!
They help sponsor the local news section of the Le Roy Pennysaver.
THANKS FORYOUR SUPPORT!
Wed., Sept. 17, 2014 • 5:30P.M.
LEROY, NY
Auction tobeheldat7HilltopDrive,offRt.19 just south
of village. Selling will be a 3 bedroom 1 bath ranch
homewithattachedgarageandbreezeway.Homehas
hardwood floors and lovely fenced yard. Needs TLC.
Assessed for $75,700, sells at $20,000 or above for
cashonly. $4,000deposit required. 3% tocooperating
Brokerswho register clients prior to open houses.
OPENHOUSES:
SAT., Sept.13 from 10 am-Noon
andMON., Sept.15 from3-5pm.
For details call Penne at 303-2325.
Early Apples
OatkaTrail
OPENDAILY
9am to6pm
ALLWORKMANSHIP GUARANTEED • INSURED
297-9097 • 768-7737
• InteriorPainting
• Plaster/LathRestoration
•Drywall&Drywall Repair
•TextureRemoval
• Floors Stripped
&Refinished
•OldCeilings&Walls
MadeLikeNew!
MikeDarby'sPatch&Paint