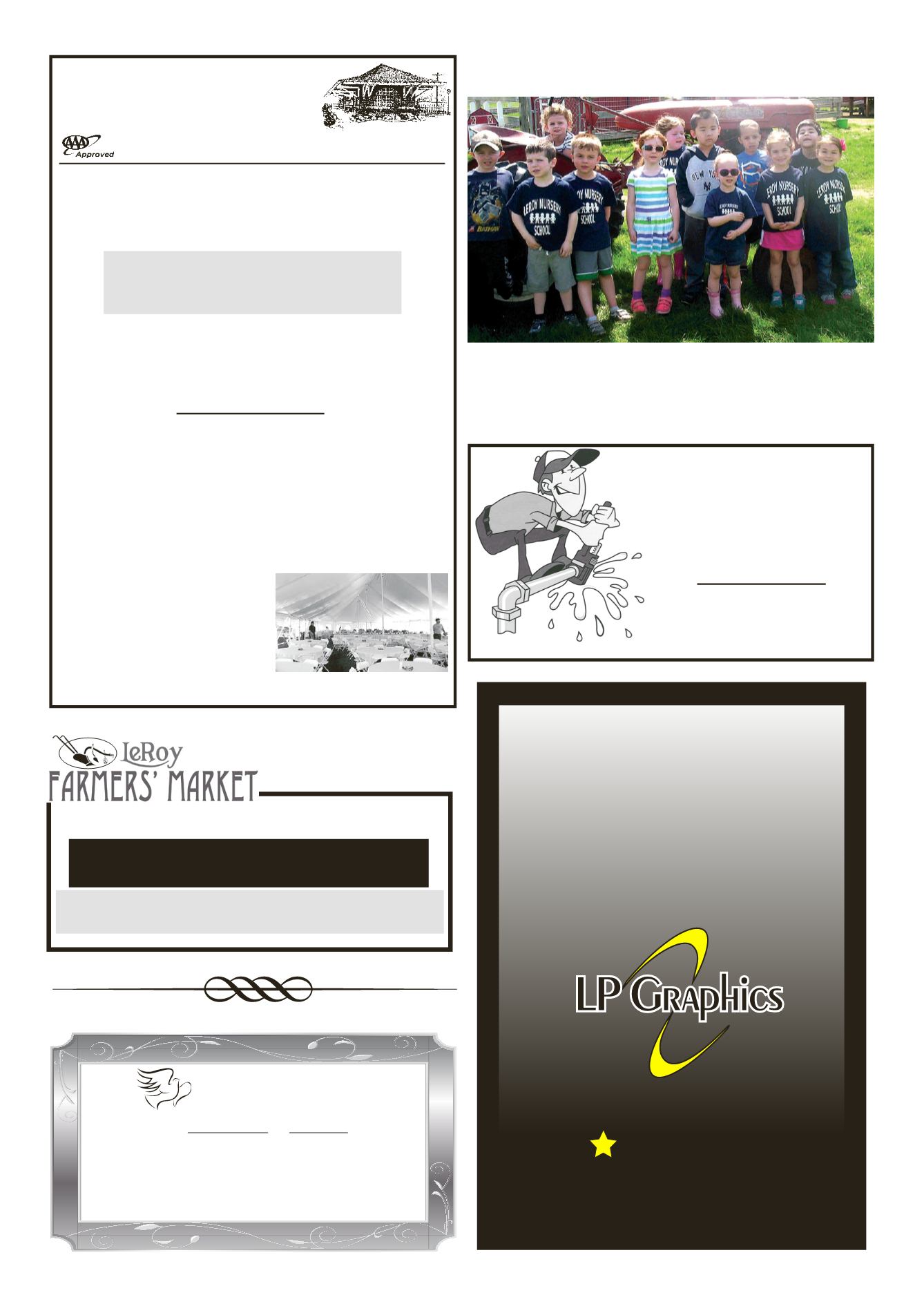 LEROYPENNYSAVER&NEWS - SEPTEMBER 7, 2014
D&RDepot
63LakeSt. (Rt. 19), LeRoy• 768-6270
Let'sMeetAt The ...
OpenForBreakfast, Lunch&Dinner - 7DaysAWeek 7am-9pm
F
ALCONE
F
AMILY
Funeral&Cremation Service, Inc.
Director/Owner
Director /Owner
FuneralDirector
SUNDAY, SEPTEMBER 7thDINNERSPECIAL
CANADIANCRABCAKESDINNER - $16.99
(includes Strawberry soup, potato salad, beverage
and aCrèmePuff dessert)
SPECIALEVENT–SEPTEMBER 6
GermanDay at the
GeneseeCountryVillage andMuseum
SUNDAY, SEPTEMBER 14thDINNERSPECIAL
VIRGINIABAKEDHAMDINNER - $15.99
(includes soup or salad, scalloped potatoes, beverage
and coconut layer cake)
SUNDAYSEPTEMBER 21stDINNERSPECIAL
ROASTTURKEYDINNER
withhomemade dressing - $14.99
(includes soup or salad, realmashed potatoes, beverage
and pumpkin ice cream pie)
TheDepot's new sister company, DoubleLRentals - offering tables, chairs,
heaters, bars, linens, dishes& catering supplies for your special occasions!
10%Discount
when you
use both the
D&RCateringServices and
DoubleLRental
foryour event.
Visit doublelrental.com or call us at (585) 344-0023
LeRoyNurserySchool goes onadrivingfield trip toSpringdale
Farm. The children saw and learned aboutmany different ani-
mals. Theywere able to pet andholdmany of them. Field trips
bothwalkinganddrivingoneshelp thechildren see theenviron-
ment around them. Such a great learning experience!
LNSGoesOnAFieldTrip
eRoyFarmer'sMarket onFacebook
TRIGON PARK
Saturday, Sept. 13th
9:00 am-12:30 pm
LOCAL • FRESH•DELICIOUS •NUTRITIOUS
More variety arrivingweekly as the growing season progresses. Support your neighbor! Buy Local!
rnoldwill be in ourMusic tent.
e selling hand crafted items andGenesee
TransportationCouncilwill be in our community booths.
We are inviting the community to joinour
Market Meeting at Trigon Park
on
September 6th at 12:30
to discuss next year'smarket.
OurMarket can only be as strongas the support we receive from our community.
Please consider joining our conversation.
Dave Salway
PlumbingLLC
7100QuinlanRoad
LeRoy,NY 14482
Cell Phone: 585-721-8446
HomePhone: 585-768-8446
When you callDave, yougetDave!
1CHURCHST, • LEROY, NY • lpgraphics.net
WEHANDLEALLASPECTSOFPRINTING...
PROGRAMS
LETTERHEADS
BILLHEADS
FLYERS
BROCHURES
POSTERS
CARBONLESSFORMS
ENVELOPES
RAFFLETICKETS
NEWSLETTERS
RESUMES
TYPESETTING
RUBBERSTAMPS
ENGRAVEDSIGNS
NAMETAGS
COPIES
LAMINATION
COMMUNITYFAX
NEWSANDPICTURES
ADVERTISING
BUSINESSCARDS
HOURS: Monday thruFriday8:00 to5:00