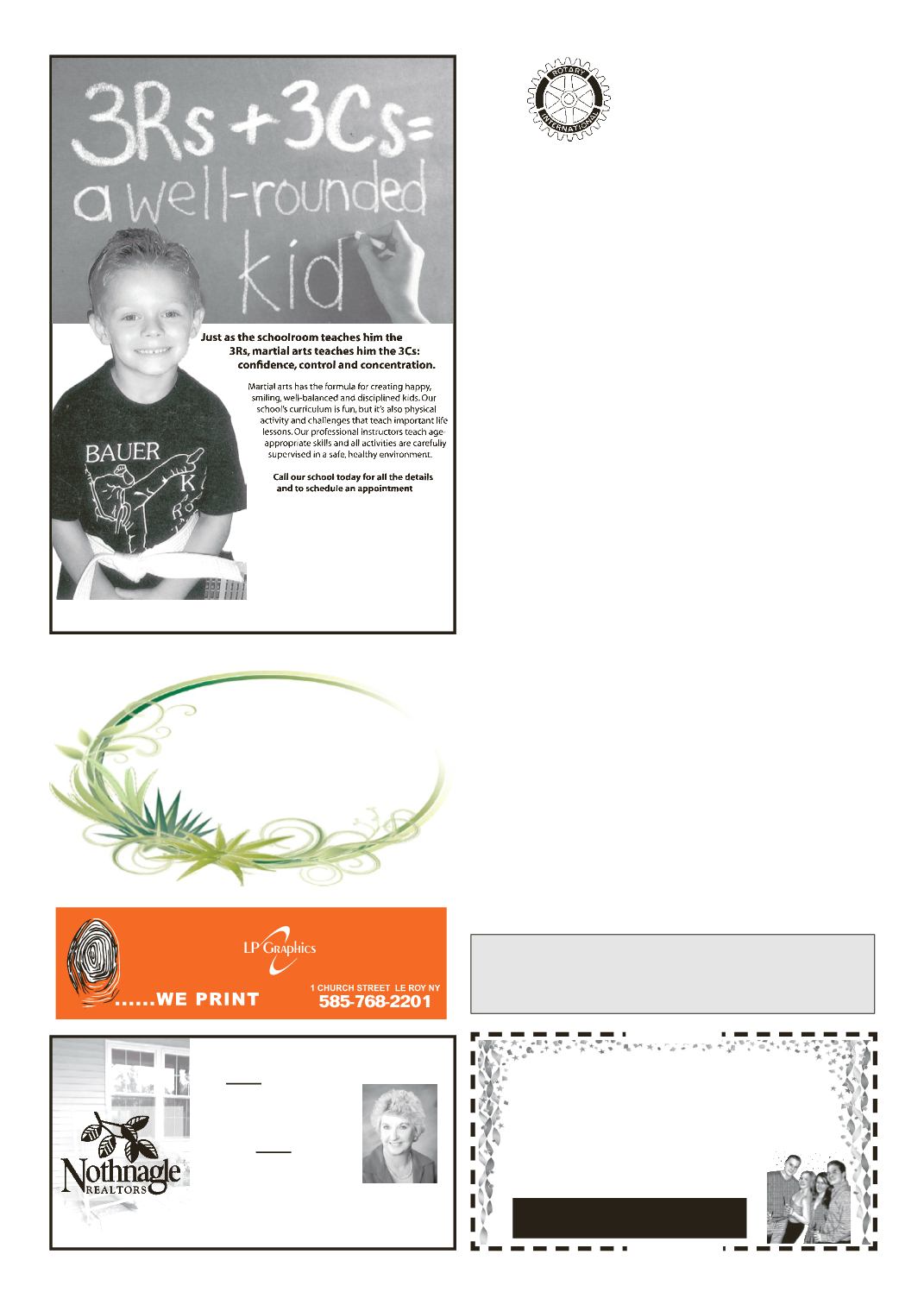 LEROYPENNYSAVER&NEWS - SEPTEMBER 7, 2014
SUPPORTYOUR LOCALADVERTISERS!
They help sponsor the local news section of the Le Roy Pennysaver.
THANKS FORYOUR SUPPORT!
LeRotary
Notes
Batavia
585-343-6750
NOW is theBEST time
toBUYwith the interest rates
at their lowest!
Don't wait
toBUY -
call
LindaBeaumont
for all your real
estateneeds.
LindaBeaumont
Home (585) 768-6315
LicensedReal Estate
Salesperson
Multi-MillionDollar Producer
Grace'sKitchen
Will Be
Closed
September 9th
We will re-open on September 16th
YourFamilyMartial ArtsCenter
Ages 4&Up
26MainSt., LeRoy
Celebrating 26Years of TeachingExcellence!
American Legion
Post 576
585-768-2090
CLIP&SAVE
CLIP&SAVE
Inside - 2RoomsAvailable
Outside - LargePavilion
full schedule for our regular
meeting and we got down to
Pledge
4-Way Test
ments included reminders about
our Family Picnic on 9/14, the
monthly FridayMorningMake-
upopportunity,BusinessCouncil
Golf Tourney and our own Past
Presidents Dinner on 9/16. This
annual event invites the Board
and any past Club president to
review our yearly activities and
offer praise or opportunities for
shined theRotaryLight onMar-
tha Bailey, Bob Carlson, Kim
Cox, Christine Gephart, Mary
Margaret Ripley and Jerry Mc-
Cullough for missed meetings.
All had good excuses, make-
ups or green cards to clear their
names. A clerical error missed
TracyMartorana absence and in
trueRotarianspirit, she fessedup
house to accept our donation to
Rotary Assistance Music Pro-
gram (RAMP). This annual do-
nation helps with the purchase
of music books for new music
students. We had two programs
today. Paul Osborne, Genesee
County Parks Supervisor gave
an excellent presentation on the
two Genesee County Parks. The
two parks Genesee County Park
and Forest located in Bethany,
NY and the Dewitt Recreational
Area located in the City of Bat-
avia have undergone substantial
changes in the last few years.
In addition to the popular picnic
facilities the parks both have
excellent nature trails and edu-
cational opportunities for both
young and old. Highlighting the
park system is the Interpretive
Center inBethanywithnaturedis-
plays, classrooms and laboratory
areas.Paulalsoremindedusabout
the importance of the volunteer
organization ACORNS which
providesan invaluableasset to the
park, theirmajor fund-raiser"Run
for theACORNS"a5K/10KTrail
RunorWalk iscomingupOctober
12that theGeneseeCountyPark.
Le Roy Central School also
presented to the Rotarians on
Wednesday. The NYS Enviro-
thon isahands-onenvironmental
education competition where a
teamoffivehigh school students
work together in hopes of win-
ning scholarships and awards.
Science teacher Sherri Lovria
is the advisor for the team. The
team shared their plans for a trip
to Yellowstone National Park
where they will be engaged in
efforts to repair fences that will
ultimately help thewolf popula-
tion to increase in the park. The
students will engage in several
fundraising activities to raise
money for the trip. Theyhope to
plananother trip to theGalapagos
Islands in2017.Tofindoutmore
about Rotary, ask any Rotarian
and don't forget to "Like" us on
lpgraphics.net