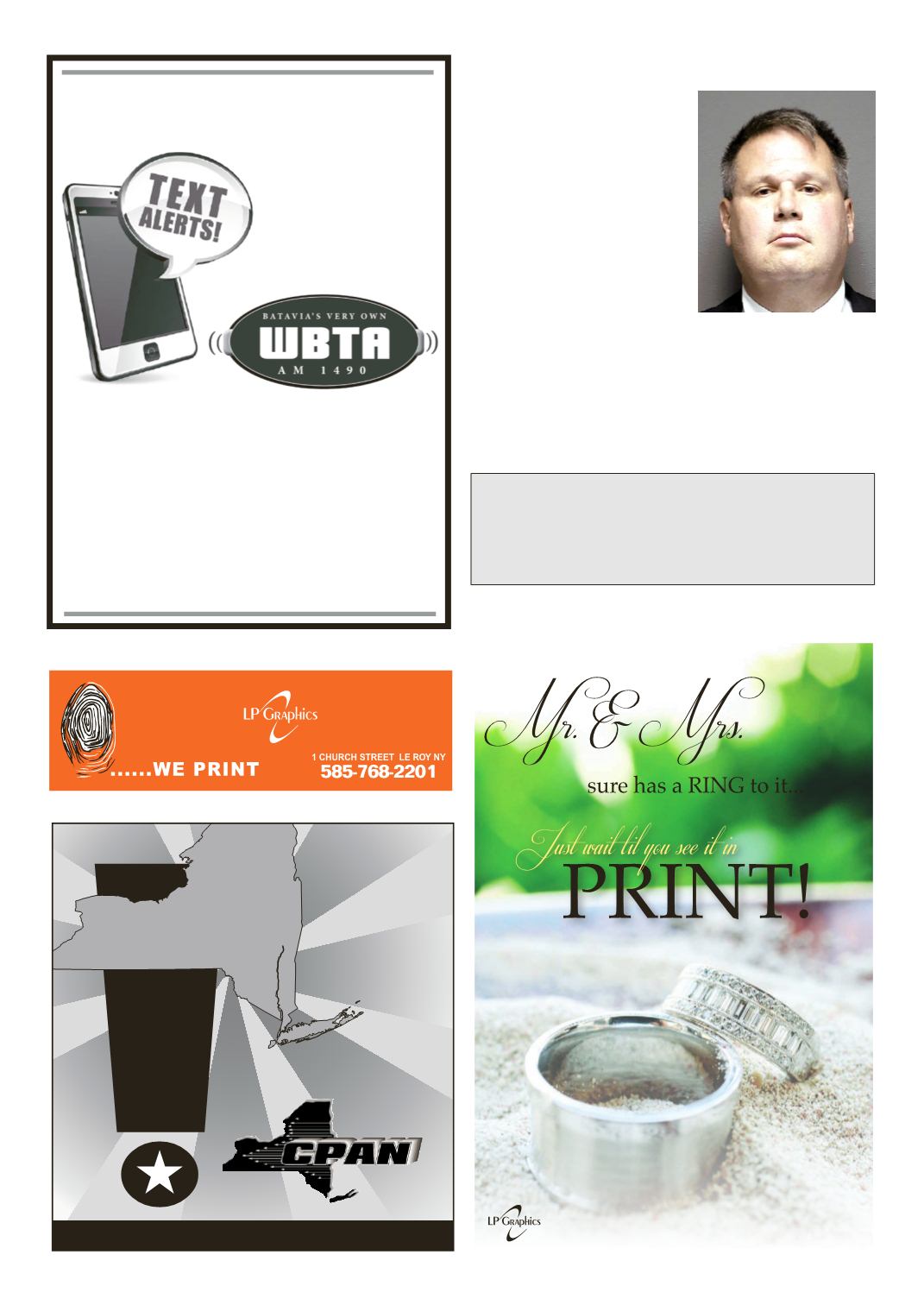 LEROYPENNYSAVER&NEWS - SEPTEMBER 7, 2014
SUPPORTYOUR LOCALADVERTISERS!
They help sponsor the local news section of the Le Roy Pennysaver.
THANKS FORYOUR SUPPORT!
SIGNUP TODAY!
GET ONLY THE
NEWS YOU
CHOOSE
FROM
New! Signup for TEXTALERTS.
Get only thenews you choose!
Be the first to knowabout SevereWeather,
Breaking Local News, TrafficAdvisories&dSchool Closings.
Signup today forWBTATextAlerts.
You need to only supply your cell phone number
and select the services youwant to receive.
Wewill never sell your information toanyone.
WBTAi.com
SUBMIT
YOURAD
HERE
ONE
ONE
*$490 for15words. $15 foreachadditionalword.
AGreat Deal toReach theWholeState!
08/28/2014 - 49year oldTerrance
A. Falk, anAttorneyoriginally from
the LeRoy area now residing at 16
Woodsmeadow Lane in Rochester
was arrested by the LeRoy Police
Department today and chargedwith
one count of Grand Larceny in the
ThirdDegree, aClassD-Felony.
Thearrest stems fromacomplaint
stating that in 2009, Falk represent-
ed the Victim in a civil litigation
lawsuit and in November of 2012,
Falk received a $15,000 settlement
on behalf of the Victim. The criminal charge alleges that between
11/26/12 and 8/28/2014, Falkmisappropriated the entire amount of
thesettlementmoney, failing topay theVictimhisshare, specifically
an amount in excess of $3,000.
Falkwas arraigned before theHon. D. Sehm of theLeRoyTown
Court and released on his own recognizance.
1ChurchSt., LeRoy, NY14482
585.768.2201
lpgraphics.net