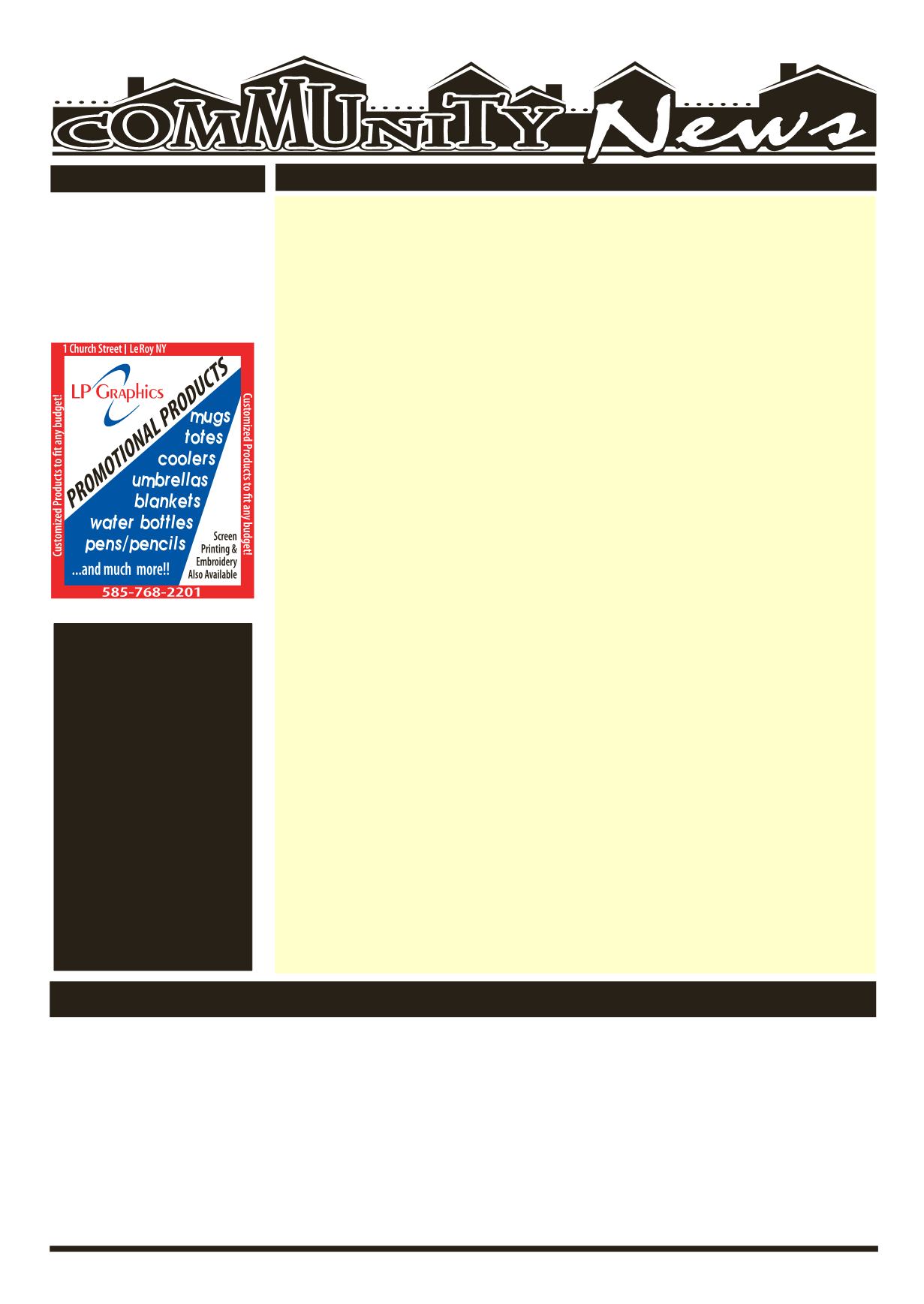 LEROYPENNYSAVER&NEWS - SEPTEMBER 7, 2014
Le Roy
Pennysaver
All GeneseeCounty residents, 60andolder, can takepart in thisweek'sactivitiesat theBataviaSenior Center, 2BankSt., Batavia. Formore information, call 343-1611.
(September 8 - September 12th)
WEEKLYEVENTS
OBITUARIES
ArthritisExercise
isscheduled tobeginat9:30a.m.;
Arepresentative fromUnivera Insurance
Bridge
is scheduled tobeginat 11:30a.m.
Alzheimer'sAssociationMeeting
is scheduled for 8:30a.m.;
Cribbage
OmbudsmanMeeting
is scheduled tobeginat 9:00a.m.;
Quilters
are scheduled tomeet at 9:00a.m.;
Euchregame
is scheduled tobeginat 1:00p.m.
CribbageandBridge
is scheduled for 1:00p.m.;
MusicalKeyboardingLessons
TaiChiClass
9:30a.m. to10:15a.m.; newly formed
FitnessClass
Legal Services
is scheduledbyAPPOINTMENTONLY.;
LineDancingandArtClass
is set tobeginat 10:00am. …. Tai
Chi is set tobeginat 12:30p.m.
SUNDAY, SEPTEMBER7
AWANA Program at Penuel Christian Fellowship.
Sundays 12:15 to 1:45 pm. Ages 5-17 broken into groups. Developing
friendships.Having fun. LearningaboutGod. Safeenvironment.
Konnect YouthGroup at LivingWaters Church,
Sundays from6:30 to8:30pm for ages12-18. "BringDownall theWalls!
ConnectwithGodandConnectwithothers." Formore information, check
usoutonlineat: livingwatersleroy.org/konnect-youth-ministry/
MONDAY, SEPTEMBER8
TOPS (TakeOffPoundsSensibly)
meetsMondayevenings from6:30-
7:15pmat theLeRoyPresbyterianChurch, cornerof Clay&MainStreets.
Visitorsalwayswelcome. Call 768-2933 formore info.
TUESDAY, SEPTEMBER9
LCCP'sGRACE'SKITCHEN:
(will be closedSept. 9th, andwill reopenSept.
AFREEdinner everyTuesdayevening, 5-6:30pmat theLeRoyUnited
Methodist Church, 10TrigonPark. ParkingavailableonTrigonPark& the
lots to the left andbackof theChurch.HandicappedEntrance in theback
oftheChurch.Takeout&deliveryareavailable.Formore info.contactSelby
WEDNESDAY, SEPTEMBER10
ThemonthlymeetingoftheLeRoyStaffordSeniorCitizens
resumedat 6:00pm. At theKof CMeetingHall onWestMainSt. Behind
Save-A-Lot.Thiswill beapot luck supper andyou shouldbringyour own
place setting and agenerous dish topass. Dessertwill be furnished. The
LeRoyTownBandwill supply themusical program.
Pavilion Baptist Church
youth programs
winter onWednesday evenings. All community children arewelcome to
attend. AWANA is aprogram for younger childrenpre-school (4year old)
through6thgrade. It is a fun timeof BibleStories, games Biblememory
and even refreshments.Word of Life program is for teens 7th through
12th grade.We are easily located at 10956 S Lake Road in Pavilion. Call
585-584-3179ext. #12 for anyquestions.
VillageofLeRoyBoardMeeting
,7pmattheVillageHall,3WestMainSt.
TheSeptembermeetingoftheLeRoyTown&CountryGardenClub
will beheldon the10that Carol Grooms'home inPavilionat 6156Keller
Road. Wewill meet there at 6 PM. Contact AnnWalters at 737-9481 or
768-8130 formore information.
THURSDAY, SEPTEMBER11
Town of LeRoy BoardMeeting
, 7 pm at the Town Hall Board Room,
Genesee Veterans Support Network
(GVSN) supports the develop-
ment of Veterans focused AAmeetings every Thursday, 6-7 pm at the
First Baptist Church, 306 E. Main St., Batavia. Meetings led by MikeW.
& are open to non-veterans aswell. Handicap accessible. For additional
information call 585-302-0825.
GRACE'S CLOSET: A Clothing Giveaway Program
RoyUnitedMethodist Church, 10TrigonPark, LeRoy. 9:30 am to11:30
am every Thursday. We have clothing for all ages. Spring & Summer
clothingnowbeingput inplace. We are inneedof lighter coats, cloth-
ing, shoes, pajamas, bedding, sheets in all bed sizes. We accept dona-
tionsbedroppedoffat thehousenext to the church. Pleaseput all bags
INSIDE on the back porch. No electronics, TV's, computers, dishes, etc.
Anyquestions call theoffice768-8980.
FRIDAY, SEPTEMBER12
Penuel Christian Fellowship,
One Step to Freedom addictions
ministry, aChrist CenteredAddictionsprogram, aweeklymeetingevery
Fridayat7pm. Call theChurch formore informationat768-6901or406-
UPCOMINGEVENTS
LCCP's Mommy &Me Playgroup: Every 2nd& 4th Friday,
1:30, Le Roy Physical Therapy (in the back gym). Anymoms and their
birth-kindergarten children are welcome to come enjoy socialization,
lunch, coffee, structuredgames& freeplay.
Genesee Valley Civil War Roundtable
will present a program by
Donna LaValle entitled"The Life of a Slave - History Behind Slavery"on
Wednesday September 17,2014 at 7pm in the LeRoyUnitedMethodist
ChurchonTrigonPark in LeRoy. Pleaseuse the front entranceon the far
rightat theendof the longsidewalk.Discussionperiodwill follow. Itwill
bean interestingprogram. Newmembers arewelcome. Pleasenote the
new timeof 7PManddoorswill openat6:30.
Saturday, September20th10:00am–2:00pm
"TheWholeShebang!"
Multi-Vendor&Craft Event
at theByron FireDepartment Hall onRt.
262.Craftsandnew itemssale,Chineseauction,freebloodpressurechecks
&deliciousfoodforpurchaseallday.From11:00am–1:00pmtheGenesee
County Sheriff's Departmentwill give free child safety seat evaluations.
To reservea table, call Brendaat585-356-3720.
AChickenandBiscuitDinner
willbeheldattheStaffordUnitedMeth-
odistChurch, Stafford,NYonThursday, Sept. 25at5pmuntil ?Take-outs
willbeginat4:30PM.Adultsare$9,5-12are$4andunderage5are free.
Menu is chicken/biscuitsw/ gravy, real mashed potatoes, baby carrots,
cranberry sauce, cabbage salad, homemadedessertsandbeverages.
Veterans Only Social Club -
Genesee Veterans Support Network an-
nounces a newmeeting location at Scooter's Family Restaurant, 3711
WestMainStreetRoad,Batavia,NY - for theonceamonthVeteransOnly
Social Club.Meetings areheld the second Saturday of eachmonth from
7:00 to8:30PM.Veteransof all eras are invited toattend. GVSN is locat-
ed at 3837West Main Street Road, Batavia, NY. For more information,
contact GVSN, PO Box 541, Batavia, NY 14021-0541
CommunityCalendar Submissions shouldbe sent to:
LE ROY — Joseph Inguaggiato,
67, of North Street passed away
unexpectedlyat homeWednesday
morning (Aug.27,2014).Memorials
are suggested to theALSAssocia-
tion, POBox 6051,Albert Lea,MN