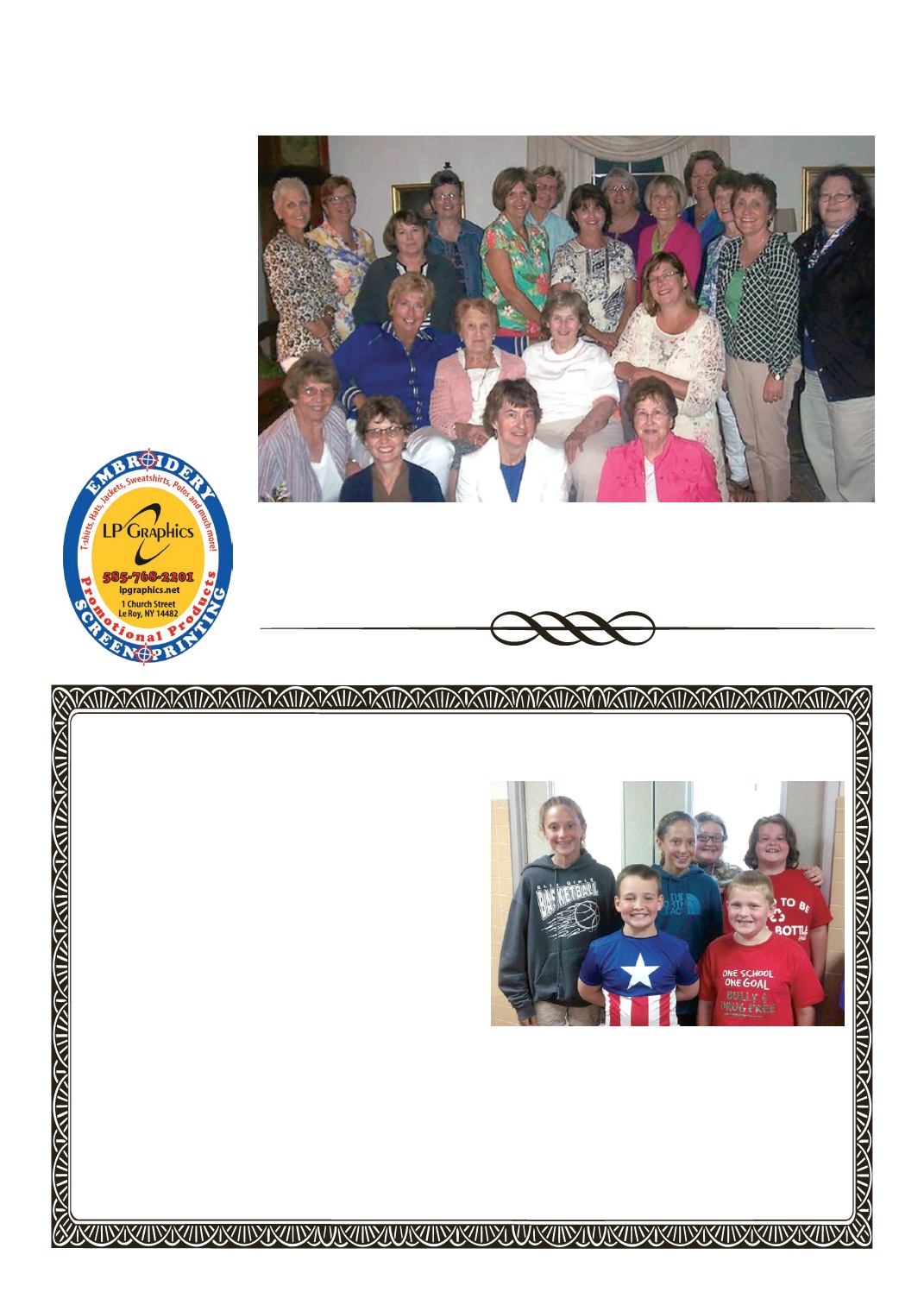 LEROYPENNYSAVER&NEWS -AUGUST3, 2014
NowAvailableatWolcott Street School &St. Joes"
EarlyAct is a school-wide service club for elementary stu-
dents fromages5 to13. Themission is topromotegoodwill,
understandingandpeace through theactiveparticipationof
its studentmembers so that with committed citizenshipand
effective leadership they may improve the quality of life of
their school, local andglobal communities.EarlyAct teaches
caring, respect, empathy, responsibility, tolerance, citizen-
ship, compassion, friendship and leadership.
The WSS & St. Joe's EarlyAct Programs have goals to
assist incommunityservicesprojects,establish relationships
with our elderly population, provide fun & safe activities for
theyouth inourcommunity,and learnaboutdifferent cultures
WSS EarlyAct meets on the 4th Tuesday of every
month
while school is in session.
Meetings are 3:15-4:00
pm in theschoolcafeteria
.Wewill alsohavean funactivity
or community service event everymonth. Advisors for The
EarlyAct Program are Jon Wilson, Christine Gephart, and
If youare interested in learningmore about theWSSEarlyAct Program,
please contact ChristineGephart at
.
Formore informationonTheSt. Joe'sEarlyAct Programplease contact
SteveZocco at
.
Pictured:WSSEarlyAct Board
From Left to Right: Front Row: Brock Flint, Will
Eschberger; Back Row: Quinn Kacur, Courtney
Kacur,AllyFlint,AvaGephart.
Itwas a lovely evening aswe
strolled through our hostess's
gardens. The members enjoyed
relaxing together after a couple
of busy months. We've been
workingon the4mainentrances
to LeRoy, Main Street planters,
PostOfficeboxes,gardensat the
Statue of Liberty, the gazeboon
the creek bank and the planter
in front of the Wolcott Street
Schoolwith thehelpof three1st
Anyone interested in more
information about the LeRoy
GardenClub shouldcontactAnn
Waltersat737-9481or768-8130.
LeRoyTown&CountryGardenClub
AtTheirProgressiveDinner
Pictured above are theLeRoyTown&CountryGardenClubmembers enjoying theirPro-
gressive Dinner onWednesday, July 11th. It was held at the homes of Betty Gugino, Sue
Dambra, andNancyBaker.Appetizers anddessert were providedby themembers and the
main course/entréewas providedby theD&RDepot.