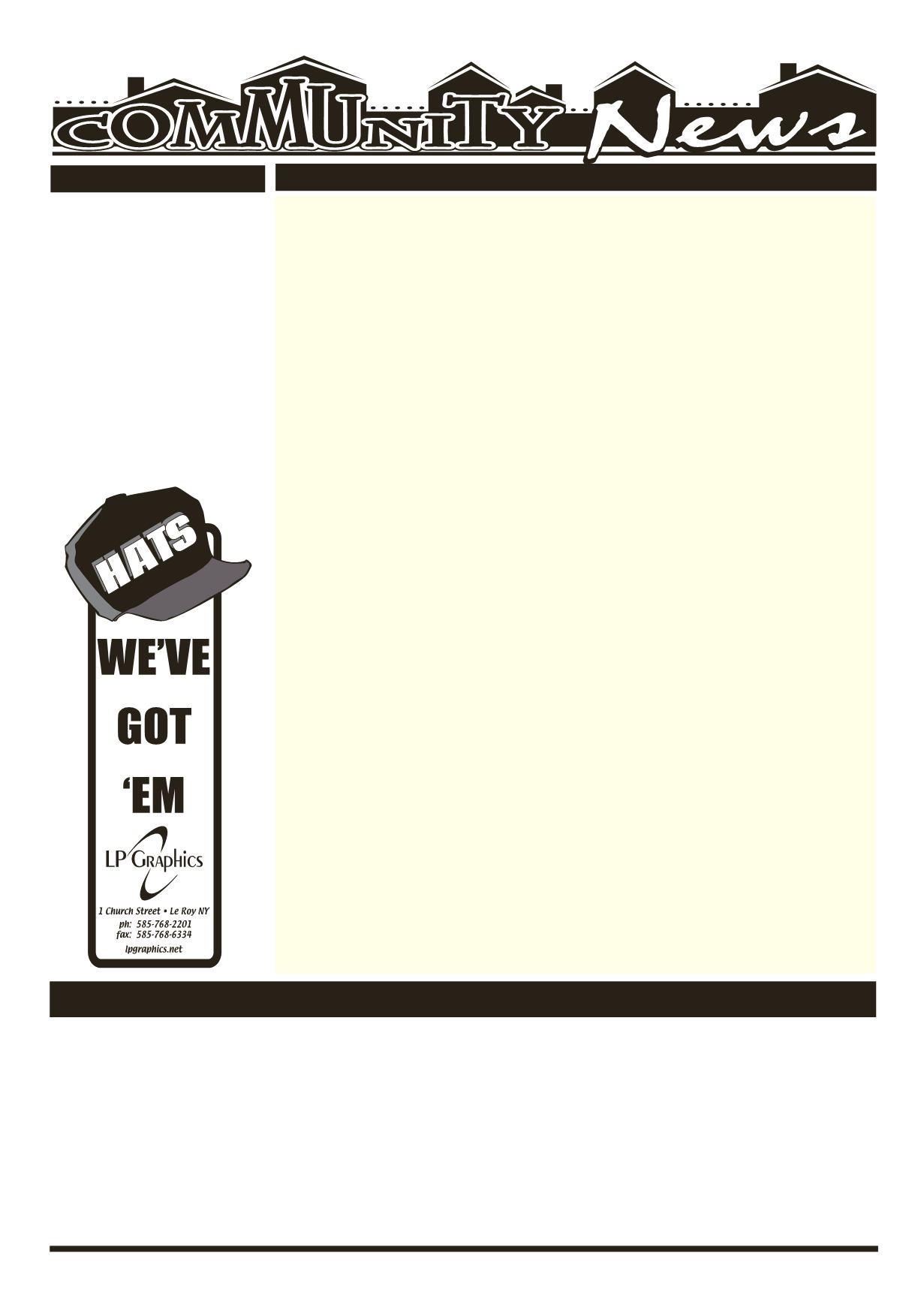 LEROYPENNYSAVER&NEWS -AUGUST3, 2014
All GeneseeCounty residents, 60andolder, can takepart in thisweek'sactivitiesat theBataviaSenior Center, 2BankSt., Batavia. Formore information, call 343-1611.
WEEKLYEVENTS
OBITUARIES
ArthritisExercise
is scheduled for 9:30a.m.;
Bridge
DefensiveDrivingClass
scheduled tostartat9:30am (Pre-SignUpRequired);
Cribbage
Quilters
are scheduled tomeet at 9:00a.m.;
Euchre
is scheduled tobeginat 1:00p.m.
CribbageandBridge
MusicalKeyboardingLessons
Legal Appointments
are scheduledbyAppointment
ONLY
LineDancing&ArtClass
SUNDAY,AUGUST3
AWANA Program at Penuel Christian Fellowship.
Sundays 12:15 to 1:45 pm. Ages 5-17 broken into groups. Developing
friendships.Having fun. LearningaboutGod. Safeenvironment.
Konnect YouthGroup at LivingWaters Church,
Sundays from6:30 to8:30pm for ages12-18. "BringDownall theWalls!
ConnectwithGodandConnectwithothers." Formore information, check
usoutonlineat: livingwatersleroy.org/konnect-youth-ministry/
MONDAY,AUGUST4
TOPS (TakeOffPounds Sensibly)
meetsMonday evenings from6:30-
7:15pmat theLeRoyPresbyterianChurch, corner of Clay&MainStreets.
Visitorsalwayswelcome. Call 768-2933 formore info.
TUESDAY,AUGUST5
LCCP'sGRACE'SKITCHEN:
AFREEdinnereveryTuesdayevening,5-7pm
at the LeRoyUnitedMethodist Church, 10TrigonPark. Parking available
onTrigonPark& the lots to the left andbackof theChurch.Handicapped
Entrance in the back of the Church. Takeout &delivery are available. For
WEDNESDAY,AUGUST6
OmnipresentPuppetTheaterpresentsTheThreeLittlePigsatthe
WoodwardMemorial Library
at 6:30 p.m. This performance is free,
but registration is required. Call 768-8300 or register online at www.
woodwardmemoriallibrary.org.
THURSDAY,AUGUST7
Genesee Veterans Support Network
(GVSN) supports the develop-
ment of Veterans focused AAmeetings every Thursday, 6-7 pm at the
First Baptist Church, 306 E. Main St., Batavia. Meetings led by MikeW.
& are open to non-veterans aswell. Handicap accessible. For additional
information call 585-302-0825.
MakeYourOwnHealthySnack,aprogramforgrades7–12,atthe
WoodwardMemorial Library
from1–2p.m. Try recipes for delicious
snacks that arehealthy, but taste just asgoodas theirunhealthyversion.
Call 768-8300or registeronlineatwww.woodwardmemoriallibrary.org.
Divergent -MovieShowingforadultsattheWoodwardMemorial
Library
at 5:30 p.m.Watch Divergent in the Community Room at the
Libraryonabigscreenwithsurroundsound. Freepopcornprovided. Rated
PG-13;140minutes. Registeronlineatwww.woodwardmemoriallibrary.
GRACE'SCLOSET: AClothingGiveawayProgram
UnitedMethodist Church, 10 Trigon Park, Le Roy. 9:30 am to 11:30 am
every Thursday. We have clothing for all ages. Spring& Summer cloth-
ing now being put in place. We are in need of lighter coats, clothing,
shoes, pajamas, bedding, sheets inall bed sizes. Weaccept donations be
droppedoffat thehousenext to thechurch.Pleaseputallbags INSIDE on
thebackporch. Noelectronics,TV's, computers,dishes,etc. Anyquestions
FRIDAY,AUGUST8
PenuelChristianFellowship,
OneSteptoFreedomaddictionsministry,
aChristCenteredAddictionsprogram, aweeklymeetingeveryFridayat7
pm. Call theChurch formore informationat768-6901or406-3863.
UPCOMINGEVENTS
Veterans Only Social Club -
Genesee Veterans Support Network an-
nounces a newmeeting location at Scooter's Family Restaurant, 3711
WestMainStreetRoad,Batavia,NY - for theonceamonthVeteransOnly
Social Club.Meetings areheld the second Saturday of eachmonth from
7:00 to8:30PM.Veteransof all eras are invited toattend. GVSN is locat-
ed at 3837West Main Street Road, Batavia, NY. For more information,
contact GVSN, PO Box 541, Batavia, NY 14021-0541
LCCP'sMommy&Me Playgroup: Every 2nd& 4th Friday,
1:30, Le Roy Physical Therapy (in the back gym). Anymoms and their
birth-kindergarten children are welcome to come enjoy socialization,
lunch, coffee, structuredgames& freeplay.
FirstBaptistChurchofPavilion
Vacation
BibleSchool
fromAugust4th throughAugust8that the church10956
SouthLakeRoad(Rt.#19) inPavilion.Registration is9:00am-9:30amand
theClubwill rununtil12:00noon.Wewillhaveclasses forallages3years
old through12thgraders. The theme this year is"ACruiseof a Lifetime"
make Jesus the Captainof your life. Therewill beBible stories, fun time
in the gym,crafts, and refreshments and it's all FREE! If youwantmore
information please call the church at 585-584-3179 ext. #12 and leave
amessage. Someone will call you back." Again thanks somuch Linda
Starkey church secretary.
Lite theKnight 5k&FamilyFunNight
- SaturdayAugust 16, 2014;
5pm. Come together to raise funds for amemorial scholarship! 2014
Recipients:TheBordonaroFamily. 5K run/walkonan illuminatedcourse,
a 3-on-3 basketball tournament, wellness fair, many free children's
activities,aperformancebyLeRoyMarchingKnights,achickenbarbecue
by the Eagle BBQ and Brew, and free livemusic by Flipside. The LeRoy,
Stafford, Caledonia, and Pavilion Fire Departments will be setting up
an interactive display of their fire engines for children and families to
experience. Call 585.768.4550 formore informationor visit ourwebsite:
villagefit.com Info is also on facebook (
events/1429104164034907/)&twitter(https://twitter.com/LeRoyVillage-
Fit)! Follow this link to register for the5k:https://www.getentered.com/
Register/groups/default.aspx?newgroup=true&event=28196
Gen. CountyHealthDept.Div. of EnvironmentalHealth -
2014Anti-Ra-
bies ImmunizationClinic -
GeneseeCo. Fairgrounds, 5031E.MainSt.,
Batavia. Thursday, August 21st, 4 to 7pm. Save time by filling out your
registration form before the clinic at:
CommunityCalendar Submissions shouldbe sent to:
BERGEN—Marian E. Airth, 93, of N.
LakeRoad, passedawayearlySunday
morning (July 27, 2014) at Rochester
GeneralHospital.Memorialssuggested
to Stone Church Presbyterian Church,
POBox 128, Bergen, NY14416.
LEROY—Raymond L. Mancuso, 89,
ofWolcott Street passedawayonMon-
day (July 28, 2014) at UnitedMemorial
Medical Center in Batavia. memorials
suggested to either the Le Roy Fire
Department, 3West Main St., Le Roy,
NY14482; or GolisanoChildren'sHos-
pital (In honor of Hailey Coniber), 601
ElmwoodAve., Rochester, NY14642.