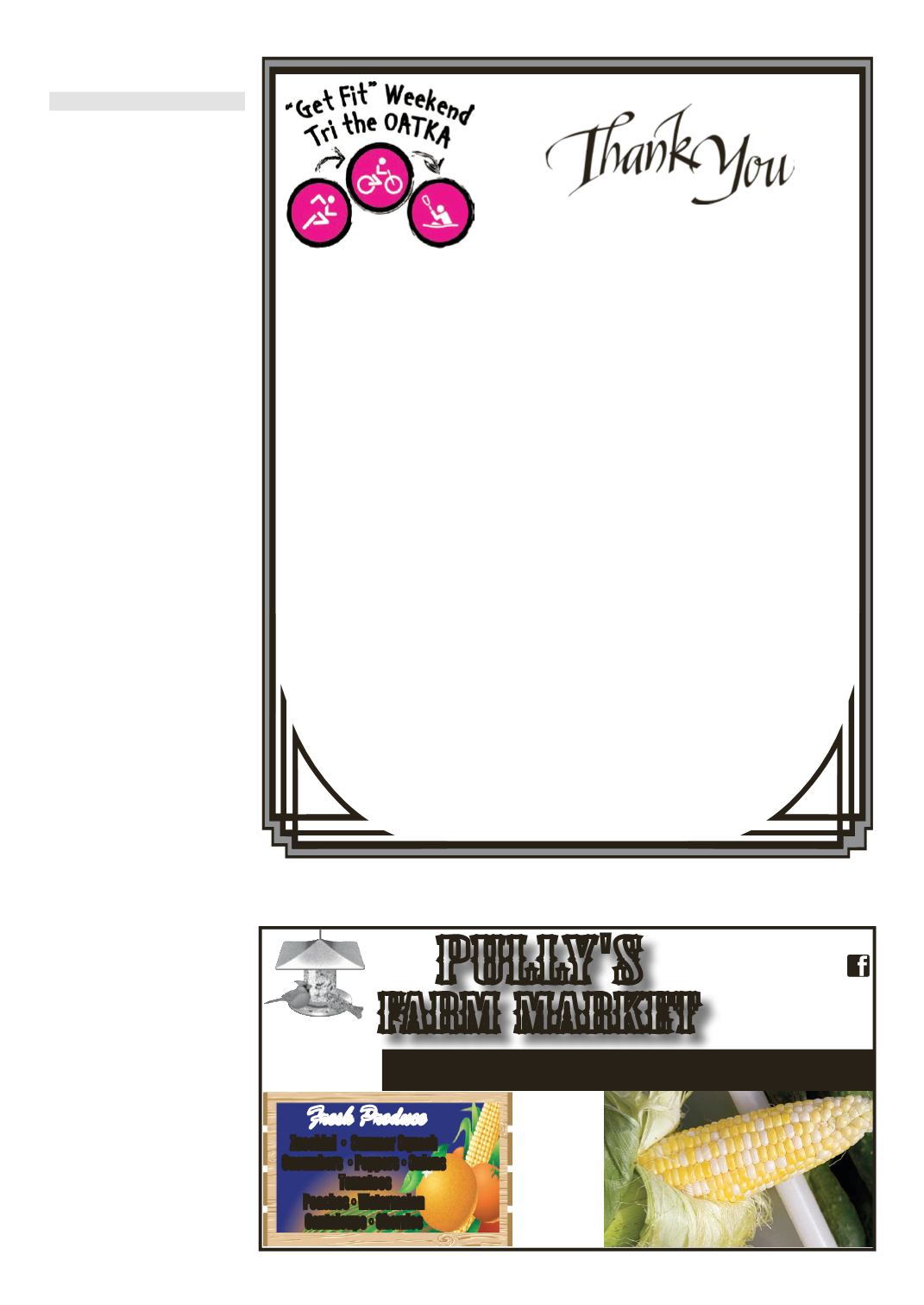 LEROYPENNYSAVER&NEWS -AUGUST3, 2014
Jams
Jelly
Seeds
BIRD
SEED
&FEEDERS
8160LakeRd. (Rt. 19)
LeRoy, NY
1/2mile south of Thruway
768-2280 • 704-1157
Hours:Mon.-Sat. 9-6, Sunday9-5
pullysfarmmarket.com
Sweet Corn
Cucumbers • Peppers • Onions
Tri theOatka's "Get Fit"RaceWeekend
OurTitleSponsor:
Tompkins Insurance/BankofCastile
Our Corporate Sponsors:
GoTToGoElectric, FalconeElectric, andAppliedBusiness Systems
Our Shirt Sponsors:
Bubba's Landscape, Townsend Energy, Ehrmentraut Landscape
Concepts, S&SLimo, andSwimmingpool.com
Our Award Sponsors:
Main Street Fitness, Le Roy Country Club, Le Roy Physical
Therapy,Smokin'EagleBBQandBrew,D&RDepot,RedOsier,DicksSportingGoods,
ABIGThankyou
toChrisHayward,TimHayesandallof theLeRoyPoliceDepartment
for your continued support and getting our racers through the course safely
Thank you
JackieWhiting and the recreation department, John Arneth and the town
DPW,BobLathanand thevillageDPW, LeRoyAmbulance, and toALLour volunteers.
We can't do it without all of you!
To the residents of LeRoy
, especially those around Summit Street, THANKYOU for
beingpatientwith the roadclosures.Our intention is to runa funbutSAFE raceweekend
for all our participants andwe do appreciate your patience.
Congratulations toBrookBauerwhowill receive this year's
$1000Tri theOatkaScholarship.
And to all of theparticipants in our entire "Get Fit" raceweekend,
GREATJOB!Wehope to see you all backnext year!
UPNEXT:
JinglinAll theWay 5k and 10k runDecember6th…Don'tmiss it!
Visitwww.tritheoatka.com formore information
byGreg"Porp"Rogers,Mayor
With the Oatkafest and all the
festivities that go with it in the
past, it is time to get somework
done around the Village, but I
would like to extend one last
thankyou toallwhoput together
thewholeweekendand toLynne
andShelley for theyears serving
on this project. The Chief of
Police also reported no festival
related incidences last weekend,
Our sidewalk project should
go out to bid next week with
the intension of getting the
work completed by this years
end, we will try to make the
construction as easy to deal
withaspossible,andnotchange
Our first decorative street light
isnowup in front of thePostOf-
fice, please reach out to a board
member and tell themwhat you
think. The board's plan is to put
money into sidewalks and lights
onMain St. to try to drive some
momentum into our community,
themoneywouldcome from fund
balancesandhave little impacton
thecurrent tax rate,obviouslywe
willexhaustallgrantpossibilities
TheBoardspearheadedbyBill
Kettle is looking intoa taxabate-
ment program to assist Main
St. second story and distressed
properties,wewill be exploring
a broader plan to encompass
more, details to follow, but the
intent is to clean up our com-
munity and position ourselves
If you remember last year we
had our sanitary sewer system
smoke tested. The company has
come back and begun to rem-
edy the situation, many cracks
and breaks where found that let
groundwhat into thesystemcost-
ing our plant money and permit
issues.Hopefully theworkbeing
donewill show a significant im-
pact at theplant during the thaws
and heavy rain times. This has
been a 40 year problem that we
mayfinallymaking progress on.
Please try to shop locally. Ev-
erydollar you spendherewill be
spent at least 7more times
"Politician and diaper should
be changed regularly, and for the