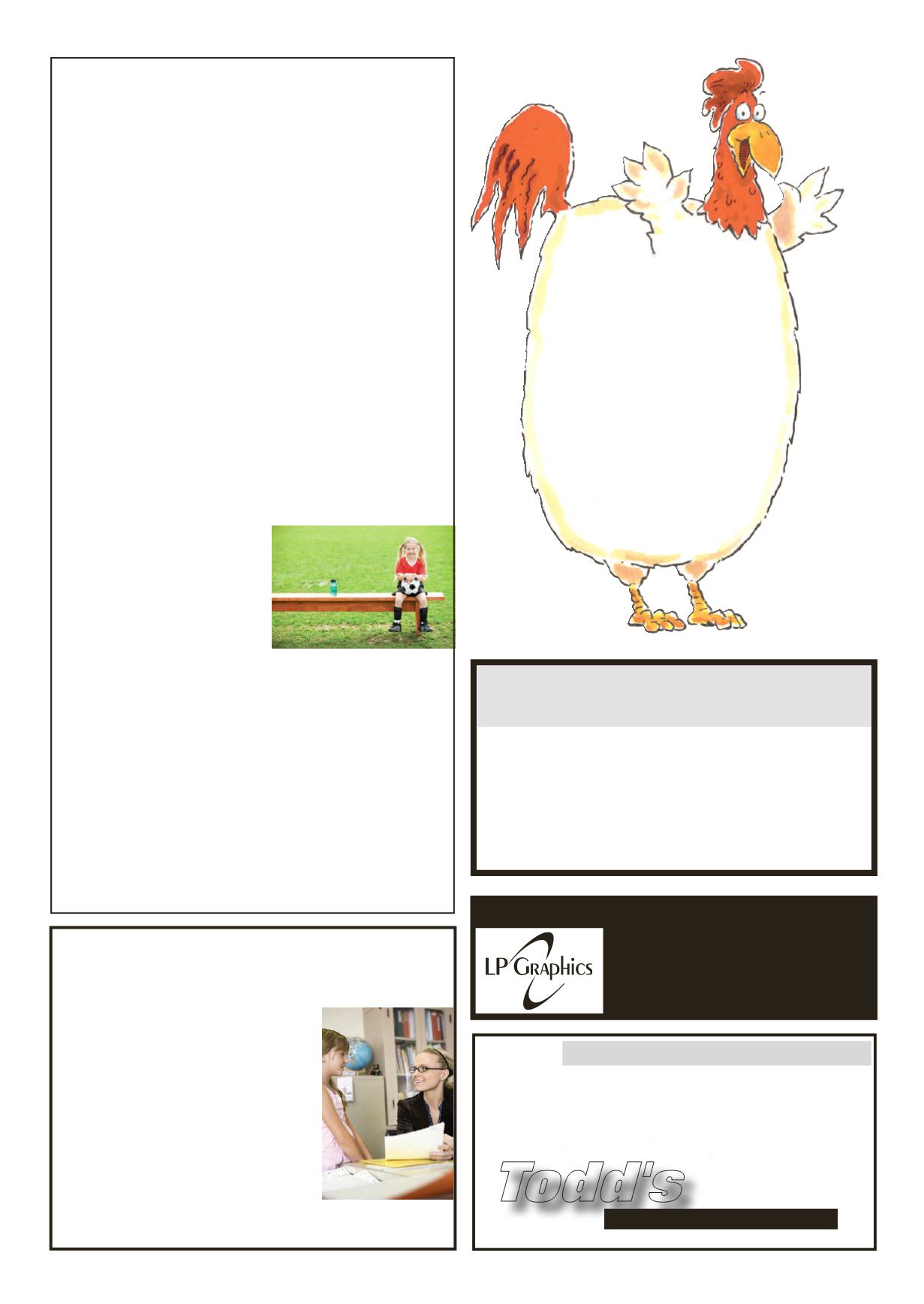 LEROYPENNYSAVER&NEWS -AUGUST 3, 2014
ChickenBBQByFat-Man-Du
½Chicken, salt potatoes
coleslaw, roll and cookie
TheLeRoyMarchingKnightswill be debuting
their Fall Show for 2014 onAugust 24th
at 6:00pm atHartwoodPark.
Come out and show your support
LeRoyCentral School District
has the following openings:
• SubstituteTeachingAssistant
Application information
availableon the
District website at
under theEmployment Opportunities tab.
ALLWORKMANSHIP GUARANTEED • INSURED
297-9097 • 768-7737
• InteriorPainting
• Plaster/LathRestoration
•Drywall&Drywall Repair
•TextureRemoval
• Floors Stripped
&Refinished
•OldCeilings&Walls
MadeLikeNew!
MikeDarby'sPatch&Paint
NewHomes •Additions •Garages •PoleBarns
ToddCarli • Phone 703-0964
Todd's
Decks •Windows •Doors
Kitchens •Baths
CeramicTile
Basement Finishing
CustomShelves/Built-Ins
Siding •Remodeling
Roofing • SnowPlowing
FULLY INSURED
LYSA2014Registration
FALLSOCCERSKILLSDEVELOPMENTPROGRAM
7/30/14
COST:
Pending response received and number of volunteers.
Therearenouniformsor scheduledgames.Cost iskept
toaminimum;$25.00 registration fee tillAugust30thafter
August 30th itwill be$30.00 (need time toorganizeand
determine coaching staff).
AGE:
ConsideringgradesK thru6, pending responseand the
number of volunteers. This will be a first come basis
based upon the number of volunteer coaches. The
number of playerswill be limited to the following:
- K& 1st grade12players (per coach)
- 2nd&3rd grade 12 players (per coach)
- 4th, 5th& 6thgrade 15 players. (per coach)
Wewill refundeveryoneandnot have theprogram ifwe
cannot findenough volunteers.
DATE/TIME:
Estimating a start date of Monday September 8th and
ending October 15th or 22nd (6-7 weeks); weather
pending. Monday &Wednesday evenings, start times
mayvaryas theseasonprogresses; start at 6:00p.m. to
7:30p.m.,asdaylightpermits.Coachesmaystartearlier
if there schedule permits and theparents agree.
COACHES:
If more than 12-15 kids are signed up; we would also
need assistant coaches and coaches for the different
ages. ConsideringGlobal Premier Coaches.
LOCATION:
SKILLS:
gender players. Soccer skills will be worked on/
developed, to include: Dribbling – control/speed;
Shooting – accuracy/power; and Juggling.
Go to our website to download the registration form:
Print it out, fill it out and send it in to:
LYSA, Box 144, LeRoy, NY14482
L
ink tosignupon line:
/
If youhave questions pleasee-mail them to leroyyouthsoccer@
hotmail.com. Please put in subject line: "LYSAFall Soccer".
Thank you. Enjoy the rest of the summer. LYSA
Tickets
maybe
purchasedby
calling
MaryPlatek
at 768-2176 or
TracyMcVicker
at 943-7188
Or from any
MarchingBand
Member
1ChurchSt., LeRoy, NY14482
585-768-2201
FAX585-768-6334
WeDo